Kings' Carl Hagelin knows he may be dealt before NHL's trading deadline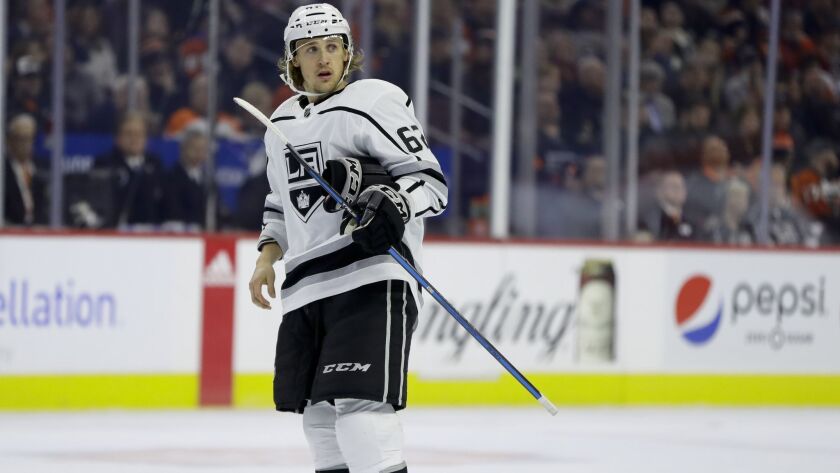 This time of the year is both familiar and new for Carl Hagelin.
He knows what it's like to have his career and life suddenly change with a phone call. He has been traded three times, to the Ducks in 2015, to the Pittsburgh Penguins in 2016 and to the Kings in November.
But none of those trades occurred at the trade deadline, and Hagelin is aware that he could check off that box before the clock strikes noon on Feb. 25.
"I think I've been in the league long enough to know what's going on this time of year," Hagelin said. "I've never been traded, myself, at the deadline. But I think if you're a UFA [unrestricted free agent] without a contract for next year, there's always a chance or risk of getting traded. But right now I'm just focused on playing my best hockey here and trying to climb back with this team."
Hagelin is a targeted rental player because of an expiring contract that the Kings can shed after they acquired him for Tanner Pearson. He's highly attractive to a contender as a penalty killer with speed at left wing and a proven performer in the spring. Hagelin has played 121 playoff games, with 22 goals and 25 assists.
"I've played a lot of playoff hockey in my career," he said. "I usually play my best hockey in the second half of the year. That's just how it is. [But] I like it a lot here. Great guys on the team and we just need to get some wins."
If the Kings move Hagelin, it would happen just as the 30-year-old has found some identity with Adrian Kempe and Ilya Kovalchuk. They combined for six goals and seven assists on the just-completed six-game stint away from home.
"It's easy for me to play with him, especially since he creates a lot of chances for me, and me for him as well," Kempe said.
Hagelin wouldn't mind seeing where that chemistry goes. It's understandable if he's wary of another career move. He has a baby daughter, and the family took a trip to Palm Springs during the bye week. It was the type of local outing that Hagelin didn't really have time for during his half-season with the Ducks.
Hagelin is realistic, though, and it got his attention when teammate and fellow free-agent-to-be Nate Thompson was traded Monday.
Sign up for our daily sports newsletter »
"This situation, more than any other, I know I'm a UFA," Hagelin said. "I know we're on a team where guys have already been traded. I think all the other times, I haven't really been aware of the fact that I'm going to get traded. Here, you never know. We need to start winning, and that's the bottom line. I definitely don't look into it too much, because I know if it happens, it happens."
Etc.
Coach Willie Desjardins indicated he might tinker with the top two lines after some different looks in drills.
"We're looking at some different things today," Desjardins said. "Lots of units have played well, and sometimes you just try different things. You want to see what a different combination will [do]. Maybe it'll spark guys."
Jeff Carter (lower-body injury) practiced briefly and Desjardins said that "it was good that he was out [on the ice] as long as he was."
The Beijing Jr. Kings skated with the Kings as part of their visit to Southern California. The affiliation began upon the Kings' trip to China in 2017. It is the first youth development program run by the Kings outside Los Angeles.
UP NEXT
VS. VANCOUVER
When: Thursday, 7:30 p.m.
On the air: TV: FS West; Radio: iHeartRadio (LA Kings Audio Network).
Update: Vancouver's Elias Pettersson is the overwhelming favorite for the Calder Trophy as rookie of the year. He had 25 goals (on 98 shots) and 51 points through Tuesday.
Twitter: @curtiszupke
---
Get the latest on L.A.'s teams in the daily Sports Report newsletter.
You may occasionally receive promotional content from the Los Angeles Times.