Ilya Kovalchuk noncommittal when asked about waiving no-trade clause for the Kings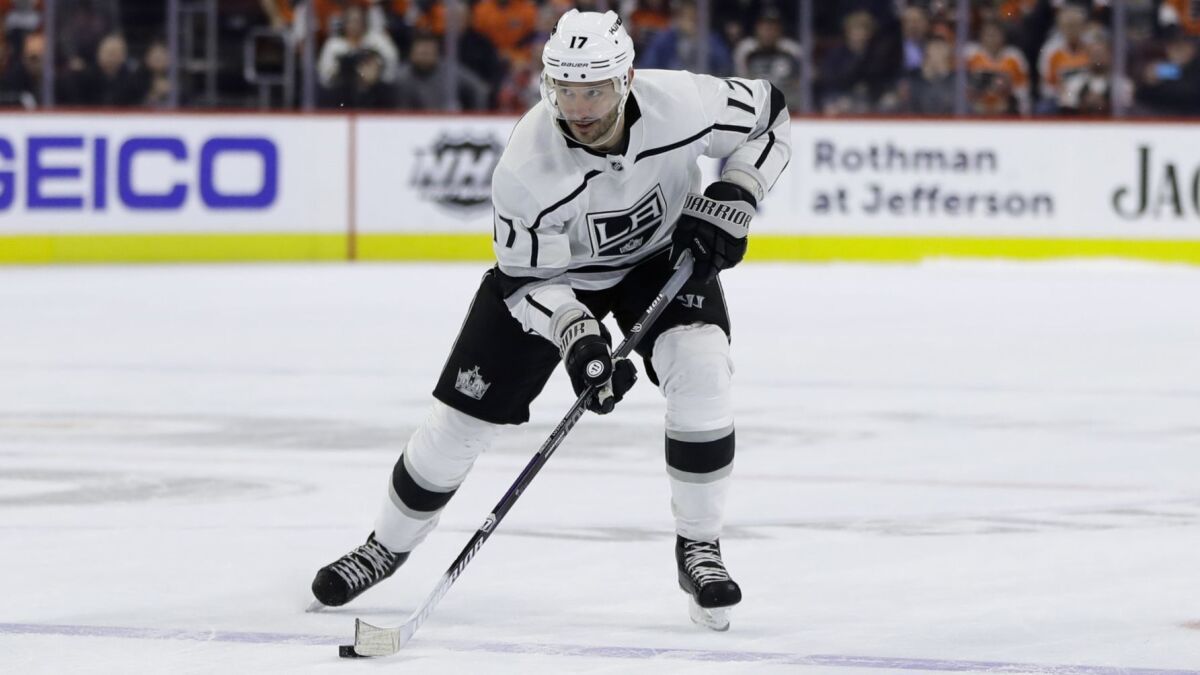 Reporting from Tampa, Fla. —
Ilya Kovalchuk left plenty of room for interpretation when asked about his future with the Kings as Monday's NHL trade deadline approached.
In his first public comments about his status Sunday, Kovalchuk would not answer definitively whether he would waive his reported no-movement clause in the three-year contract he signed with the Kings.
"You should ask [general manager] Rob [Blake] about that, because I told him, 'I'm going to do whatever is good for the team,' because I signed here, we went here," Kovalchuk said. "My family, we love the city. I think our fans were great to us, so I just want to go out there and play and we'll see what happens."
Blake is not commenting until after Monday's trade deadline passes but a Kings official on Friday told Los Angeles Times columnist Helene Elliott that Blake has been speaking regularly with Kovalchuk and his representatives "as it relates to all various aspects and options leading up to the trade deadline."
Kovalchuk is among several Kings veterans perceived as tradeable for future assets. It seems like a longshot to move Kovalchuk, who turns 36 in April and carries an average annual salary of $6.25 million, unless the Kings pay for a portion of his salary.
Kovalchuk represents Blake's big foray into free agency last summer as both parties banked on the Kings as contenders. That notion has been blown to smithereens and the organization's long-term plan got expedited because of it.
Kovalchuk has 13 goals in 51 games. He missed almost a month with an injury and projects to finish with 18 goals in 72 games.
Sign up for our daily sports newsletter »
Kovalchuk recognized the colossal disappointment of the season but put a good face on it.
"It's not easy, you know?" he said. "But it's another challenge for me, and I'm going to face it, so in my life, nothing is easy, so you've got to treat those bumps and bruises. It's just going to make me better. We just have to work hard. It doesn't matter what because we're all professionals. We play for our fans, for our families, for ourselves, so we've got to go out there and play our hardest every game."
Doughty in the red
The minus-23 rating next to Drew Doughty's name is difficult to look past, especially for a player with a short fuse for mediocrity. The decorated defenseman hasn't been at that level, but he's also trying to bail water on a sinking ship that is the Kings' defense.
Doughty signed an eight-year contract extension that kicks in next season, but he said that doesn't carry additional pressure.
"I deserved that contract," he said. "I don't feel any pressure at all. I, 100 percent, deserved it. Yeah, I'm a minus-[23] this year, but I'm still playing good hockey … the numbers aren't there, but the numbers aren't there for the whole team, and when you play 30 minutes a night and you're on the last-place team in the league, you're going to be a minus player. That's the bottom line."
Doughty again leads all NHL players at nearly 27 minutes played per game, and that's without the benefit of the traded Jake Muzzin and injured Alec Martinez.
Doughty praised the younger defensemen and said it's up to him to be the mentor to Paul LaDue, Oscar Fantenberg, Matt Roy and Sean Walker.
"It sucks, obviously, that we had to trade away Muzz," Doughty said. "But I've got to help them. I've got to teach them the ropes. I had guys like that, like Sean O'Donnell and Matt Greene when I was a young guy that helped me on and off the ice and that's my job now."
UP NEXT
AT TAMPA BAY
When: Monday, 4:30 p.m. PST
On Air: TV: NBCSN; Radio: iHeartRadio (LA Kings Audio Network)
Update: Nikita Kucherov reached the 100-point mark in his 62nd game to become the fastest to 100 since Mario Lemieux in 1996-97. Tampa Bay has been in first place overall in the NHL since Nov. 29 and is on pace for an NHL-record 130-point season. The Kings made a minor league trade and acquired Matheson Iacopelli from the Chicago Blackhawks for Spencer Watson. Iacopelli was a third-round draft pick in 2014.
Twitter: @curtiszupke
---
Get the latest on L.A.'s teams in the daily Sports Report newsletter.
You may occasionally receive promotional content from the Los Angeles Times.