Takeaways from the Kings' 4-2 win over San Jose Sharks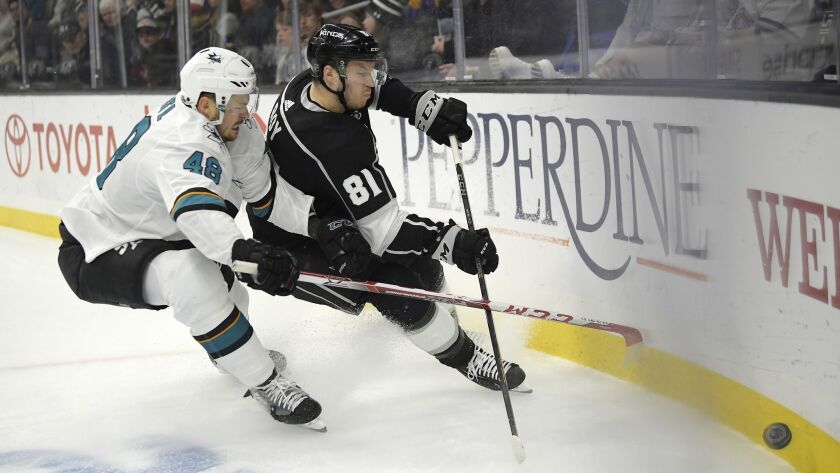 In years past, when the Kings and San Jose Sharks met this late in the season, the stakes were high.
Not Thursday.
The Kings are in spoiler mode, and they delivered a big blow to San Jose's playoff positioning with a 4-2 win at Staples Center.
There was enough intensity, at the start and late when the Kings erased a 2-1 deficit, to conjure up the past heavyweight divisional tilts between the teams, who have played five playoff series in the past eight years. Some of the names — Dustin Brown, Anze Kopitar — were familiar, while others — Matt Roy — were new. But it ended up as something not seen lately: a happy Kings' locker room.
Here's what we learned:
Roy got rewarded. It's a well-used phrase in hockey, but Roy put in the work, rising from the minors to having a regular spot in the Kings' lineup. He's started 16 straight games since his recall on Feb.16.
That's saying something, considering the back-end rotation of interim coach Willie Desjardins that has put Paul LaDue, Sean Walker and Dion Phaneuf in the press box.
Roy's game is one of simplicity, and that's not a bad thing. His first NHL goal was a point shot that is probably stopped eight times out of 10, but Roy has earned the opportunity for it to go in.
"I was told good things about him when he was in the minors," Desjardins said. "I was told that he could defend and he was a good skater. He defended well. And that's what we saw."
Grundstrom is finding his legs. And his hands, hips and anything else that applies to a 21-year-old who is six games into his NHL career.
Carl Grundstrom wasn't going to maintain the goal-per-game pace of his first two NHL games and he predicted his own fall back to earth shortly afterward. He registered one shot on goal in his three previous games, but he was noticeable early with two chances that were stopped by goalie Martin Jones.
Grundstrom took a good hit from Brent Burns in the same shift as one of those chances. It's all part of getting welcomed to the NHL.
Sign up for our daily sports newsletter »
"I think, as a young guy, he'll learn the league as he goes," Desjardins said. "I've been happy with his play. He's a good two-way player. I think that he can score. I think he plays hard in front of the net. Lots of good things I see in his game."
The Kings needed this. As much as they've conceded the season, the Kings still carry pride, and that had taken a big hit with 16 losses in their previous 18 games. In the larger picture, their struggles translate to better odds of getting the top draft pick in June. But, for one night, it meant something to step off the ice after the final horn with more goals than their hated rival.
The Kings established some forecheck and, in a rarity, owned the opening period in the form of a 12-3 shot advantage in the first 17 minutes.
"I think the guys were real focused," Desjardins said. "I think they wanted this game and they played hard to get it."
Twitter: @curtiszupke
---
Get the latest on L.A.'s teams in the daily Sports Report newsletter.
You may occasionally receive promotional content from the Los Angeles Times.