Kings' Daniel Brickley, Trevor Lewis head home to Utah for a preseason game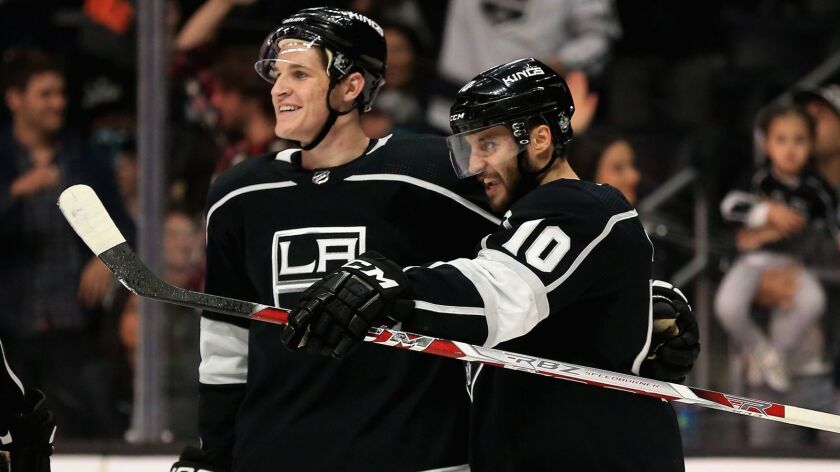 Driving a long way to a hockey rink wasn't why Daniel Brickley was discouraged from the sport when he was growing up in Utah.
Ice was easily accessible in Cottonwood Heights, a suburb of Salt Lake City.
"No traffic, five minutes," Brickley said. "Traffic, 10 minutes."
The reason Brickley didn't see himself making it to the NHL, or even college hockey, was what he saw in the mirror. Every teenager goes through physical changes, but Brickley's phases were almost cartoonish.
"If you saw a before-and-after photo, you'd be like, 'That's the same guy?'" Brickley said. "I was a little short and fat. That's why it was a little discouraging. I'd see other guys who were 18 years old, and I'm 18 and they're already men, [with] facial hair and 6-2, built like hockey players. And I was just a little kid, a little boy. In that sense, it was a little discouraging. I wasn't 100% sure if I could make it."
Brickley's transformation from awkward boy to imposing defenseman will be complete when the Kings play a preseason game Monday at Vivint Smart Home Arena in Salt Lake City. The televised game will also serve as a homecoming for forward Trevor Lewis as the Kings boast two of the five Utah-born players to play in the NHL.
It's a sign of the growth of hockey there, as well as the growth of Brickley into his 6-3, 205-pound body following a spurt from 5-foot-9 ½ to 6-1 in seven months. His college coach, Mike Hastings of Minnesota State-Mankato, recruited Brickley largely because of his poise with the puck, especially for a player his size.
That's why Hastings was stunned when Brickley showed him a photo of himself at 5-9, 213 pounds.
"I'm looking at 6-2, 213," Hastings said. "I don't know if that's possible, but he brought in a photo, and it's possible. He was a chunk."
It was a difficult transition to college, but Brickley turned a corner through increased muscle mass and nutrition.
"The first 60 days here were difficult on him," Hastings said. "He came in and struggled adapting from the North American [Hockey] League. He adapts very quickly. His greatest growth in three years was probably his first 90 days."
Brickley, 23, became a hotly pursued college defenseman this spring, and his signing was a triumph for the Kings. He made his NHL debut in April in front of his father, Matt, who is fighting stage 4 colon cancer, and mother, Ally.
Kings coach John Stevens, who has paired Brickley with Drew Doughty in training camp, said Brickley can get stronger and must get used to the pace of the NHL, but he also cited his calmness. Sean O'Donnell of Kings' player development likes Brickley's potential and demeanor.
"He's a confident kid, but he's a respectful kid," O'Donnell said. "I'm anxious to see him in training camp and see what he can do.… I'm very optimistic that he will be a contributing King very soon."
Lewis sees Brickley as a poster boy for Utah hockey, which has seen participation increase 85%, to 4,445 players, since 1998-99, according to USA Hockey. Lewis grew up across the street from a rink, and Lewis' father, Randy, is longtime friends with Matt.
But even as Lewis made his way up through various levels, he didn't imagine becoming a first-round draft pick in the NHL.
"No, not at all," Lewis said of getting drafted in 2006. "When I was 15, my two best friends went over to Colorado to get more competition. Me and my parents kind of had a sit-down. It was like, 'Do you want to keep pursuing this? You're probably going to have to move away.'
"It was hard to go and move away and be away from your family. It was hard on my parents too. I'm grateful they let me go."
Lewis played for the Utah Grizzlies during the 2012-13 lockout, "but this will be pretty cool," he said. "All my family and friends will get the chance to see me play for the Kings in Utah. I'm excited and I'm hoping there's a lot of kids in the stands and it will grow even more in Utah."
Perhaps some might grow up just like Brickley.
Roster moves
Zack Mitchell and Alex Lintuniemi cleared waivers and were assigned to Ontario. … Peter Budaj was placed on waivers and is expected to be assigned to Ontario.
Twitter: @curtiszupke
---
Get the latest on L.A.'s teams in the daily Sports Report newsletter.
You may occasionally receive promotional content from the Los Angeles Times.