What we learned from Kings' 5-1 loss to the Senators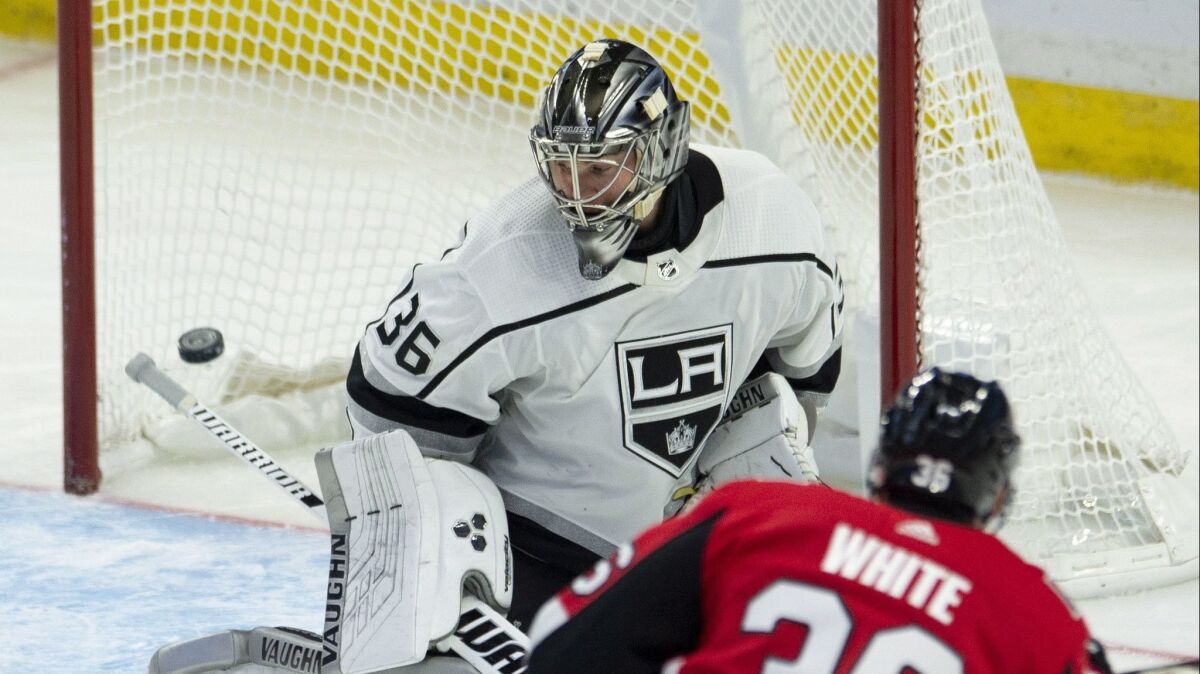 This swing through eastern Canada went south quickly.
The Kings were poised to build off Thursday's win, against an injured Ottawa Senators team ripe for the taking.
Or so it seemed.
Goalie Jack Campbell has hidden a big portion of their deficiencies and it caught up to them in a 5-1 loss at Canadian Tire Centre. Roughly 15 minutes of poor hockey in the first period cost the Kings in a missed opportunity given the low expectations of the Senators this season.
Here's what we learned:
The power play is due, right? There's nowhere to go but up after it dropped to 0 for 18 (the 18th try was a 20-second man-advantage to end the game).
The Kings have tried almost everything. They had Ilya Kovalchuk back in the four-forward setup, with Jaret Anderson-Dolan on the first unit. They spent more time in the Ottawa zone in the second period on the man advantage but the zero still hangs there.
"We've got to shoot the puck more," Jake Muzzin said. "Simplify a little bit. We're trying too much, probably. You struggle trying to do much. We just complicate things….get it to the point. Get bodies in front, maybe get a rebound or a tip to get the ball rolling."
Anderson-Dolan is making a case. He played a season-high 17 minutes, 57 seconds and continues to show he can play at this level at 19.
Whether he gets an extended look with the Kings will be interesting. Saturday was his third game and if he plays more than nine games, the first year of his entry-level contract gets checked off.
Coach John Stevens said they'll be conscious of the schedule and track his fatigue but also that "he's a really well-trained guy for a young player … we think he can help us, but if he comes in and plays well, he's got the consistency in his game, we'd have no problem keeping him in."
At least they weren't outshot. Before Saturday, the Kings allowed 37.5 shots per game, against 23 taken. The 14.5-shot differential was the biggest in the league.
But they outshot Ottawa, 37-22, thanks largely to a 20-6 edge in the second period. It's a somewhat misleading statistic because of quality-versus-quantity factors, but also a sign that they cleaned up their game and played with the puck more.
Get the latest on L.A.'s teams in the daily Sports Report newsletter.
You may occasionally receive promotional content from the Los Angeles Times.