What we learned from Kings' 7-2 loss to Islanders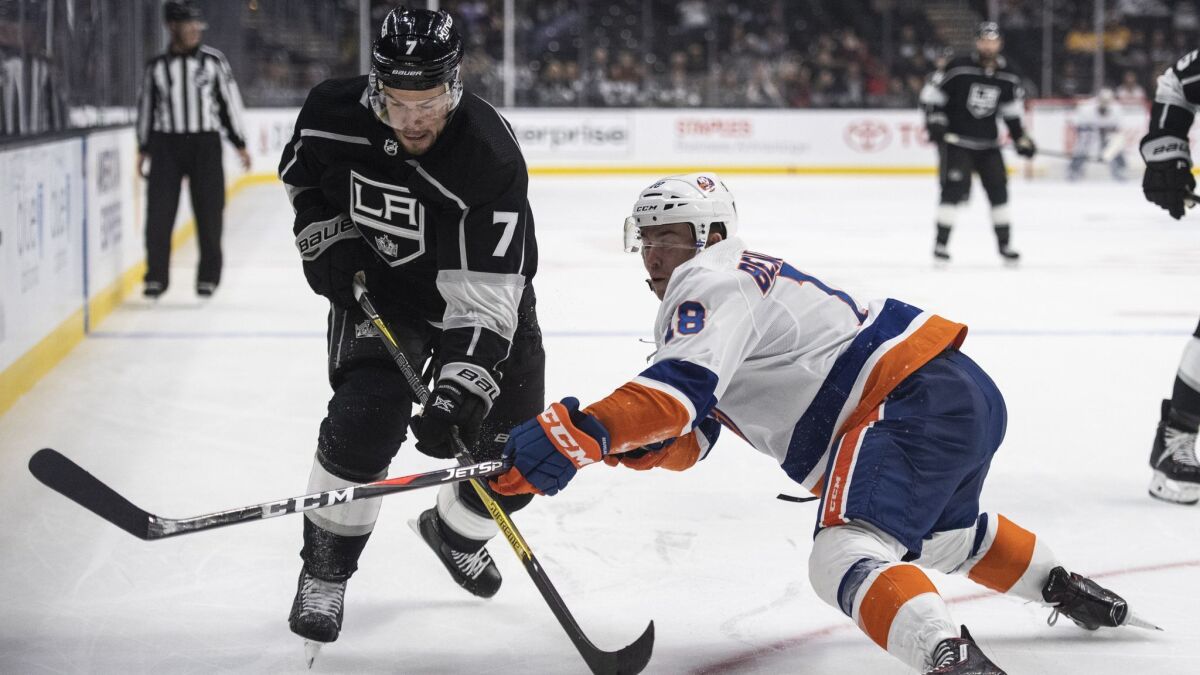 If it's possible to hit rock bottom at game No. 7, the Kings did their best to show it Thursday.
A two-time Stanley Cup champion built on defense has lost its identity. A team known for its leadership fell into boredom — against an opponent that played the night before.
A 7-2 loss to the New York Islanders was as bad as it gets; the kind of loss that portends significant consequences.
Here's what we learned:
The Kings don't know who they are. When the bread-and-butter of a team — defense and penalty killing — is lost, there is no starting point. The Kings have allowed six power-play goals in seven games and have been outscored 16-4 in their last three games.
"When you look at it, us over the years, we've been good defensively, our goals-against average has shown it, but this year when you give up four goals or you give up that many goals, you're not going to win," Tanner Pearson said.
Said coach John Stevens before the game, "To be honest with you, we're still trying to find our identity as a hockey team. Special teams need to improve, both power play and penalty kill. We always take great pride in keeping the puck out of our net and part of that process is just not spending as much time in your own zone."
Adrian Kempe has regressed. In fairness, Kempe was forced to step into the No.1 center role because Anze Kopitar was out with illness. But Kempe handled the No.2 role last year and recently has stood out negatively. He took two minor penalties Thursday, the last in the offensive zone that led to the Islanders' second goal.
"It's work and detail," Stevens said of Kempe. "You're playing against top guys, you've got to dig in. You take a penalty in the offensive zone, it's usually going to come back to bite you."
Kempe has one goal in seven games.
The kids aren't going to solve this. Rookies Jaret Anderson-Dolan, Austin Wagner and Sheldon Rempal are feel-good stories, but if the Kings are going to dig out of this, Kopitar, Dustin Brown and other veterans are going to clear the path.
General manager Rob Blake has worked to rebuild their pipeline, but he's also married to the group that produced so much success in years past. The problem is that group is older and he's right up against the salary cap to make a significant roster move, if only to shake things up.
Rempal was the one positive note. He put pucks on net, drew a penalty and didn't look out of place in front of his parents, his brother and two friends who were in attendance.
"It's pretty cool that I had that support from those guys," Rempal said. "It was so much fun to play my first game. You dream about that your whole life. To have my friends and family in the stands was unbelievable."
Twitter: @curtiszupke
Get the latest on L.A.'s teams in the daily Sports Report newsletter.
You may occasionally receive promotional content from the Los Angeles Times.