What we learned from the Kings' 3-2 loss to the Oilers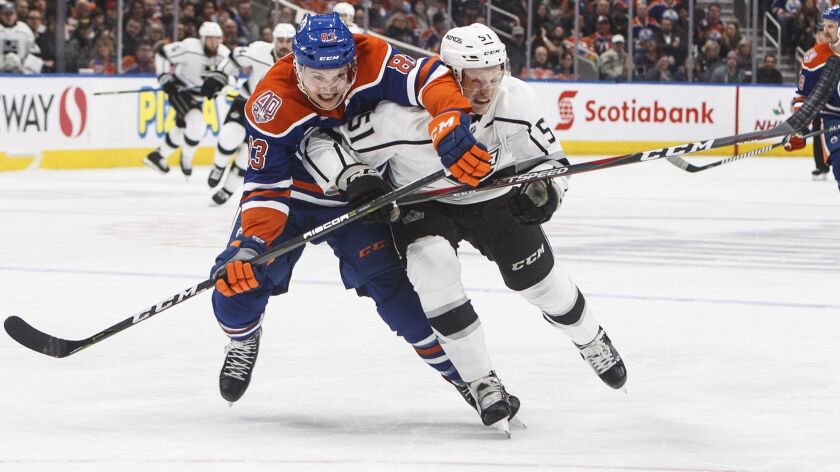 Reporting from EDMONTON, Canada —
Their most consistent forward takes a puck-luck penalty. They get their big offensive weapon on the ice late and he's stopped.
Even when the Kings try to do the right things, it doesn't work right.
They'll have to shrug off a 3-2 loss to the Edmonton Oilers quickly, but they admitted that this one stung. They played perhaps their best third period under interim coach Willie Desjardins and weren't rewarded. So the winning streak ends at two games and they start over again.
Here's what we learned:
Ilya Kovalchuk was freed. Well, sort of. Anything other than the diminished role he played the previous two games would be a change, but Kovalchuk played more than 14 minutes and was on the third line most of the night, as well as the first power-play unit. He took four shots, the last stopped by Mikko Koskinen in the final moments.
It was as if Desjardins was told to use Kovalchuk more. Either that or he saw the value of a point-per-game player perhaps being the difference in a close game. Kovalchuk's increased role at least helped the situation some.
But Desjardins didn't offer much insight before the game when asked about moving Kovalchuk to the third line after two wins.
"I think it's always a matter of trying to find the right spot," Desjardins said. "You always look at what's best for the team. You always hope it's the best for the individual as well. Sometimes it's not. But he's a guy that I think can help us. We've got to put him in the right spot, and hopefully that will work."
The little things hurt. It wasn't just Alex Iafallo's delay-of-game penalty. The Kings got a goal called back on offside, and their penalty-killing unit couldn't get a stop when they needed it most. In this case, it was a puck that Jonathan Quick appeared to lose track of because of Ryan Nugent-Hopkins' pass up top to Oscar Klefbom.
And so the Kings give away two points in a stretch of very winnable games.
"Details always cost you. That's the way it is," Desjardins said. "I think we could have been a little bit hungrier maybe."
The top line is sizzling. Dustin Brown has five goals in three games, and Iafallo and Anze Kopitar combined for three assists Thursday. For most of this season, the Kings haven't any one line going, so that's one positive aspect they can take forward into Friday.
Brown, Kopitar and Iafallo have combined for seven goals and nine assists in the last four games.
---
Get the latest on L.A.'s teams in the daily Sports Report newsletter.
You may occasionally receive promotional content from the Los Angeles Times.