What we learned from the Kings' 4-3 overtime loss to the Penguins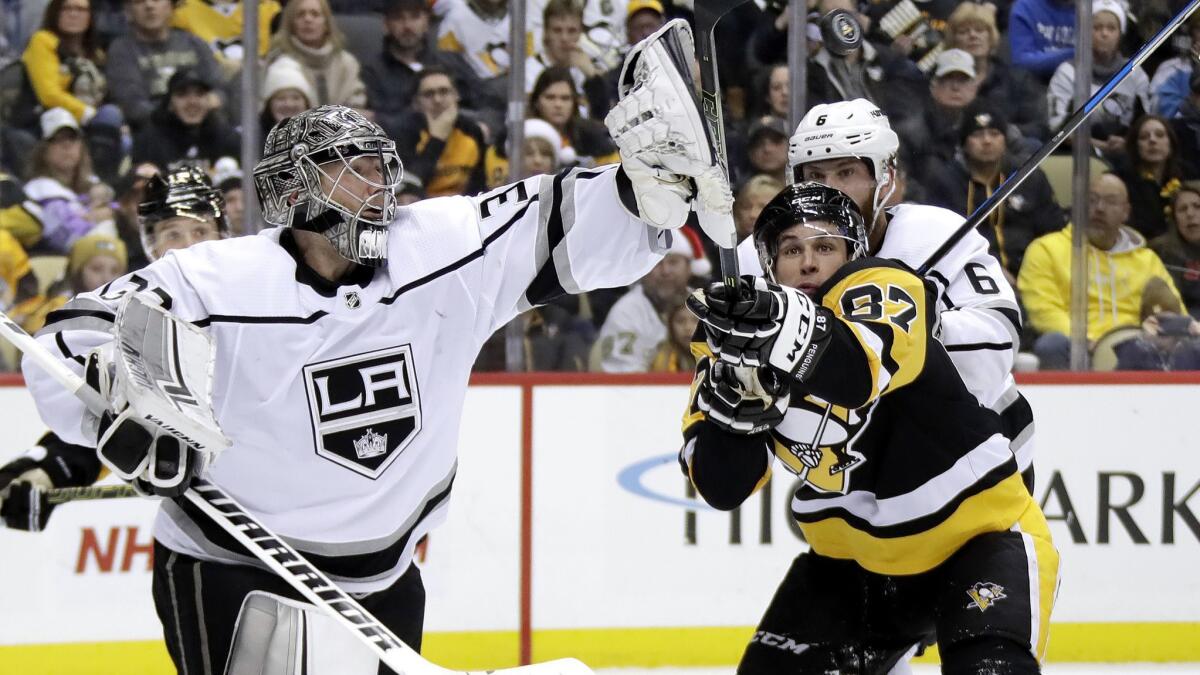 Reporting from Pittsburgh —
Game 34 could have turned out as a model of resiliency for the Kings going forward, a ray of light on the cross-country flight home.
They came back from a two-goal deficit and gave themselves a chance to win in overtime. It ended up as a 4-3 overtime loss to the Pittsburgh Penguins to go home 0-2-2 on trip.
It was entertaining and compelling late, a match of teams that traded chances at PPG Paints Arena. In the end, it was a reminder of how long a season this is going to be for the Kings.
Here's what we learned:
The kids can play. A long list of injuries has forced the Kings to play their prospects. They dressed four rookies Saturday. But it looks like some of them deserve to stay.
Matt Luff scored his seventh goal in 20 games and wasn't intimidated against a star-driven lineup, on a new line with Austin Wagner and Michael Amadio. Assuming this is a lost season, it doesn't hurt that the Kings can develop their younger players and build toward the future.
"The young guys are a big part of where the organization's got to go," Desjardins said. "I thought the Amadio line was outstanding tonight. They had a great game. I thought [Sean] Walker played well. I thought [Daniel] Brickley came in – he was good, too. Overall, our young guys played hard."
Toffoli might be cursed. Down 2-0 late in the opening period, Toffoli grabbed a pass from Nikita Scherbak and snapped it past Matt Murray from the right side. It would have ended Toffoli's 15-game scoring slump, but Pittsburgh challenged it and replays showed that Kempe was across the blue line before Scherbak's carried in the puck.
Toffoli was also stopped on a breakaway in overtime in a hockey gods-must-be-crazy turn of events, although Murray should be credited for the stop.
The beat goes on for Toffoli, who sits on five goals in 34 games.
Help is on the way … eventually. It probably won't be until after the New Year that the Kings get a semblance of a full roster available. Trevor Lewis is about one month way from returning from a fractured foot and Carl Hagelin (knee) is about three weeks away, Desjardins said. Jack Campbell is "close" to skating again in his recovery from knee surgery.
Ilya Kovalchuk is expected to be out the rest of the month while the Kings are awaiting word on Alec Martinez, Kyle Clifford and Dion Phaneuf.
Of course, trade rumors have surfaced with the Kings' veterans, but the holiday roster freeze goes into effect Wednesday and runs through Dec. 27. Developments can happen quickly, but the immediate window is small.
Twitter: @curtiszupke
Get the latest on L.A.'s teams in the daily Sports Report newsletter.
You may occasionally receive promotional content from the Los Angeles Times.