What we learned from Kings' 2-1 victory over Stars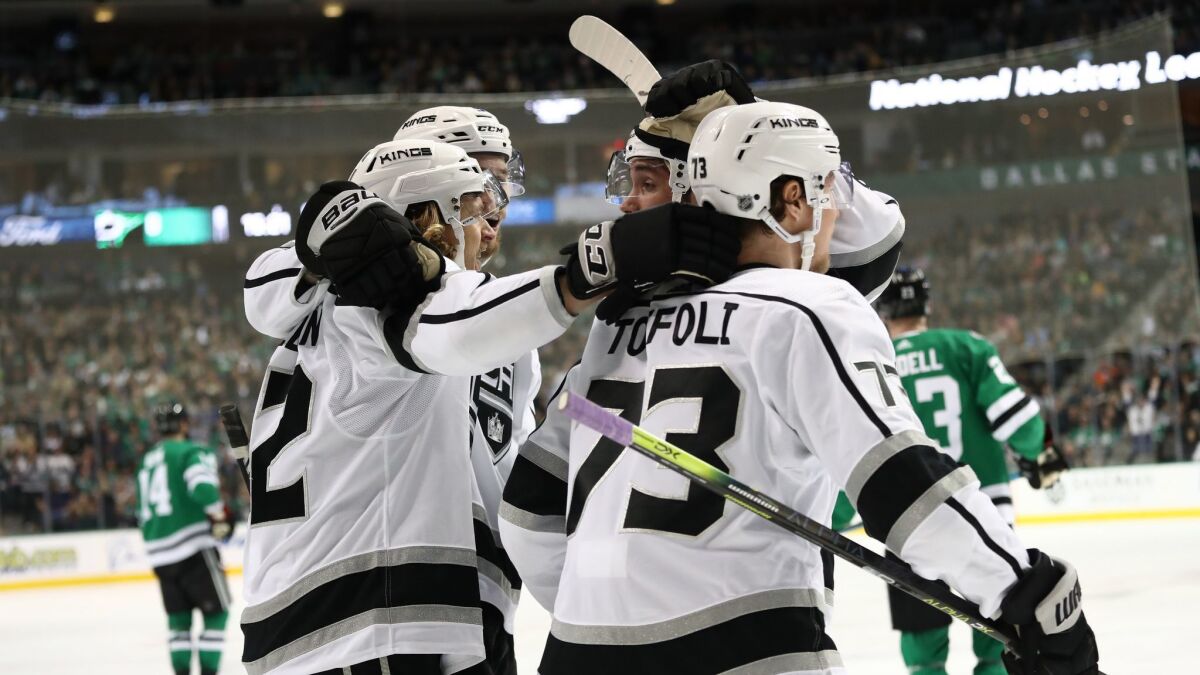 Reporting from DALLAS —
The bottomless well of feel-good Jack Campbell moments found more reserve Thursday.
The one-time resurrection project reached another memorable peak in a 2-1 win over his former Dallas Stars at American Airlines Center. He made 29 saves, with 18 coming in a third-period onslaught by Tyler Seguin, Jamie Benn and company.
Hard to believe the Kings originally got Campbell for defenseman Nick Ebert in 2016. But there was more layers to this win that we'll peel back further.
Here's what we learned:
Tyler Toffoli is making things happen. It's been a confounding season, scoring-wise for Toffoli. But he facilitated two goals Thursday. He induced a hooking penalty on John Klingberg, which the Kings converted, and he made an elite move around Tyler Seguin to get a shot on goal that Carl Hagelin tapped in for the game-winning score.
Toffoli sits on seven goals in 48 games, but he was noticeable in other ways on this night.
Sign up for our daily sports newsletter »
These are some disturbing periods. Two nights after the Kings played one of their worst second periods of the season, they were controlled heavily by Dallas in the third period and outshot, 19-3.
Those large swings often earmark inconsistent teams. The Kings have been outscored, 50-33, in third period this season.
"We've got to fix that," Drew Doughty said. "When we get leads in the past, we were able to shut those [teams] out and never let teams back in the game. This season, for whatever reason, in the third period, they always seem to dominate the third if we were winning … we need to clean that up. That's something we need to clean up if we want to win more hockey games and get into the playoffs, because if we keep doing that, it ain't going to work that way."
The power play hit pay dirt. Dustin Brown ended a six-game scoring drought on the power play, a statistic both misleading and telling.
The sample size was only 0-for-9 because the Kings have difficulty drawing penalties. That's often a sign of a slow team that can't induce hooking, tripping and holding infractions. But that's no excuse when they do get the man advantage.
"The guys on the power play usually our top players," Doughty said. "We feel that we need to make a difference to win the hockey games. Tonight we decided to simplify it, try to get a puck at the net the first five to 10 seconds of the power play."
Twitter: @curtiszupke
---
Get the latest on L.A.'s teams in the daily Sports Report newsletter.
You may occasionally receive promotional content from the Los Angeles Times.