Slava Voynov suspended by NHL until at least 2020 for domestic violence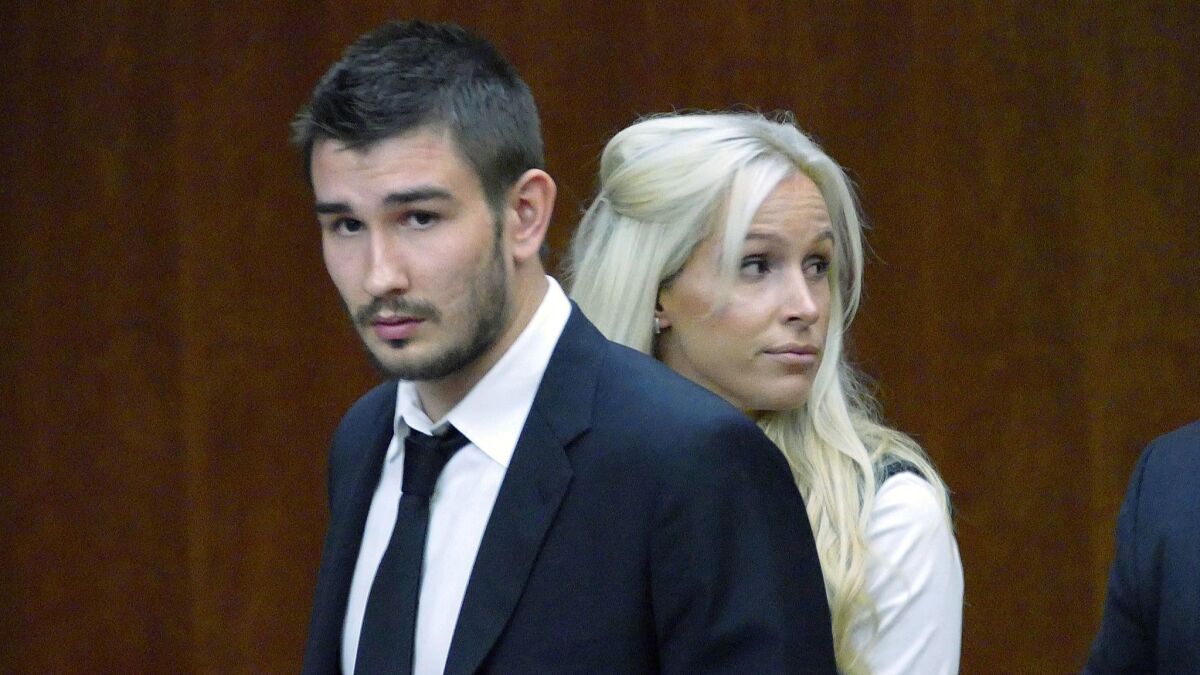 Former Kings defenseman Slava Voynov has been suspended for the 2019-20 season, including the 2020 playoffs, for "unacceptable off-ice conduct," the NHL announced Tuesday.
Voynov pleaded no contest to a misdemeanor charge of corporal injury to a spouse in 2015, from an October 2014 incident in which his wife, Marta Varlamova, told police Voynov had punched her during a Halloween party. Voynov later choked her with both hands, pushed her to the ground, kicked her, and shoved her into the corner of a flat-screen television, according to the police report.
Commissioner Gary Bettman made Tuesday's ruling after a league investigation and an in-person hearing on March 21, according to the release, which stated that Voynov's "eligibility to play in the NHL will be restored (assuming good behavior) no later than July 1, 2020."
Voynov can appeal the ruling to an arbitrator. A spokesman for the NHL Players' Assn. said in an email that "the NHLPA is reviewing the decision." Voynov's agent, Rolland Hedges, has not responded to repeated messages from The Times and did not immediately respond Tuesday.
The Kings said in a statement the team was reviewing the decision and that it was "premature for us to comment until we understand what today's decision, which can be appealed, means in its entirety." A Kings official said Voynov did not have a contract with the team.
"I have determined that Player Slava Voynov engaged in acts of domestic violence directed at his wife," Bettman said in a statement. "Today's ruling, while tailored to the specific facts of this case and the individuals involved, is necessary and consistent with the NHL's strongly-held policy that it cannot and will not tolerate this and similar types of conduct, particularly as directed at a spouse, domestic partner or family member."
The league suspended Voynov indefinitely. He served almost two months in jail and returned to Russia rather than face deportation.
Sign up for our daily sports newsletter »
Last July, Voynov was granted dismissal of the misdemeanor domestic abuse conviction. Deputy Dist. Atty. Frank Dunnick argued against the dismissal because of an alleged lack of evidence that Voynov had complied with his court-ordered requirements, which included jail time, a fine, domestic abuse counseling and community service.
Voynov played in Russia's Kontinental Hockey League for three seasons and was on the 2018 Olympic Athletes From Russia hockey team.
Twitter: @curtiszupke
---
Get the latest on L.A.'s teams in the daily Sports Report newsletter.
You may occasionally receive promotional content from the Los Angeles Times.