What we learned from the Kings' 7-3 loss to the Colorado Avalanche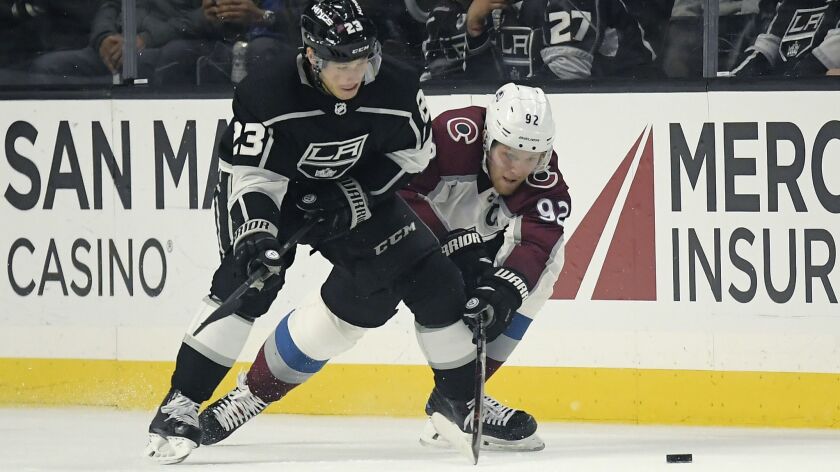 Whatever modest progress the Kings believed they made by winning two of three games in their recent trip to Chicago, Nashville and St. Louis vanished on Wednesday beneath a barrage of Colorado power-play goals and the Kings' inability to capitalize on their own power plays.
They lost forward Adrian Kempe to a lower-body injury late in the first period and coach Willie Desjardins said he didn't think it would be a long-term injury but more would be known in the coming days.
Here's what we learned from the Kings' 7-3 loss — their worst goal-against total of the season — to the Colorado Avalanche on Wednesday:
Their special teams were anything but special
Colorado converted its first three power-play chances and three of four overall; the Kings were 0 for 3 and have gone seven games without scoring a power-play goal. "You know how big a momentum swing is if you can kill a penalty or if you can score on the power play. In the second period we had so many chances to get it close again and we didn't do it," Kings center Anze Kopitar said. "At the end of the day, the score is obviously 7-3, but in the second period when the score is somewhat tight, you get power-play opportunities, you've got to cash in. that's just the bottom line."
Desjardins agreed about the special-team failures being a key factor. "They've been a problem for us the last probably three or four games for sure. That was the big difference," he said. "They just scored on the power play so they got lots of momentum off it and we didn't score on ours. When it was 2-1 we had a chance and didn't capitalize. I thought the power play was better. I thought it looked better than it has in the past, but it was pretty well the same story. We lost the special teams battle, and when you lose that you don't win many games."
Their identity as a formidable defensive team is just about gone
Jonathan Quick won the Jennings Trophy last season as the goaltender who played on the team that allowed the fewest goals, but the Kings now rank 23rd in the NHL with a 3.23 goals-against average (and they're last in goals scored at 2.05). "Defense is pride. That's all it is," defenseman Drew Doughty said. "And if you're not playing with pride you're going to lose every single hockey game.
"It's not what we ever envisioned," Doughty said of the erosion of their defensive foundation. "We still really focus on defense and we never want to lose that part of our game. And I don't have a reason as to why it's happening right now. Our goalies are playing well, so you can't ever blame it on a goalie. Can't blame it on Jonathan Quick being out, as much as he helps. Our goalies have been amazing, so it's not on them. It's on us. It's on us in front of them, right from the defense all the way up to the forwards. We need to play as a five-man unit out there and we're not doing that and that's why we're letting in so many goals."
No one can say what happens next
The Kings have fired their coach and traded an important player, Tanner Pearson, who has two goals for Pittsburgh since being dealt for Carl Hagelin. What do they do now? "I don't even know what to say really to that. It's just a frustrating time," Doughty said. "I take it all personal because I'm the guy that needs to get us out of this and I'm doing everything, or I'm trying to do everything I can, and maybe sometimes that's too much and it's going backward on me. It's a frustrating time and we need to get out of it and we need to get out of it now. We've said that for weeks. But I don't know what to say anymore, honestly. Sorry."
Kopitar thought the Kings had taken a step forward during their trip but they took a big step backward on Wednesday. "Coming here tonight, it's just, I don't know what to say what happened, really," he said. "No emotion, no desperation, no energy, no nothing, and it's unacceptable."
---
Get the latest on L.A.'s teams in the daily Sports Report newsletter.
You may occasionally receive promotional content from the Los Angeles Times.