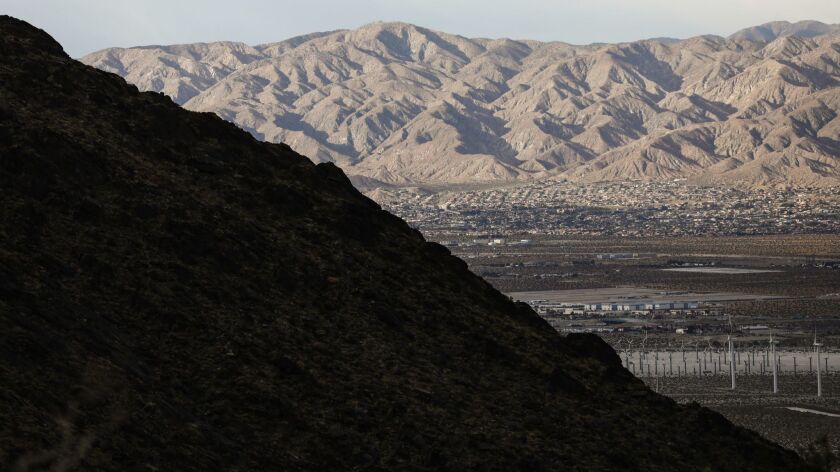 Is Palm Springs a hockey town?
One of the nation's foremost arena companies has put a big bet on "yes." The Oak View Group and the Agua Caliente tribe on Wednesday announced plans to spend $250 million to build a 10,000-seat arena in downtown Palm Springs.
The booming Coachella Valley — and the vibrant scenes around the annual Coachella and Stagecoach music festivals — make the location a natural for a new concert venue, but the arena also is planned as the home of a minor league hockey team.
The team would be affiliated with the expansion NHL team in Seattle, with both teams scheduled to open play in 2021. Oak View Chief Executive Tim Leiweke said he expected the Palm Springs team to draw 8,500 to 10,000 fans a game.
"My guess is, most of the games will sell out," said Leiweke, former president of AEG, the company that owns the Kings.
The San Diego Gulls led the 31-team American Hockey League in attendance last season, with an average crowd of 9,021, and the Ontario Reign ranked fourth at 8,352. Teams in Bakersfield (5,034), Stockton (3,690) and San Jose (3,680) did not draw nearly as well.
The Agua Caliente tribe also is the title sponsor of the Clippers' G League team, which plays its home games in Ontario. Tribal Chairman Jeff Grubbe said moving that team to the Palm Springs arena is yet to be discussed.
Grubbe said the tribe is partnering in the privately financed facility to diversify a portfolio that includes hotels, casinos and spas around the Coachella Valley, with a museum and cultural center scheduled to open near the arena site next year.
Sign up for our daily sports newsletter »
The population of the Coachella Valley is expected to rise by more than 50% over the next three decades – from 477,000 in 2016 to 512,000 in 2020 and 754,000 by 2045, according to the Southern California Assn. of Governments.
Leiweke said that population can reach 1 million on busy winter weekends. He said the arena could expand to 12,000 seats for concerts, in part with an open-air concourse.
Live Nation already has agreed to book artists and events into the new arena, and Leiweke said that partnership would be particularly impactful when the music festivals and Palm Springs Film Festival take place.
"The ability to create activity around those events will be massive," he said.
Follow Bill Shaikin on Twitter @BillShaikin
Times staff writer Curtis Zupke contributed to this report.
---