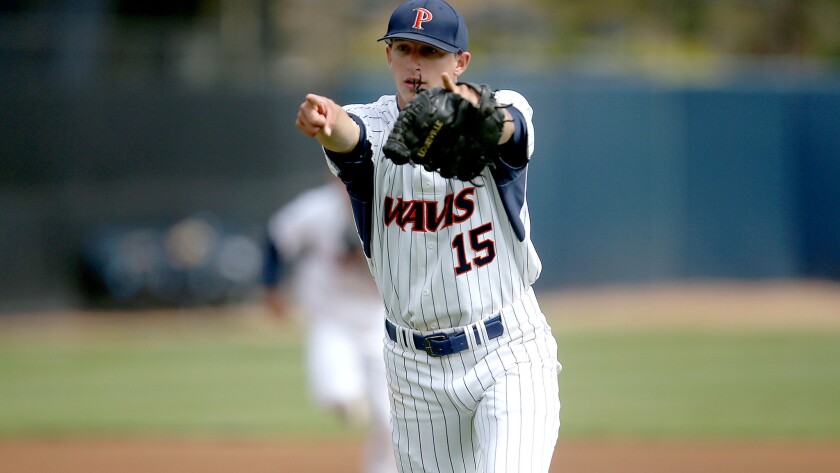 Since A.J. Puckett had last given up an earned run, on March 4, the Dodgers' bullpen alone had given up 37. The Clippers lost not one but two superstars to injury. The Republican presidential primary went from a likely contested convention to a rout.
In the history of college baseball, Puckett, a junior right-hander for Pepperdine, was approaching unprecedented territory.
Baseball, a game that requires mastering consistency amid tedium, reveres streaks and the players who compile them.
Joe DiMaggio. Cal Ripken Jr. Orel Hershiser.
And few college players had gone longer without giving up a run than Puckett.
By the third inning against Brigham Young on Thursday, Puckett was sitting on 45 2/3 innings scoreless and 57 1/3 without an earned run. He was nearing the second-longest streak in college history.
And he was mostly cruising. Then he left a two-seam fastball over the plate, and Brennon Lund, a well-regarded prospect in BYU's powerful lineup, knocked it over the wall in right for a two-run home run.
There was, from the modest crowd assembled at Eddy D. Field Stadium, a gasp.
"The way he's pitching, you'd think it might never end," Pepperdine Coach Rick Hirtensteiner said afterward. "Just because he's been that good."
Puckett walked halfway to home plate, his streak over but his demeanor unchanged, and asked for another ball. He said the streak had been on his mind. Teammates teased him about it.
But, he said, "I didn't want to worry about it too much. Even after the home run."
Puckett's streak was the third longest in college baseball history. Tennessee pitcher, and future Colorado Rockies first baseman, Todd Helton went 47 innings in 1994. Over two seasons, 1954-55, George Plender of Vermont went 60.
In the major leagues, Hershiser's 59-inning scoreless streak remains the gold standard. And, of course, his degree of difficulty, against major league hitting, was significantly higher.
But mounting a scoreless streak in college comes with its own traps. The game's metal bats, even with new models that behave more like wood, still provide more pop. Defenses are younger and mistake-prone.
Most significant, there are 300 Division I baseball teams. That means multitudes of pitchers with a chance to get hot. Out of all of them, across decades, Puckett lasted longer than all but two.
"It's staggering what he's doing," said John Schiffner, Puckett's manager on the Chatham Anglers of the Cape Cod League. But, he added, he had not been shocked.
Last summer, Schiffner debated whether Puckett was even ready for the prestigious Cape Cod League, where many future major leaguers spend their summers. Schiffner believed Puckett's offerings were enough to "take him quite a ways into pro baseball."
First, though, Puckett needed to find command.
When Puckett arrived in Chatham, the pitching coach, Jon Strauss, told Schiffner, that Puckett was "a few inches away from being really good."
He meant it literally. If he could locate his pitches, his lively fastball, plus a power curveball and changeup, would be tough to hit.
Midway through the summer, Puckett's confidence clicked. He'd been working on shortening his kick. Now, his delivery became repeatable. He strung together multiple starts that foretold a torrid college season.
When Puckett returned to Pepperdine, he was throwing better than he ever had. After high school at Concord De La Salle, he'd been drafted in the 35th round by his childhood team, the Oakland Athletics. He went 2-2 as a freshman with the Waves and 7-5 as a sophomore. For his first few starts this season, only a smattering of scouts showed up.
By Thursday, there were enough radar guns to outfit a California Highway Patrol unit. Before the game, Puckett's mother, Brenda, took a photo, a couple dozen scouts crowded in the home plate grandstand. It was the most she'd ever seen at one of his starts.
Professional scouts don't put much stock into college statistics. Records mean even less.
For Puckett, that was for the best. He made his worst start all season — five earned runs in 5 2/3 innings in a 9-5 defeat. He dropped to 7-3, which is what bothered him most afterward.
"I'm not thinking about the whole streak going on," he said.
That too is another difference from Hershiser's.
A few scouts in attendance said they weren't even aware of the scoreless streak. Puckett was just turning into a prospect, and they wanted to judge for themselves.
Follow Zach Helfand on Twitter: @zhelfand
---