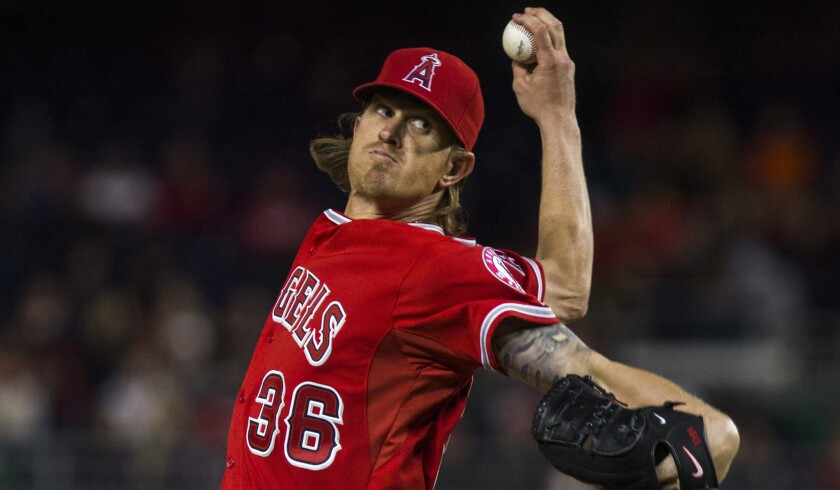 AT THE PLATE: The Angels scored twice in the sixth to take a 2-1 lead when Mike Trout walked, Albert Pujols hit a run-scoring double and Erick Aybar hit a run-scoring single. David Freese ended an 0-for-14 skid when he doubled to left-center and later scored on a wild pitch in the seventh, and Trout had a run-scoring single in the ninth. Pujols, who also singled in the first, struck out with the bases loaded to end the ninth. Aybar was seven for 12 in the series to raise his average from .175 to .240.
ON THE MOUND: Jered Weaver, pitching on a windy, chilly, 54-degree evening, held the Nationals to one run and seven hits in six innings, striking out two and walking one before being pulled for a pinch-hitter in the seventh. Michael Kohn, who has emerged as the No. 3 man in the bullpen, threw a scoreless seventh. Joe Smith worked around a Pujols error to throw a scoreless eighth before closer Ernesto Frieri lost the game in the ninth.
ON SECOND THOUGHT: Nationals left fielder Bryce Harper raised eyebrows with a highly questionable bunt attempt on a 2-and-2 pitch with none out and a runner on first in the sixth. Harper popped out to the catcher. In the eighth, Harper, who was pulled from Saturday's game against St. Louis for not hustling to first on a grounder, jogged out of the box on a grounder to first. When Pujols bobbled the ball, Harper broke into a sprint and reached on an error.
IN THE FIELD: Trout made a spectacular play in the first, racing in from center field and making a diving catch of Harper's flare with two on to end the inning.
EXTRA BASES: The "transfer rule" reared its ugly head again in the ninth when Raul Ibanez hit a line drive that Nationals first baseman Adam LaRoche appeared to catch above his head. But as LaRoche brought his glove down toward his waist and looked to throw to second for a double play, the ball squirted out, and Ibanez was ruled safe.
UP NEXT: The Angels, who are 3-3 on the trip, are off Thursday. Left-hander C.J. Wilson (2-2, 4.21 ERA) will oppose New York right-hander Hiroki Kuroda (2-1, 4.07 ERA) at Yankee Stadium on Friday at 4 p.m. PDT. Wilson has given up two earned runs or fewer in six of his last seven starts against the Yankees. On the air: TV: FS West; Radio: 830.
---