Marcio Sicoli is a premier beach volleyball coach few would recognize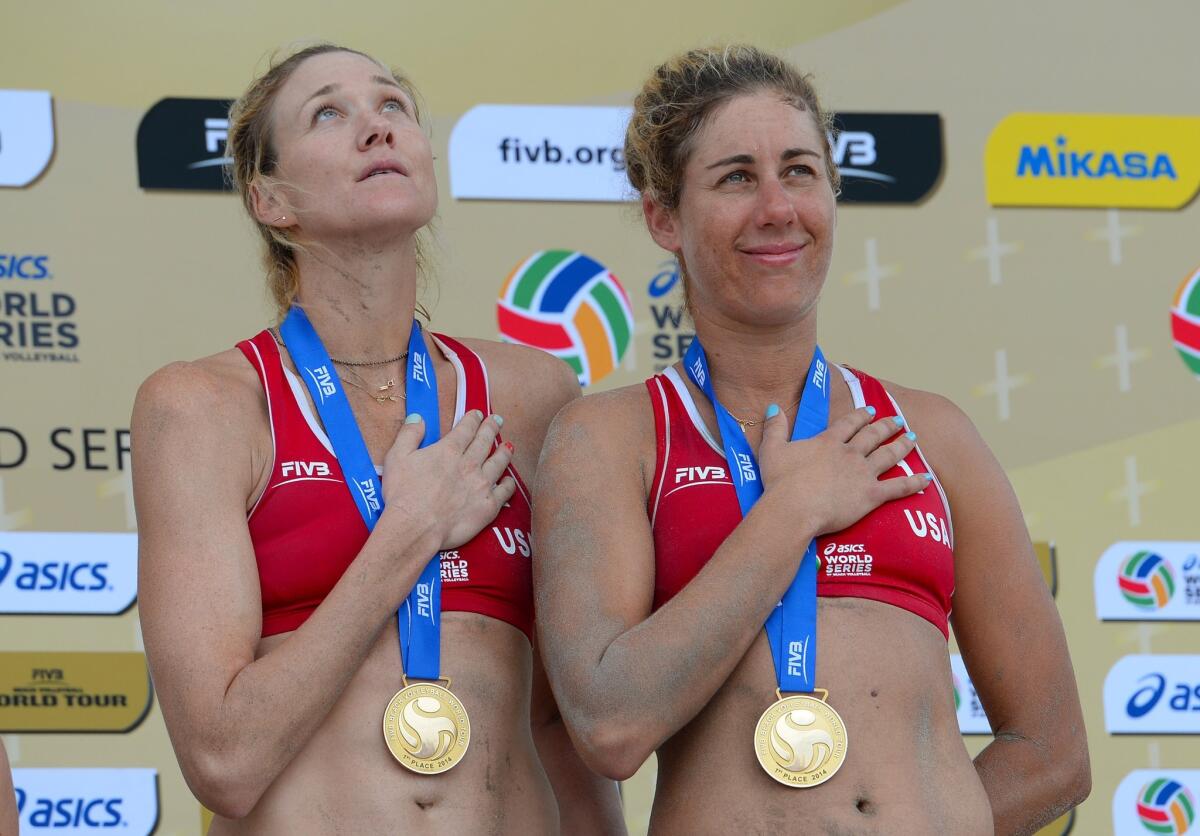 Football coaches stalk the sidelines wearing headsets. In hockey and basketball, coaches stand out in their perfectly tailored suits. Baseball managers leave the dugout to pull pitchers and badger umpires.
But in beach volleyball, you never notice the coach.
On the sport's premier stage, the Summer Olympics, or at FIVB international events, coaches don't get to be on the court with their teams.
These two names probably ring a bell: Misty May-Treanor and Kerri Walsh Jennings, three-time Olympic gold medalists. But good money says few recognize this one: Marcio Sicoli, their coach for the London Games.
Sicoli now coaches Walsh Jennings and April Ross, the 2012 silver medalist with former partner Jennifer Kessy. May-Treanor has retired from the game.
"I think he's the best coach in the world," Walsh Jennings said. "He was a huge part of Misty and I winning a gold medal in London. We don't win that gold medal without Marcio. And I know with April and I, on the way to Rio, he's going to be instrumental. He already has been."
Walsh Jennings and Ross have elite experience but not with each other. And that's where Sicoli comes in.
"He is in my brain at all times," Walsh Jennings said.
Sicoli said his role is to help Walsh Jennings and Ross as they develop the "secret language between partners" and sort out their identity as a team.
"The big aspect of communication is [that] they be themselves and each of them celebrate each other," Sicoli said.
In other words, recognize their strengths, talk about their different skills and maximize their talents as a team.
"They focus on the strengths, and me as a coach, I focus on the weaknesses to make them better," Sicoli said.
Heading into this weekend's Manhattan Beach Open, an AVP event, Walsh Jennings and Ross have swept all three AVP tournaments this season. They've also won four international competitions.
But they've also finished fifth twice and ninth three times on the FIVB tour— not quite the results two of the world's best players have come to expect.
"You can't predict an Olympic cycle that you're going to win everything, so you're going to have ups and downs," Sicoli said. "We're looking for, right now, work on their expectations because both of them expect a lot of themselves."
Because this weekend's tournament is an AVP event, Sicoli can be with Walsh Jennings and Ross during matches.
"The AVP is so great for that because he can be right there in our box, and if we need to talk to him, we can take a timeout," Ross said. "He can redirect us in strategy or help us adjust if we're not figuring things out on our own."
Walsh Jennings and Ross bounce between international and domestic tournaments. AVP tournaments are opportunities for Walsh Jennings and Ross to lay solid groundwork for the international season, where they can't get feedback in the middle of a set.
Sicoli said communication and defense are areas for improvement, two factors that usually come with time.
"I'd describe right now, Kerri and April, as a rough diamond," Sicoli said. "It's a long process. Our offense has been growing a lot. I think we're not ready yet either, but that's one of the things that has been growing a lot. We need a lot of work on defense, and I think we're almost at that."
Without Sicoli, whose modesty and talents his players deeply respect, it wouldn't be possible.
"He's priceless," Walsh Jennings said.
Follow Samantha Zuba on Twitter @szuuuubes
Get our high school sports newsletter
Prep Rally is devoted to the SoCal high school sports experience, bringing you scores, stories and a behind-the-scenes look at what makes prep sports so popular.
You may occasionally receive promotional content from the Los Angeles Times.