Floyd Mayweather Jr. says he's going out 49-0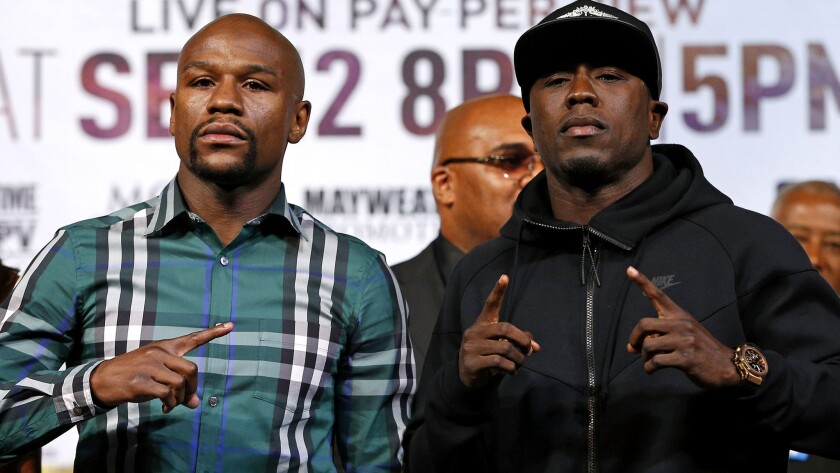 Reporting from Las Vegas —
Floyd Mayweather Jr. delivered a rare, extended reflection at what was billed as his final pre-fight news conference on Wednesday.
"I really spoke from the heart," Mayweather (48-0) said afterward as his welterweight title defense approaches against massive underdog Andre Berto on Saturday at MGM Grand.
"I'm very thankful and appreciative and glad that everything went like it went in my career. Me, my family and my team went through ups and downs, but everything came together and that's why we're here today. I'm happy with how my career went."
Amid skepticism that it will be Mayweather's final fight, the 38-year-old said he trained for former welterweight champion Berto (30-3, 23 knockouts) as if this is the end.
Mayweather's six-fight deal with Showtime will end with this bout and Showtime Vice President Stephen Espinoza told reporters the fighter generated nearly 10 million total pay-per-view buys worth $750 million in his five prior fights.
Mayweather is now days from probably tying the legendary 49-0 mark of late heavyweight champion Rocky Marciano.
"We've had so many times," Mayweather said gazing at dozens of reporters and photographers. "I know talking doesn't win fights. I know trainers don't win fights. It comes down to two competitors and I'm always prepared physically [and] mentally."
What started as a 1996 Olympian's pro debut across town at Texas Station evolved into world titles in five divisions, then spiraled from his 2007 victory over Oscar De La Hoya to make him sports' highest-paid athlete.
"I came to say I'm going out 49-0," Mayweather said. "Reporters have been asking after the [Manny] Pacquiao victory, were you able to bounce back? Get in top condition? Absolutely. Berto is not a pushover. I know what it takes to win a fight of this magnitude."
The magnitude is under question. Showtime is charging $74.95 for the high-definition version of a fight where the opponent has lost three of his past six bouts.
"Critics don't know the sacrifices we make," Berto said. "The small whispers of negativity come from people who couldn't dare do what we do. On Saturday night, I'm coming for my respect."
It was Berto's March knockout of Josesito Lopez in Ontario that won him the shot at Mayweather, and Berto's trainer, Virgil Hunter, scolded critics of this apparent one-sided affair.
"Does Andre Berto have the capability of fighting over his head? Yes he does," said Hunter, who made reference to Joe Frazier, Villanova and Elvin Hayes as upset models his fighter can follow. "Floyd's I.Q., we're not going to try to match it, but … we can disrupt it.
"I've just got this feeling … there's something brewing in the air. I know it. There's some personal stuff going on here. Trust me, it's going to be a rumble."
Mayweather has heard that before, and routinely embraces the idea of a war only to help sell a fight. Mayweather's foot and hand speed and technical skill usually leave him unmarked, the evasive acts disappointing those who tuned in expecting blood to be spilled.
"It's not just the intelligence … it's the good chin, the tremendous heart," Mayweather said. "I never overlooked an opponent. I trained for every opponent the same way. I pushed myself. I believe in my skills and believe in my talent. I've been in there with the best and the results [were] always the same.
"You've got fighters who may be faster than me, may hit harder than me, fighters who are very athletic. But you don't have any fighter who can make adjustments like me, who can be on my level mentally. … I kept my eyes on the prize. No matter what happens Saturday, when it comes down to boxing, I'm the best at this."
Mayweather was feeling sentimental enough to finally allow his father/trainer, Floyd Mayweather Sr., to take the microphone during a news conference.
"Berto, 49-0, you must go," Mayweather Sr. said before unveiling his latest poem that started, "Floyd's the man to meet if they wanna get beat."
The elder Mayweather says he expects his son to fight again, but he cautions him to make a decision no more than six months after Saturday night because of age.
"No fighter has been in more big fights, no fighter has beaten more champions," Mayweather Jr. said of himself. "I know everything my opponent is doing … no different with Berto. He went to the boxing gym last night. His weight was low, so he didn't train. Every move that you make, I know.
"This is called chess, not checkers."
Twitter: @latimespugmire
---
Get our high school sports newsletter
Prep Rally is devoted to the SoCal high school sports experience, bringing you scores, stories and a behind-the-scenes look at what makes prep sports so popular.
You may occasionally receive promotional content from the Los Angeles Times.