Boxing has helped Army veteran Sammy Vasquez work through PTSD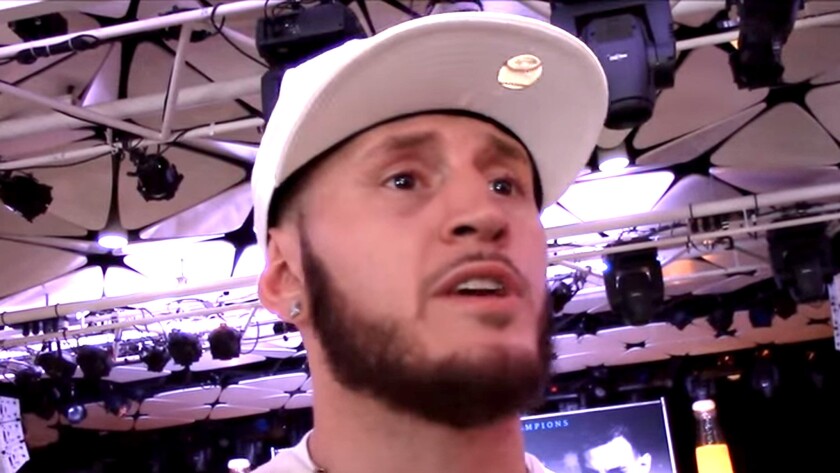 Undefeated welterweight Sammy Vasquez (20-0, 14 knockouts) and his Saturday night co-main event opponent Aron Martinez of Los Angeles are linked by their desire to win a boxing title one day.
But Vasquez's cause is something more.
"Mine is for America," Vasquez said.
Not only does the Pennsylvania fighter want to discuss his upcoming Fox-televised fight at Staples Center, he feels compelled to open the conversation with a discussion of military service.
Vasquez was 17 when he committed to the idea of joining the Army after being shaken by 9/11 as a younger boy.
He served two duties in Iraq, a 2005-06 stint in which he served on quick-reaction and security teams, and a 2008-09 assignment in which he worked alongside and helped train members of the Iraqi military and police.
"We were mortared just about every day in '05-'06," Vasquez said. "You'd get used to it. We stayed in an abandoned building with makeshift wood walls, slept on a cot. We had three minutes to get out of the gate if someone needed help.
"[The Taliban] would set up an IED [improvised explosive device], ... then try to ambush you or set up a daisy chain of IEDs to try to blow you up. You've got to be diligent, know where you're at. Anything misplaced, you have to notice it, or it could be someone's life."
The work was extremely stressful and gruesome at times, Vasquez said. He would collect the valuables of Americans killed in action.
"You can't prepare yourself for what you think war is," he said. "You see someone you're there with every day, talk about getting home … and then one of them ends up dead. That jacks your brain up … you get a lot of anger, aggression."
Vasquez, 29, has been diagnosed with post-traumatic stress disorder. He said he is counseled by a psychiatrist familiar with the symptoms.
"You think you're fine, and want to be tough, but I can't sleep at night," he said. "I look outside if I hear a car brake. I have to sleep with a fan on. Because if it's too quiet, I'll go outside all night to check my house.
"When I go to restaurants, I sit with my back to the wall and my face to the door to see who comes in and out. So it's easier to talk to someone, and that's what I want anyone who hears me to know — to spread the word there's help out there.
"Boxing is something that helps me separate my anxiety, aggression and my paranoia."
Vasquez, a left-hander, first learned boxing after being bullied as a child. When he left the Army in 2012, he fought in Mike Tyson's company before landing with powerful boxing manager Al Haymon's Premier Boxing Champions.
In Martinez (20-4-1, four KOs), Vasquez will face an opponent who upset former world champion Devon Alexander late last year. Martinez also thought he was robbed of a decision last June against Robert Guerrero, who fights in the main event Saturday against Danny Garcia.
"Aron Martinez is a tough fighter, but it's my job to take him out and keep moving up the ladder," Vasquez said.
Twitter: @latimespugmire
---
Get our high school sports newsletter
Prep Rally is devoted to the SoCal high school sports experience, bringing you scores, stories and a behind-the-scenes look at what makes prep sports so popular.
You may occasionally receive promotional content from the Los Angeles Times.