Great Read: Controlling the faceoff is critical to the game of hockey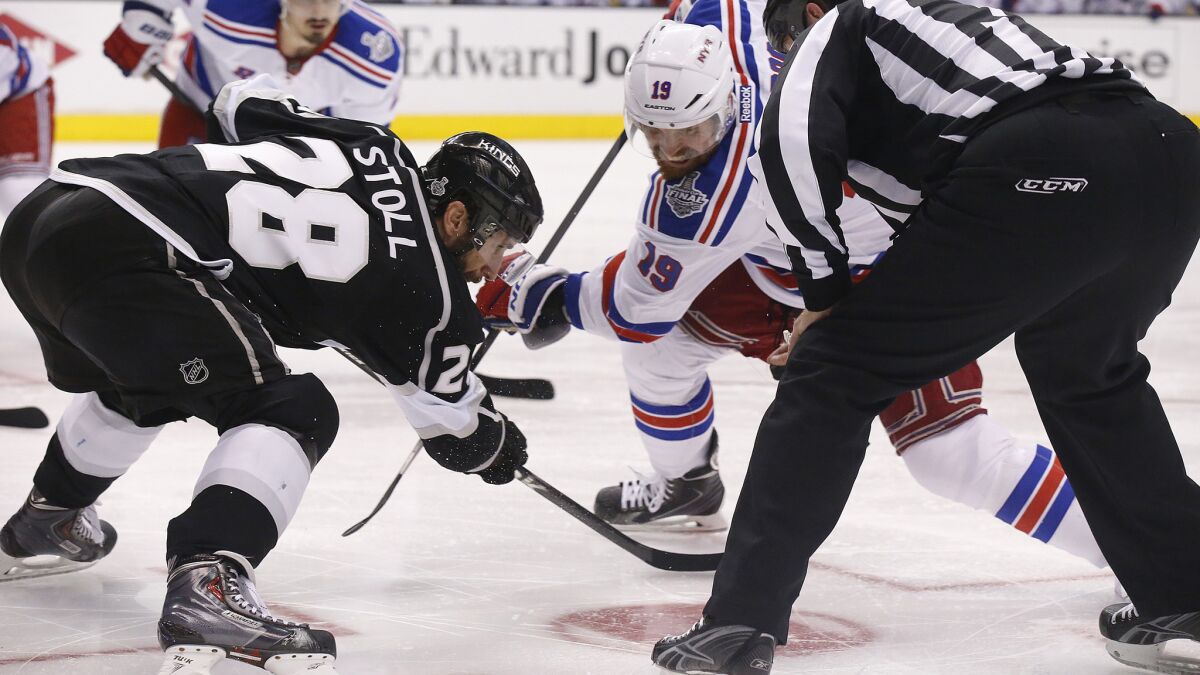 His hands gripped the hockey stick a little tighter as he glided into the faceoff circle.
Jarret Stoll spread his skates wide, crouching low to the ice, positioning himself nose-to-nose with his opponent.
It was early in Game 2 of the Stanley Cup Final and the Kings, trailing by two goals, needed to make something happen. They needed Stoll to win a faceoff against New York Rangers forward Brad Richards.
"You almost have that mind-set where you'll do anything," Stoll said.
In basketball, when a player scores or flings a pass out of bounds, the other team gets the ball. After touchdowns in the NFL, there is a kickoff. Hockey is different.
No matter which team scores or commits a penalty, the puck goes up for grabs every time play resumes. An official drops it between two men who clang together, swinging their sticks and even kicking as they grapple for possession.
These brutish clashes aren't as glamorous as goals or sprawling saves but in this sport, victories are often the sum of smaller moments — two players chasing a loose puck, a winger forechecking along the boards, a defenseman forcing an attacker to the outside.
Faceoffs belong in the equation. Kings Coach Darryl Sutter calls them "something that everybody in the league really pays attention to."
Stoll ranks among the NHL's best at winning draws. Not a particularly big man, he excels with dexterity and cunning.
Hunkering down against Richards, he ran calculations through his head. What strategy might his opponent take? Where were his teammates positioned around him? Was the official right-handed or left-handed?
"Those little things you think about," he said.
As the puck fell, he dug his skates into the ice and drove forward, butting his head into Richards' midsection. His stick swiped once, then twice.
::
The Kings play at Madison Square Garden in New York on Wednesday night with a chance to sweep their seven-game series against the Rangers and claim the Cup for the second time in three seasons.
Coaches usually put the team through a short skate before games. Stoll sticks around afterward.
The 31-year-old has an assistant coach drop pucks, one after another, as he hones his hand-eye coordination with machine-like flicking motions.
"He works hard at it," teammate Jeff Carter said. "It's something he takes pride in."
There can be 50 or more faceoffs in an NHL game, and twice that many with overtime. They take place at one of nine red dots — two at each end and five at mid-ice — depending on where the previous play ended or which team was penalized.
Most teams rely on their centers — the men in the middle of their rotating front lines — to handle the draws. Stoll, Carter, Anze Kopitar and Mike Richards shoulder the burden for the Kings.
It is hard to quantify the value of their efforts. The Nashville Predators led the NHL in faceoff percentage this season but failed to make the playoffs. The top players in the circle hope for a 60% success rate.
The important part? Winning the draws that matter.
At the offensive end, a victory can translate into a quick shot on goal. At the defensive end, it is crucial to keep the puck away from the other team.
Penalty kills, when the opponent has an extra man for two minutes or longer, can be even more vital. Kopitar won this type of draw early in Game 3 on Monday night, allowing his team to fling the puck all the way down the ice.
"It takes 15, 20 seconds off the clock," Kings goalie Jonathan Quick said. "It's a little bit easier to kill 1:40 than 2:00."
--
As a youngster in Saskatchewan, Stoll realized that deft hands served him well in the faceoff circle. Breaking into the NHL with the Edmonton Oilers in the early 2000s, he learned a few tricks from Coach Craig MacTavish and teammate Adam Oates.
"Jarret was good already," Oates recalled. "I just gave him a little information."
The veteran taught Stoll that every faceoff presented a choice.
Like a pitcher deciding between the fastball and the curve, he could swipe forehand or backhand. He could employ a spin move, swiveling his body over the puck to block his opponent, or bull straight ahead and leave the puck behind for a teammate to collect.
"Most guys think it's about size," Oates said. "It's not. It's all about leverage."
NHL regulations state that the two players in the faceoff circle should stand squarely to each other, about a stick-length apart, with the blades of their sticks on the ice.
These rules often blur once the game begins.
Stoll likes to tap his stick to set a rhythm, which is a violation. Other guys lean into the neutral space or slide one skate a few inches forward.
Taking faceoffs is all about seeing "how much you can get away with," Rangers center Brian Boyle said.
Only when everyone is set and relatively still does the puck fall. Officials try for a clean motion — any quaver might get them whacked as the opponents clash together.
"I refer to it as a small window of opportunity when the sticks are down and both players are ready to go," said Rob Shick, a longtime referee who now supervises NHL officials.
The puck is supposed to land at the center of the dot, but no one is perfect. Experience has taught Stoll that right-handed officials tend to drop an inch in that direction, with left-handers going the other way.
"Sometimes I position myself really tight toward them and some referees don't like that," he said. "I try to ask them politely to move."
Though he stands 6 feet 1, Stoll skates and shoots from a squat, athletic position. That is why he crouches in the circle, seeking a lower center of gravity.
"Oates showed me how you always go backhand," he said. "You're a lot stronger that way."
Sometimes it helps to mix things up but, in the second period on Monday night, Stoll weighed his options against Boyle and stuck with the backhand.
His right hand slid down toward the blade of his stick, his left hand nearer to the center. At the last moment, his stick began tapping.
When the puck fell, Stoll threw himself head-first into Boyle.
"I like that momentum where you feel like you're moving into it," he said. "You're not always going to win the puck on the first try … a lot of it is second and third effort."
Boyle adroitly countered the move.
Going forehand first, he blocked Stoll's initial swing, then swiped back in the other direction to knock the bouncing puck to a teammate.
::
One more piece of advice that Oates gave Stoll: Clear your head after a losing draw. Calm yourself before going back to the circle.
Stoll has taken a different route to his 56.6% success rate in these playoffs.
"I use that energy," he said. "If you're calm taking a faceoff, I don't think you have the right determination."
By the time he squared off against Richards in Game 2, with his team trailing 2-0, a couple of draws had gone against him.
This time, he got to the puck first, sliding it backward to the boards where teammate Slava Voynov took control. Possession allowed the Kings to mount an attack, rushing down the ice with Stoll following close behind.
"They've got a real strong group down the middle," Rangers Coach Alain Vigneault said. "A lot of their plays start with faceoffs."
The puck ended up in the Rangers' end, where Dwight King shot from the blue line. The rebound caromed diagonally to Justin Williams, who sent a pass back into the slot.
Stoll swooped in, beating Richards to the spot and sliding a wrist shot past New York's goalie. The Kings narrowed the gap to 2-1 and were on the way to a double-overtime victory.
Not too often does a faceoff win yield such dramatic results for the man who took the draw. But Stoll insists the key to being good in the circle is believing.
"Those are big moments," he said. "They add up."
So, as the Kings return to the ice on Wednesday, trying for their biggest win of the season, Stoll will grab his stick a little tighter and crouch a little lower. Maybe ram his head into the other guy, too.
The faceoff man will do whatever it takes.
Get our high school sports newsletter
Prep Rally is devoted to the SoCal high school sports experience, bringing you scores, stories and a behind-the-scenes look at what makes prep sports so popular.
You may occasionally receive promotional content from the Los Angeles Times.