Need a quarterback for your college team? A California high school is a good place to find one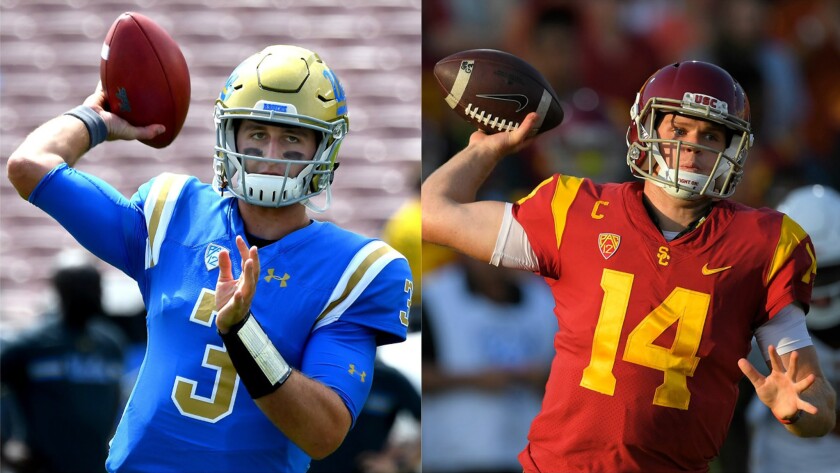 Three sayings dominate when college football recruiting enthusiasts discuss where the best players come from. Need linemen? Look to Texas. Need speed? Look to Florida. Need a quarterback? California is the place to go.
That reputation starts with the success of California-bred quarterbacks in the NFL. The list includes: Tom Brady, a product of Junipero Serra High in San Mateo; Aaron Rodgers, a Chico native who played at the University of California; Carson Palmer, who starred at Rancho Santa Margarita High and USC; Jared Goff, another Cal QB and a native of Novato; and Derek Carr, a Bakersfield native who played for Fresno State.
One Southern California high school, Santa Ana Mater Dei, has had three quarterbacks — Matt Leinart, Colt Brennan and Matt Barkley — drafted in the last 13 years. In this year's NFL draft, California's QB pedigree again was on display.
Sam Darnold, drafted third overall by the New York Jets, played for San Clemente and USC. Josh Allen, taken at No. 7 by Buffalo, played high school football at Firebaugh in Central California and at Reedley College before transferring to Wyoming. Josh Rosen, the No. 10 pick by Arizona, played at Bellflower St. John Bosco and UCLA.
The Los Angeles Times examined the last five high school recruiting classes, using 247Sports composite rankings, as well as the last five years of the NFL draft. Looking at the top 50 quarterbacks in each of the recruiting classes, California produced 41, Texas 31 and Florida 24.
And California is tops not only in quantity, but also quality: Twenty-eight of those quarterbacks were four- or five-star recruits, compared to 16 for Texas and 10 for Florida.
"It just seems obvious," said Steve Wiltfong, director of recruiting for 247Sports. "Big states with great high school football, great high school football coaches and great offenses."
Recruiting rankings are one thing. Success at the college level is another. How are those recruits actually performing, and where are the ones who perform well coming from?
The answer is incomplete because the data includes the 2018 class, whose members have yet to play. Few from the 2017 class have played, either. Of those who have played from those recruiting classes, 12 from Texas have thrown for at least 1,000 yards and 10 touchdowns. California is second with 10.
In the last five NFL drafts, Florida has had 13 quarterbacks taken, California 10 and Texas six. California and Florida tie for the lead in first-round quarterbacks drafted with four.
In every metric, in every evaluation of quarterbacks, California, Florida and Texas are always first, second and third. That's because as the nation's three most populated states, they have more of everything.
Adam Behrends, the quarterbacks coach at Florida's IMG Academy who has tutored current college quarterbacks Shea Patterson, Deondre Francois and Kellen Mond, said there's another reason those states have the most success: weather.
Warm weather allows players to develop year round, Behrends said, and he's seen it. The Iowa native remembers how harsh winters prevented players from evolving at the same rate as their southern and western counterparts.
That might help explain why New York, the nation's fourth-most populated state, has produced only two quarterbacks — Wisconsin's Jack Coan and Penn State's Jake Zembiec — among the top 50 in their classes over the last five years.
Year-round schedules in states like California allow for more competition and more repetition, according to Greg Biggins, a recruiting analyst for 247Sports. He covers primarily West Coast players and offered two explanations for California's knack for producing quarterbacks.
The first has to do with a burgeoning cottage industry. "Everybody's got a [private] quarterback coach," Biggins said.
The second goes back to the weather. The year-round mild temperatures have allowed seven-on-seven leagues to flourish, and he said they're especially helpful to quarterbacks. The games, which are non-contact, help a quarterback develop without worrying about sacks or hits.
California, Florida, Georgia and Texas placed the most quarterbacks among the top 50 in each of the last five years. So who's the most productive when population — California's is 39.2 million — is factored in?
Georgia is the state with the most per-capita talent at quarterback over the last five recruiting cycles. Players like Trevor Lawrence (Clemson), Justin Fields (Georgia), Deshaun Watson (Clemson) and Jake Fromm (Georgia) have helped the Peach State claim a rate of 1.87 top-50 quarterbacks per million residents. Florida is next at 1.21, followed by Texas at 1.095 and California at 1.036.
In NFL drafts of the last five years, Florida leads with 0.62 players selected per million residents, followed by Georgia (0.31), California (0.25) and Texas (0.21).
While it can make for interesting conversations, the numbers don't tell the whole story.
Wiltfong pointed to Shane Morris, the third-ranked pro-style passer in the class of 2013. Wiltfong said Morris had a big arm, solid size and decent camp showings, so recruiting services rated him a top prospect. But the rankings were in spite of a completion percentage that never was above 54% and a 1-to-1 touchdown-to-interception ratio his senior year.
Today, Wiltfong said, he tries to focus most on players who have high completion percentages, throw few interceptions, compile lots of yards and rarely get sacked. And even then, the projections aren't perfect.
Kyle Allen, the only five-star passer in the class of 2014, is a recent example. He had all the attributes — 6 feet 3, 200 pounds, a completion percentage of nearly 70% and a touchdown-to-interception ratio of nearly 3 to 1 his senior year. He enrolled at Texas A&M, transferred to Houston when he couldn't keep the starting job and got benched by the Cougar He went undrafted in April and signed a free-agent contract with the Carolina Panthers.
Physically, "he checked every box," Wiltfong said.
Sometimes that isn't enough. Quarterbacks must have attributes beyond size or statistics to be successful, and Wiltfong said that makes it the toughest position to evaluate.
Biggins explained it in basketball terms.
Sometimes point guards are small, he said, and that's OK. They possess other talents that help them see holes in defenses and exploit them. But when a point guard's biggest strength is his mind rather than his numbers or athleticism, he can go unrecognized.
"You can't always read that in a point guard," Biggins said.
Playing in places like Florida, Texas and California allows quarterbacks more time to learn how to recognize defenses and make quick adjustments, among other skills.
But there is no guarantee of success.
"You never know who's gonna be able to slow the game down," Wiltfong said, "and make the right reads and throws."
JT Daniels is hoping he can do exactly that starting this fall at USC. Daniels, another Mater Dei graduate, was a five-star prospect in the class of 2018 and seems to have everything an evaluator looks for: size (6-2, 205 pounds), production (12,000 yards in three seasons and a touchdown-interception ratio of nearly 11 to 1) and consistency (a completion percentage of almost 70%).
Daniels doubled his course load during his junior year to skip a grade and enroll at USC 12 months early. Whether the 18-year-old handles the pressure and becomes the next Mater Dei quarterback to be drafted remains to be seen, but it wouldn't be a surprise if he does. Three other California quarterbacks have been consensus five-star players in the last 10 years, and two of them (Barkley and Rosen) are on NFL rosters.
---
Get the latest on L.A.'s teams in the daily Sports Report newsletter.
You may occasionally receive promotional content from the Los Angeles Times.