Column: After nearly a decade with the Sparks, Candace Parker is still something to see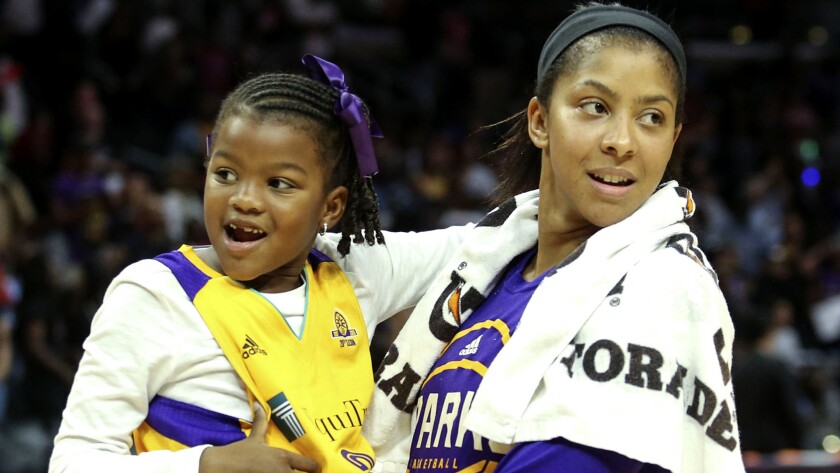 One of the most accomplished professional basketball players in this city's history is doing something completely appropriate for this glorious time in her career.
Candace Parker is dancing.
She has just helped lead her defending WNBA champion Sparks to another victory, it's a Thursday night in the middle of summer, Staples Center is cool and the music is hot and she's standing at midcourt with teammates bobbing and swaying and why not?
"When you're young, the game is going to be there … always going to be there … always going to be there'' Parker says. "But suddenly I look up and I'm 31 and people ask, 'How much longer are you going to play,' and I'm like, 'Hold on, wait a minute, you want me to retire right now? Whoa!''
One of the greatest players in women's basketball history — a two-time WNBA MVP, a WNBA Finals MVP, and two-time Olympic gold medalist — is now doing something else completely appropriate for this glorious time in her career.
Candace Parker is sharing that dance with her 8-year-old daughter, Lailaa.
Moments after her teammates complete the celebration of a 10-point comeback victory over the Connecticut Sun, Parker summons Lailaa from her courtside seat. The mother and daughter hug and twirl and walk together toward a tunnel ringed by hundreds of cheering fans soaking in a familiar scene.
"I have a better perspective these days, I'm so appreciative of every opportunity I've been given,'' Parker says. "You don't know what tomorrow is going to bring, you don't know anything, so I enjoy every moment.''
It's worth coming downtown in the next couple of months and enjoying those moments with her. In her 10th season as a Spark, Parker has finally shrugged off the burdens of giant expectations to become a portrait of unselfish joy. It's a blast to watch.
She might be a legend, but she no longer acts like the best player on her own team. She is a legitimate Los Angeles superstar, yet she doesn't show a shred of Hollywood attitude, especially on the court, where she enables, empowers, and last season set the stage for fellow Spark Nneka Ogwumike to become the league MVP.
"In our six years together, it's been most impressive to see her grow as a person,'' teammate Alana Beard said of Parker. "She's understanding that these types of moments don't last a lifetime. She's starting to grasp that and take advantage of that.''
Just last week Parker won the ESPY Award for Best WNBA Player. Yet down the stretch in their recent victory over Connecticut, she helped the Sparks fend off a late challenge by making it about her teammates.
I just want to win championships, it doesn't matter how the ball gets into the basket, I just want it to get into the basket.
Candace Parker, on become more of a playmaker and less of a scorer for the Sparks
She threaded a pass that Riquna Williams turned into a three-pointer. She dropped a perfect dime that Ogwumike turned into a layup. She set a bruising pick. She blocked a shot into the front row.
"When she plays in that nice flow, she's as good as there is,'' coach Brian Agler says.
She may only rank 13th in the WNBA in scoring, but she's in the top 10 in rebounds, assists and blocked shots, and her sacrifices have not gone unnoticed.
"She's a one-woman show, she can do it all,'' Ogwumike says. "But she's allowed us to come into our own.''
In doing so, Parker has come into her own, her legend growing as her flash subsides.
"I'm excited because I don't have to score, I can make a play to get somebody else involved,'' Parker says. "I just want to win championships, it doesn't matter how the ball gets into the basket, I just want it to get into the basket.''
Her first WNBA title last spring seemed to lift an enormous burden off shoulders that have been carrying the future of the 20-year-old franchise from the moment she joined the Sparks as the No. 1 overall draft pick in 2008.
After the Sparks won the title with a dramatic victory over the Minnesota Lynx, Parker openly wept in a postgame TV interview, saying, "This is for Pat,'' in honor of her Tennessee college coach, Pat Summitt, who had died earlier in the season.
She also gained some unspoken retribution for her shameful snub from last year's U.S. Olympic team. The team was coached by Connecticut's Geno Auriemma, and the most questionable addition was Connecticut youngster Breanna Stewart, and Parker has never been part of that UConn clique, so you figure it out.
Parker never publicly complained, even though the decision cost her a chance to share yet another cool moment with Lailaa.
"Honestly, it was disappointing, I wanted to do it because my daughter would remember it,'' she says. "But we didn't win [the WNBA title] because of that. I don't want to give them that much power.''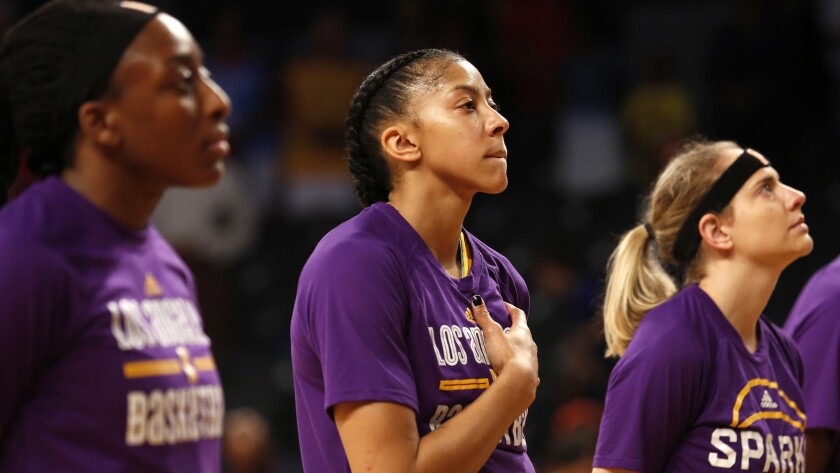 Over the years Parker has quietly gained the power of experience and perspective. She used to be a tough interview. Now she is open and engaging. She used to appear stern and distant. Now it seems all she does is smile.
"It's a lot more fun for her now, I think,'' Ogwumike says. "When you have such an amazing team, you can relax and enjoy the small moments.''
Parker loves to talk about Lailaa. "There are millions and millions of working moms out there," she said. "I'm just fortunate to be one who can share their job with their daughter. It's so cool.''
She said it is Lailaa who reminds her to be her best self: ''Once when she was 3 years old, she cried after losing at a game, and I said, 'You can't cry over that.' And she said, 'Mommy, you cry after some games.' And I tried to tell her it is different, but I realized, it's not, you give all you have and put everything into it.''
She has put everything into playing and living in Los Angeles, where she says she is staying, becoming another one of the city's permanent sports monuments.
"I have a house here, my daughter was born here, I'm here,'' she says. "If they trade me, I'm still going to be here, I'll be at the home games, heckling in the first row.''
Good to know that one day, after serving for so long as one of the Staples Center heartbeats, Candace Parker will eventually become part of the furniture. It will be the best seat in the house.
Get more of Bill Plaschke's work and follow him on Twitter @BillPlaschke
---
Get the latest on L.A.'s teams in the daily Sports Report newsletter.
You may occasionally receive promotional content from the Los Angeles Times.