Clippers are partnering with LAUSD to give eyeglasses to students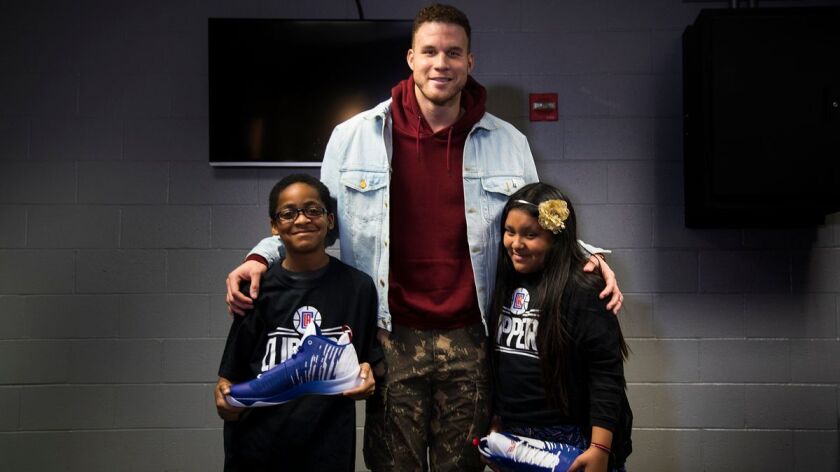 Blake Griffin was in third grade when his mother took him and big brother Taylor to the eye doctor. Blake's vision was fine.
"My brother couldn't see at all," said the Clippers forward, a five-time All-Star.
His brother was in sixth grade. He would need glasses. Two decades later, what remains most vivid about that day to Griffin is the reaction of his mother.
"I'm so sorry," she told Taylor. "I didn't even think about it."
Taylor had struggled to learn because he had struggled to see.
"And we were fortunate enough to be able to go and get checked out," Griffin said. "A lot of kids are just going through life thinking they can't keep up."
The kids in the Los Angeles Unified School District will no longer have to go to get checked out. The LAUSD and the Clippers Foundation will announce Tuesday a partnership to provide free eye tests and a free pair of glasses for every LAUSD student that needs them.
The program could provide as many as 60,000 students with glasses, said Austin Beutner, founder of Vision to Learn, a Los Angeles-based nonprofit that will administer the program. (Beutner is a former publisher of The Times.)
"This is every kid," Beutner said. "Nobody gets left behind."
The LAUSD and the Clippers Foundation will share equally in the cost of the two-year, $6-million initiative, according to LAUSD documents. Griffin will make an undisclosed donation toward the Clippers' $3-million share, the team said.
The Clippers and Vision to Learn worked together on a similar program in the Inglewood schools two years ago and in the Long Beach schools last year. The Inglewood district has 12,000 students, the Long Beach district 80,000.
LAUSD has 600,000.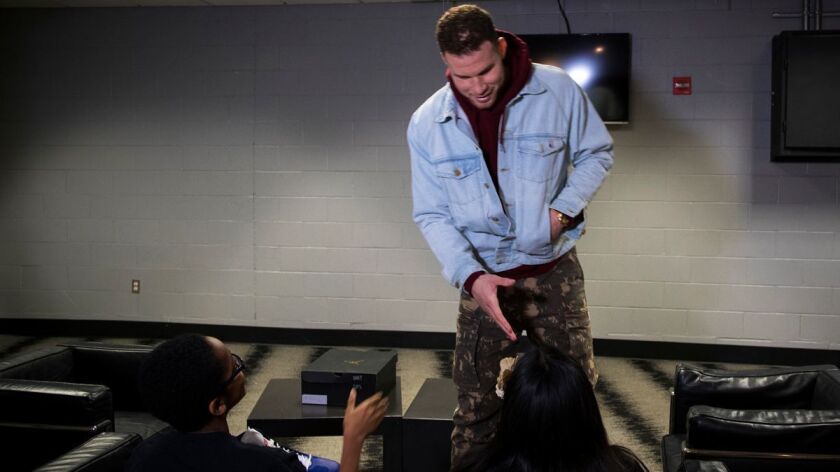 "The goal was to be able to do the biggest school district," Clippers owner Steve Ballmer said. "It's a real excellent opportunity for us.
"And then Blake got excited about it. To have Blake be the face of this thing, it makes it seem a little cooler than it might have been otherwise. It's just a phenomenal opportunity."
It is a phenomenal opportunity to the girl who goes to school with a hand-held magnifying glass, to the boy who cannot read the board at the front of his classroom no matter how close he sits, to the girl who does not want to play at recess because an approaching ball is too blurry for her to react properly.
It is a phenomenal opportunity, too, for such children to avoid being mocked and ostracized by their peers, being misdiagnosed as having an attention deficit and/or hyperactivity disorder and prescribed unnecessary drugs, being labeled as a slow learner or behavioral problem and put on a path that could lead to dropping out of school rather than having a chance at college.
"Kids are going to school, especially in elementary school, and building a foundation," Griffin said. "If you get behind in elementary school, now you're behind in middle school, and now you're behind in high school.
"Hopefully, more and more people realize this is a very serious thing. It's something that can literally enable the future of our country to be smarter and more prepared."
According to Beutner, state law mandates vision screening in public schools. However, when a child is flagged for additional testing, it is up to parents to coordinate with eye doctors for that testing and, if necessary, the glasses.
Of the children in low-income California communities that need glasses, Beutner said that 95% do not have them. In some neighborhoods, he said, "You'll find eight liquor stores before you'll find any clinician."
In the LAUSD, that should no longer be an issue because mobile clinics — vans decorated with a Clippers theme — will bring the vision testing and the glasses directly to each school. This is a significant financial and logistical mission in any school district, let alone the second-largest district in the United States.
"When we solve this in LAUSD, it will be far and away the largest school district in the nation to have solved the problem," Beutner said. "Not 5%. Not 25%. Not 75%.
"One hundred percent. That's a remarkable thing."
Follow Bill Shaikin on Twitter @BillShaikin
---
Get our high school sports newsletter
Prep Rally is devoted to the SoCal high school sports experience, bringing you scores, stories and a behind-the-scenes look at what makes prep sports so popular.
You may occasionally receive promotional content from the Los Angeles Times.