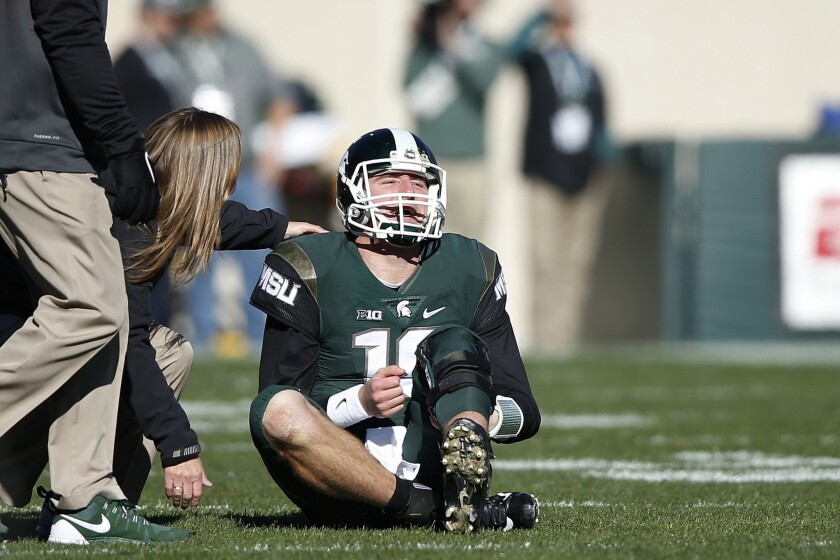 Five things to watch this week in college football:
1) You'll need to watch one, tape the other to flip-flop between channels Saturday as USC and UCLA play important games at the same time in Oregon and Utah, respectively. The Trojans and Bruins now control their paths in the Pac-12 South race. Two wins Saturday will lead to a Nov. 28 showdown for the title at the Coliseum.
2) Michigan State has been waiting a year to avenge last year's 49-37 loss to Ohio State in East Lansing. A key issue, though, may be a bruised shoulder Spartans quarterback Connor Cook suffered in Saturday's win over Maryland.
3) Oklahoma hopes to continue its red-hot play when it hosts Texas Christian in Norman. The Sooners might also catch a break if TCU star quarterback Trevone Boykin is impaired by an ankle injury he suffered Saturday against Kansas.
4) Baylor tries to rebound from Saturday's home loss to Oklahoma by taking to the road against Oklahoma State. The Cowboys are the Big 12's last undefeated team but still have tough closing games against Baylor and Oklahoma.
5) Give 'em the ax. Stanford was hoping next week's rivalry game against California would be the next step toward a trip to the four-team playoff. Saturday's loss to Oregon changed that dynamic, though the Cardinal can still clinch the Pac-12 North with a win over the Bears.
— Chris Dufresne
---