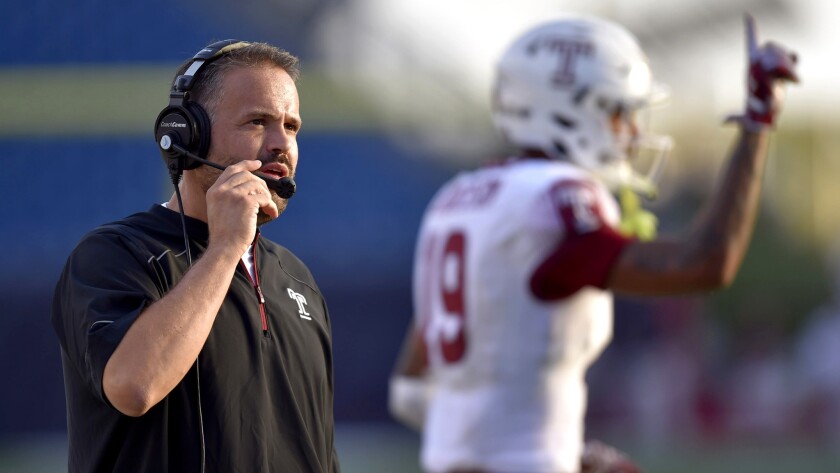 Break out the chips and cold drinks but let Chris Dufresne handle the remote. Each Friday, The Times' national college football writer handicaps what's worth watching, and skipping, on the upcoming menu of games.
SATURDAY MORNING
Rutgers (3-4) at Wisconsin (6-2)
9 a.m., Big Ten Network
The big network (ESPN) whiffed last week in giving Rutgers a prime-time Saturday night slot against Ohio State. The thinking was Rutgers might be a ratings winner a week after overcoming a 25-point deficit to defeat Indiana. Final: Ohio State 49, Rutgers 7. This week, Rutgers returns home to a time slot it deserves on the in-house cable network.
Mississippi (6-2) at Auburn (4-3)
9 a.m., ESPN
Few people would have predicted these schools would enter this Southeastern Conference West game with five combined defeats. Mississippi was preseason No. 17 in the Associated Press media poll; Auburn was No. 6. Mississippi still controls its fate in the division thanks to its win at Alabama.
Other games:
9 a.m.: Central Florida at Cincinnati, ESPNews; Illinois at Penn State, ESPN2; Nebraska at Purdue, ESPNU; South Carolina at Texas A&M, SEC Network; South Florida at Navy, CBS Sports Network; Syracuse at Florida State, Channel 7; Western Kentucky at Old Dominion, Prime.
9:30 a.m.: Virginia Tech at Boston College, KDOC.
AFTERNOON
Colorado (4-4) at No. 24 UCLA (5-2)
Noon, Pac-12 Networks
Colorado, if you have DirecTV and can't get the Pac 12 Networks, is the most invisible team in America. The Buffaloes have become the network's "house band." Colorado played UCLA to double overtime last year in Boulder. Fans without the Pac-12 channel listened to the exciting finish on radio. Asked last summer what he thought of Colorado, a reporter without network access responded: "They sounded improved."
USC (4-3) at California (5-2)
Noon, Channel 11
If it seems like only two years ago that USC, with an interim head coach, played a day game in Berkeley against a Cal team led by a quarterback named Jared Goff, well, that's because it was. USC won in a runaway, 62-28, but all the Trojans who scored touchdowns in that game are no longer part of the USC program.
No. 3 Clemson (7-0) at North Carolina State (5-2)
12:30 p.m., Channel 7
Clemson won last year's game, 41-0, and is coming off a 58-0 win at Miami. North Carolina State has a history of scoring upsets, but it's been a while since that 17-16 win over Florida State in 2012. Clemson can only lose if it's looking ahead to next week's Atlantic Coast Conference showdown against Florida State.
No.11 Florida (6-1) vs. Georgia (5-2) at Jacksonville, Fla.
12:30 p.m., Channel 2
What a rivalry game is all about: Florida's shocking win last year postponed the inevitable firing of Will Muschamp and kept Georgia out of the SEC title game. This year, Georgia is the underperforming underdog hoping to knock the Gators out of the top 10. The winner takes control of the SEC East Division.
No.15 Michigan (5-2) at Minnesota (4-3)
4 p.m., ESPN
Michigan takes the field for the first time since its stunning loss to Michigan State. How the Wolverines respond will tell us more about how far the program has come under first-year Coach Jim Harbaugh. Michigan faces a Minnesota team without Jerry Kill, a good coach and a good man who sadly resigned this week as he continues to battle epilepsy.
No. 9 Notre Dame (6-1) at No. 21 Temple (7-0)
5 p.m., Channel 7
The game of the day on Halloween night pits America's team against a once-woeful program that, a decade ago, couldn't draw flies and was kicked out of the Big East for what might have been called "conduct detrimental to the way football should be played." What a turnaround. The Owls have found a home in the American Athletic Conference and are one of this year's biggest surprises. Temple is looking to end Notre Dame's national title hopes as it keeps alive its bid for a New Year's Day bowl.
12:30 p.m.: Boise State at Nevada Las Vegas, ESPNU; Maryland at Iowa, ESPN2; Oklahoma at Kansas, FS1; Oklahoma State at Texas Tech, ESPN; San Diego State at Colorado State, CBSSN; Marshall at Charlotte, Prime.
1 p.m.: Tennessee Martin at Arkansas, SEC; Tulsa at Southern Methodist, ESPNews; James Madison at William & Mary, NBC Sports Network.
4 p.m.: Miami at Duke, ESPNU; Oregon State at Utah, Pac-12; Texas at Iowa State, FS1; Tulane at Memphis, CBSSN; Maine at Villanova, NBCSN.
5 p.m.: Idaho at New Mexico State, FS West.
EVENING
No. 8 Stanford (6-1) at Washington State (5-2)
7:30 p.m., ESPN
This might not be an easy "W" for Stanford. Washington State has vastly improved under Mike Leach since a season-opening loss to Portland State.
Arizona (5-3) at Washington (3-4)
8 p.m., FS1
Arizona Coach Rich Rodriguez blasted the Pac-12 for scheduling late games, perhaps not realizing it was a trade-off for the conference's $3-billion network deal — which the coaches praised and cashed in on.
7:30 p.m.: Air Force at Hawaii, CBSSN.
---