CSUN admits violations in men's basketball program, self-imposes postseason ban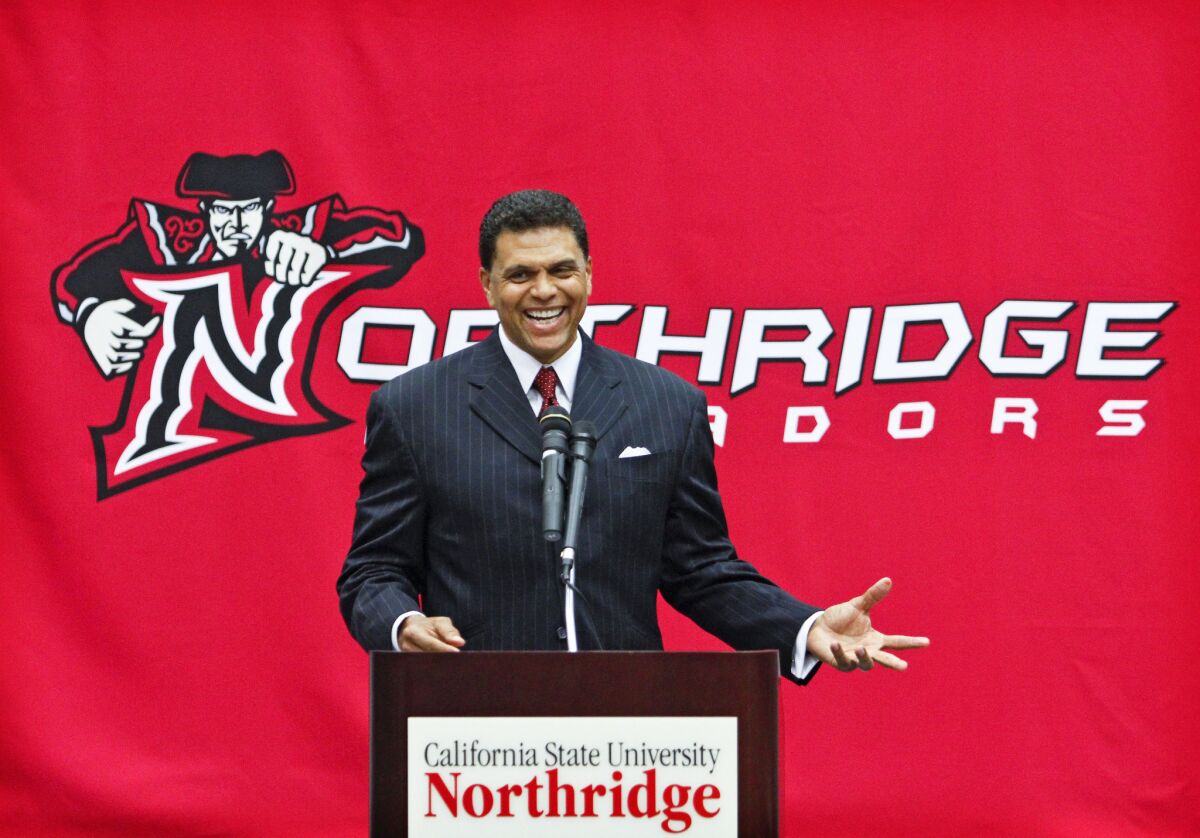 Cal State Northridge acknowledged "serious violations" in its men's basketball program, announcing a self-imposed penalty Wednesday ahead of what the NCAA might ultimately decide.
The penalty, a postseason ban this season on a team that has a 5-10 record, follows the completion of an independent investigation into allegations of academic fraud involving several players and a member of Coach Reggie Theus' staff. The investigation was announced in November 2014 and completed last August, according to an announcement on the athletic program's website.
CSUN did not detail what the allegations were or what the investigation found, citing the federal Family Educational Rights and Privacy Act (FERPA) and other federal and state privacy rights. However, a player involved in the situation said that he and several teammates were summoned last fall to the office of Athletic Director Brandon Martin, where they were told that the school was investigating suspicious exam results pertaining to a particular online course.
The player spoke to The Times on the condition that he would not be identified because of the sensitivity of the allegations.
"They were all the same grades," said the player, who denied wrongdoing. "They somehow thought we were cheating."
The player said that the team's director of basketball operations had suggested the class. That director suddenly left the team when the allegations arose and he has not responded to interview requests. The school said he had no disciplinary record.
CSUN hired attorney Carl Botterud to lead an investigation into the situation and said it "elected to withhold" players allegedly involved from participating in games.
Six players practiced with the team but did not play last season: Michael Warren, Tavrion Dawson, Jerron Wilbut, Jibreel Faulkner, Miles Nolen-Webb and Kevin Johnson. Zacarry Douglas played only in the team's first two games. Faulkner and Nolen-Webb transferred; Johnson is no longer listed on the roster.
Get the latest in sports with our free newsletter >>
In October, The Times filed a public records request seeking documentation pertaining to the investigation. The school has not responded to the request.
Athletic Director Martin said in Wednesday's announcement that CSUN's actions — implementing a postseason ban this season — "demonstrate the values on which our athletic programs are built." He declined an interview request.
The Matadors dropped their Big West Conference opener to Long Beach State by 15 points on Tuesday, their third loss in four games. CSUN is 0-5 against Southland competition, losing by two points to Loyola Marymount, 15 to Pepperdine and getting blown out by USC, 96-61, and UCLA, 77-45.
"I understand the impact that a self-imposed postseason ban will have on our student-athletes and share their disappointment," CSUN President Dianne F. Harrison said in Wednesday's announcement. "While our decision was not taken lightly, as a university of higher learning, it is imperative that we demonstrate CSUN takes violations of team rules and university policies seriously."
CSUN has had other incidents involving basketball and academics in the recent past.
In 2004, the NCAA penalized CSUN after the school self-reported that an assistant basketball coach had arranged to have two other assistant coaches alter the transcripts of a player to keep him eligible.
In 2011-2012, CSUN earned a subpar score on the annual Academic Progress Rate report, which measures the number of student-athletes who remain in school and are academically eligible over a four-year period. In that instance, it was banned from postseason play.
ALSO
NFL wants a team or two in L.A., and owners head to Houston for a vote
Chris Erskine: Oakland Raiders? Don't need 'em, don't want 'em
Coaching carousel: Noel Mazzone could leave UCLA and Clancy Pendergast could return to USC
Get our high school sports newsletter
Prep Rally is devoted to the SoCal high school sports experience, bringing you scores, stories and a behind-the-scenes look at what makes prep sports so popular.
You may occasionally receive promotional content from the Los Angeles Times.