Column: Darrell Waltrip provided plenty of lasting memories during Fox's NASCAR coverage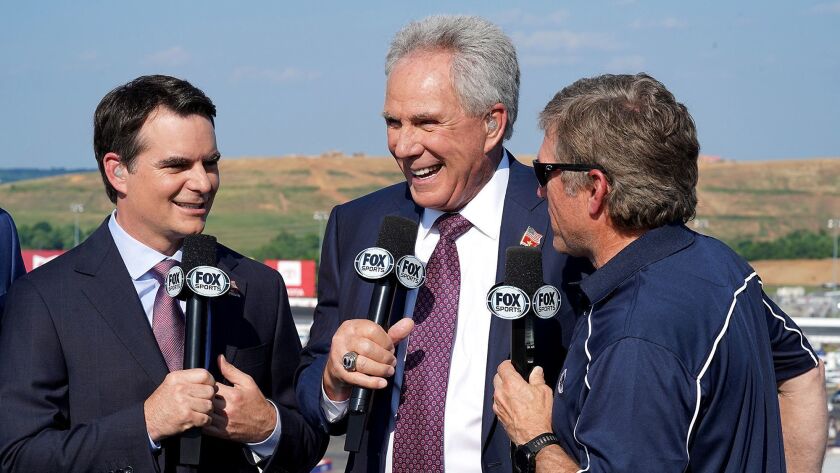 Pressing questions exist in the sports media sphere. Well done if you can answer them:
What'll be our lasting memory of Darrell Waltrip on Fox's NASCAR telecasts?
The superfluity of "boogity, boogity, boogity."
The ambiguity of glib and egotistical twang commentary in the same sentence, and the overwhelming ingenuity of Fox to hire him in the first place when it hopped into the drivers' seat with the sport in 2001.
From Sunday's 350-mile curve-and-swerve non-traditional track in Sonoma, relegated to Fox Sports 1 because over-the-air Fox was questionably dedicated to a France-Brazil Women's World Cup soccer match, the 72-year-old Waltrip found himself lathered in tributes, all the way to the end with a sentimental group hug in the booth that made everyone smile.
Yet the quote that sticks with us most is from a news conference in May at Concord, N.C., after he regaled the media with all sorts of stories but wrapped it up with this:
"I sit in meetings every week and I wonder, 'What the heck are people thinking?' So, there are plenty of people who I'm sure are sad to see you go, but they are also glad you are out of their hair.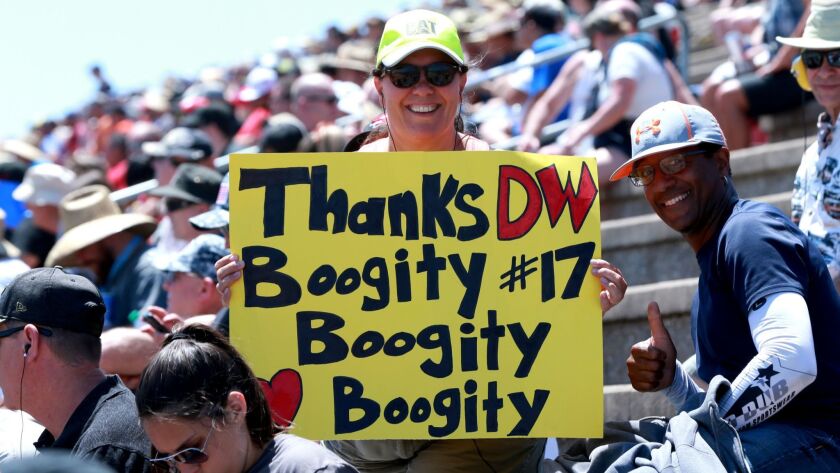 "I came into this sport asking why, and I'm going to leave asking why. It's probably a good time for me to step aside because I'm old school and it will never be the way it was. And I don't think I can tolerate the way it's going to be."
It almost mirrors NBC accepting golf analyst Johnny Miller's resignation earlier this year. But Waltrip's departure almost tugs at the emotional umbilical cord as if Fox were losing someone like Terry Bradshaw from its NFL studio set. Unique characters can't be created. But eventually there is the shelf life in an analyst's career that will go from fresh to half-baked to bordering on stale.
Hey, if NBC thinks he's got tread on his tires, why not pair him up with Dale Earnhardt Jr.?
Fox execs so far say there are no plans to replace Waltrip. If that's the case, we'd likely rejoice in a two-mic booth with Jeff Gordon and Mike Joy.
Which play-by-play role is Joe Tessitore best suited for: ESPN's "Monday Night Football" or ABC's new summer game show "Holey Moley"?
The latter. JoeTess might want the putt-putt golf gig to show he doesn't take himself too seriously, but he's sadly far more of a natural as an over-the-top, cliche-riddled carnival barker/play-caller. At last, his pomp fits the circumstance.
One other observational pivot: "Monday Night Football" ought to consider robbing "Fox NFL Sunday" of Rob Riggle based on his role as Tessitore's comic relief from this game-show venture. Maybe even let Riggle wriggle into the fork lift that Anthony "Booger" McFarland commandeered last season on the sidelines. Wouldn't that create an unholy alliance for the easily bored hoi polloi?
HBO's "Real Sports" will devote a segment on media company Barstool Sports, but the editors of the website say they expect a "full-blown hit piece" on their controversial operation. Would HBO do that?
Laying out the facts and then asking those who created the mess to explain it seems headed more toward an exercise in self-inflicted damage control for Barstool Sports than playing the preemptive victim spin before it airs. It's sometimes easy to forget that if one mashes the words "barstool" and "sports" together, it is connected by the letters "tools."
Reporter Soledad O'Brien interviews founder Dave Portnoy and chief executive Erika Nardini for the piece that airs Tuesday at 10 p.m. HBO's research department might even pull up a 2017 Barstool Sports post that lauded "Real Sports" as "awesome" and added that "I don't think that it gets nearly enough praise as it deserves."
Dick Vitale just signed a new contract to stay at ESPN through 2022?
The fact that this just-turned 80-year-old has now outlasted Ringling Bros. and Barnum & Bailey Circus might be the ultimate kick in the extra-long shorts.
What's the takeaway from Jim Rome's 25th edition of the Smackoff, which was held Friday?
Consider that some listeners around since the very beginning remain on their parents' health insurance policy, and there remain enough current winners of this event still very dependent on their parents' stocked refrigerator. If that helps generate the necessary venom for this annual sharp-tongued exercise that never ceases to entertain at its silver anniversary, we will remain golden loyal to it as a verbal "Fight Club" that still has no rivals.
After LaVar Ball's last appearance on one of ESPN's highbrow-debate morning shows, the network declared it does not plan to ever have the gentleman back on its airways. Believe it or not?
For those blinded by the legalese of how a past performance isn't an accurate indicator of a future outcome, busting Lonzo Ball's pops for his somewhat-lewd comment directed toward "First Take" co-host Molly Qerim isn't a first but should be a last.
Of course, we believe ESPN, Fox or even Barstool Sports will be diligent on blackballing Ball.
Until they need him.
Tune it in
— Jim Hill's 43-year run in Los Angeles TV sports, with 38 of them at KCBS Channel 2, will be recognized next Sunday by the Los Angeles Press Club with a lifetime achievement award presented at the Biltmore Hotel. FYI: Fred Roggin, who has worked at KNBC Channel 4 since 1980, received this same LAPC honor in 2013.
— Hollywood's ArcLight Cinemas is one of the few movie houses in Southern California with regular showings of the documentary "Maiden," set for release Friday. Director Alex Holmes, whose credits include the 2014 "Stop at Nothing: The Lance Armstrong Story," explains how an all-women crew endured in the Whitbread Round the World yacht race 30 years ago against plenty of ballast provided by male counterparts. RottenTomatoes.com gives it a 100% rating.
— Not that we fully endorse tuning away from Fox's coverage of the Women's World Cup, but Monday's U.S.-Spain contest at 9 a.m. has the lure of a Spanish-language Telemundo call by Andres Cantor, accessible on both its local L.A. affiliate, KVEA Channel 52, and the traditionally English-language NBCSN.
Tune it out
— If you happened to miss Charley Steiner's call of the Will Smith walk-off home run for the Dodgers on Sunday on KLAC-AM 570, so did he.
It began this way: "Pops it up to center field … now drifting back …"
The rising crowd noise in the background gives the listeners some sense there's more to it. Steiner now switches from mellow to bellow:
"THAT'S MORE THAN A POPUP … THAT'S A WALK-OFF HOME RUN. THE BALL KEPT CARRYING AND CARRYING."
Not to carry on about this, but when social media punctuates a post with #Steinered, it sadly means the listener is bewildered about what just happened. On the SportsNet LA broadcast, play-by-play man Joe Davis had no such visual issue with the ball's trajectory.
Perhaps no other commentary is needed here. We just wanted it documented.
---
Get the latest on L.A.'s teams in the daily Sports Report newsletter.
You may occasionally receive promotional content from the Los Angeles Times.