Don Mattingly out as Dodgers manager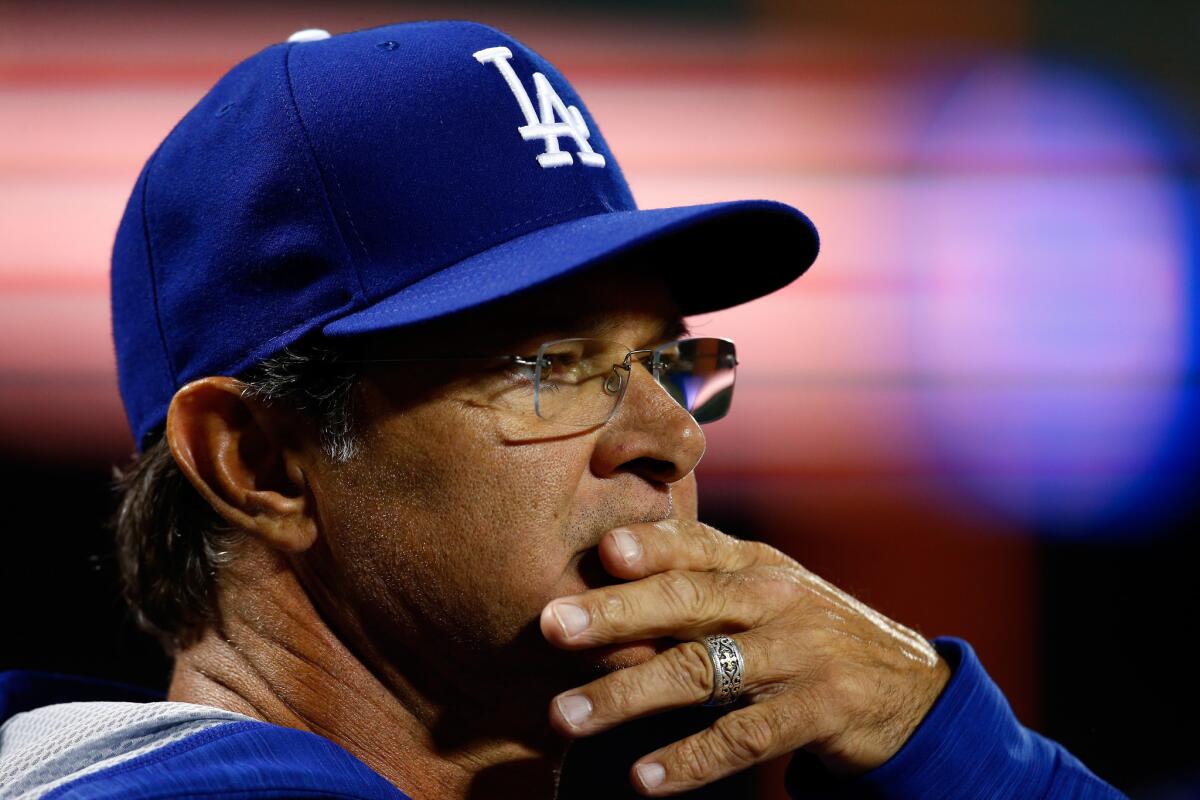 Don Mattingly is out as Dodgers manager, the club making an official announcement hours after the news broke.
"The Los Angeles Dodgers and Don Mattingly have mutually agreed that Mattingly will not return to manage the club in 2016," the team said in a statement Thursday morning.
The decision was reached after "several days" of talks among Mattingly, team President of Baseball Operations Andrew Friedman, General Manager Farhan Zaidi, and senior vice president of baseball operations Josh Byrnes, the team said.
"As our end of season process began, we discussed the past year, our future goals, necessary changes, roster needs and other matters relating to next year's campaign," Friedman said in the statement. "As the dialogue progressed daily, it evolved to a point where we all agreed that it might be best for both sides to start fresh. We decided to think about it for a couple of days and when we spoke again, we felt comfortable that this was the direction to go.
"I have the utmost respect for Donnie and thoroughly enjoyed working with him this past season. I want to thank him for his hard work and collaboration, as well as his accomplishments, including three consecutive National League West titles. I wish him nothing but success in the future."
Mattingly was also quoted in the statement.
He said: "I'm honored and proud to have had the opportunity to manage the Los Angeles Dodgers. I've enjoyed my experiences and relationships with the organization's staff and players throughout my eight years in L.A.
"After meeting with Andrew, Farhan and Josh, we all felt that a fresh start would be good for both the organization and me. We talked about several scenarios, including my returning in 2016. However, I believe this is the right time and right move for both parties. I'm still very passionate about managing and hope to get the opportunity in the near future. In the meantime, I want to thank the Dodger organization, the city and our fans for the opportunity and wish the club well going forward."
A person with knowledge of the negotiations confirmed that the parting was amicable and a mutual decision. Mattingly still had one year remaining on his contract.
Calls to Mattingly and his agent were not immediately returned.
With Mattingly as manager, the Dodgers won three consecutive National League West championships for the first time in franchise history. But even with baseball's biggest payroll, the club never advanced to the World Series, losing in the division series twice and league championship series once.
In five seasons at the helm, Mattingly accumulated an overall record of 446-363, a .551 winning percentage.
The Miami Marlins are looking for a manager and are known to be interested in the former New York Yankees first baseman. The San Diego Padres, Washington Nationals and Seattle Mariners also have managing vacancies.
Among names already surfacing as possible successors to Mattingly are three in-house candidates: coaches Tim Wallach and Ron Roenicke, plus Gabe Kapler, the club's director of player development. Chicago Cubs bench coach Dave Martinez and former Padres manager Bud Black are also considered possibilities.
Jon Heyman of CBS Sports first reported the split.
Mattingly was known to have a good relationship with controlling owner Mark Walter, and he seemed to go along with the analytics-based decisions made by Friedman and Zaidi.
Contrary to media reports that Mattingly turned down the club's offer of an extension, a person with knowledge of the situation said no formal offer was ever made because the sides agreed to part ways before the negotiations went that far.
Mattingly received a contract extension in 2014 after he expressed frustration about the possibility he would have to guide the team as a lame duck.
"Really what it does, it puts me in a spot where everything I do is questioned because I'm basically trying out or auditioning to say, 'Can he manage or can he not manage?' To me, it's at that point where, three years in, you either know or don't."
The Dodgers appear headed for a busy off-season. The team faces the probability that co-ace Zack Greinke will opt out of the final three years of his contract, leaving the team in need of at least one more front-line starting pitcher.
The team will also likely look to remake -- for the second straight year -- its bullpen, and needs to find a starting infielder and settle on what is still a crowded outfield.
MORE ON THE DODGERS
Why Dodgers' choice on Don Mattingly is not simply 'keep him' or 'fire him'
Questions for the Dodgers as they leave postseason behind
Dodgers must address Mattingly's future, multiple roster holes in off-season
Get our high school sports newsletter
Prep Rally is devoted to the SoCal high school sports experience, bringing you scores, stories and a behind-the-scenes look at what makes prep sports so popular.
You may occasionally receive promotional content from the Los Angeles Times.