Column: Yu Darvish to pitch again at Dodger Stadium for first time since World Series failure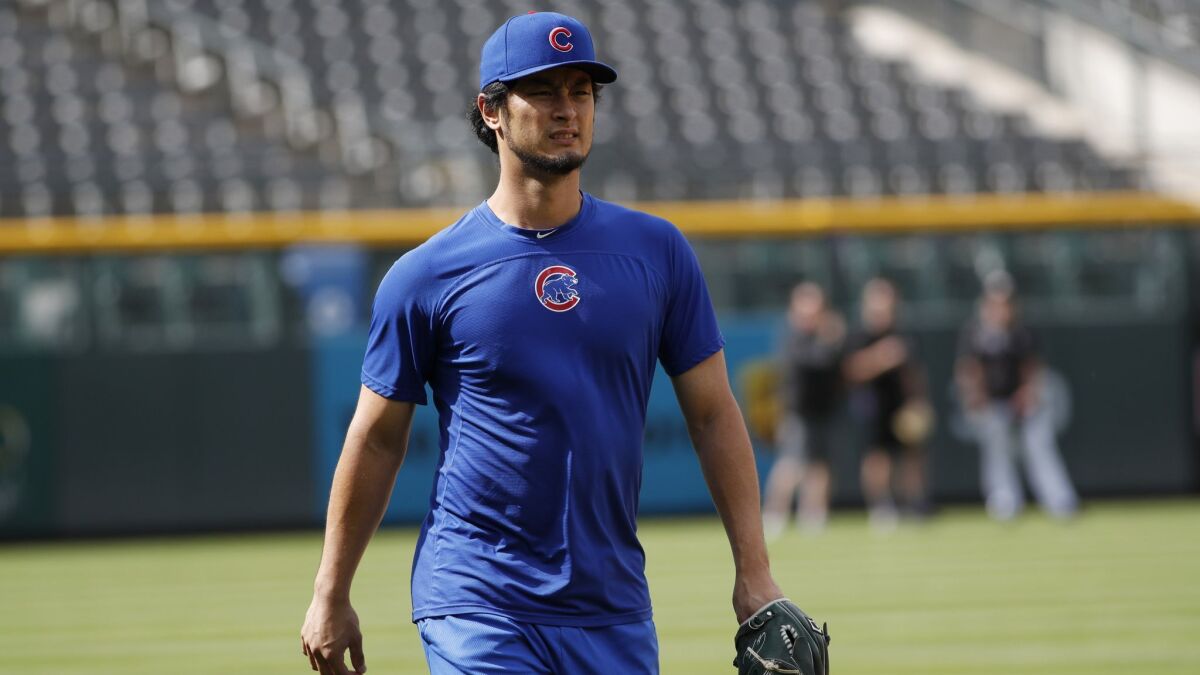 When Yu Darvish takes the mound for the Chicago Cubs on Saturday night, he won't be mistaking the sound emanating from the stands with fans shouting his first name.
He knows he will hear boos, not Yuuus.
"Obviously," Darvish said in Japanese.
The upcoming start will be Darvish's first at Dodger Stadium since that night — Game 7 of the 2017 World Series. The Dodgers' prized trade-deadline acquisition that season, Darvish was rocked for five runs in only 12/3 innings, making him the player the city blamed for the defeat to the Houston Astros.
The meltdown marked the end of the calamitous series for Darvish, who also pitched 12/3 innings into a Game 3 loss.
The crushing defeats defined Darvish in these parts, where his name remains synonymous with failure.
Dodgers manager Dave Roberts said he likes Darvish, which could be why he diplomatically said he expected the right-hander to receive a "mixed" reaction from the crowd.
"Oh, come on," I said. "They're going to boo him. He says he's going to get booed."
Roberts nodded and smiled.
"If he says he's going to get booed, he'll get booed," he said.
Manny Machado was jeered when he returned to Dodger Stadium with the San Diego Padres. Machado played shortstop for the Dodgers last year when they lost the World Series to the Boston Red Sox.
The story elicited a chuckle from Darvish.
"Machado didn't do anything wrong," he said.
As for the boos that will be directed at him, Darvish joked, "The Dodgers don't have many fans here in the first three innings, so maybe it will be on the quieter side."
The laughter pointed to Darvish being in a significantly better mental place than he was last year when he visited Dodger Stadium. At the time, he was sidelined by what was officially called triceps tendinitis. He was noticeably still bothered by his World Series failure, saying he was sorry he couldn't repay a Dodgers organization that revived his passion for baseball. He sounded concerned about how much the fans despised him.
"I was dragging that around with me until last year," he said. "Everyone here was so good to me. I wanted to win the World Series for the people in the front office, for the fans, knowing how happy that would make them. I used to think, 'Of all the times to pitch poorly, why then?' But I have to move forward. I think I have to view it as a learning experience."
As disappointed as he was with how he pitched in the World Series, Darvish said he continues to cherish his memories of his three months with the Dodgers after they acquired him from the Texas Rangers.
"Looking back on my life — I'm 33 now — those three months were the three most important months of my life," he said. "Really, I only feel appreciation. I'm really not saying that just because you're from Los Angeles. I tell this to everyone."
By making him appreciative of the atmosphere they provided, the Dodgers helped him become more appreciative in general.
"The Rangers were an old-school organization," Darvish said. "They had a lot of rules. I really didn't like that. But I came to the Dodgers and was told I could do what I wanted. I felt a lot more relaxed. It made me love baseball more. I felt a greater appreciation for the concept of a team."
He felt embraced by his Dodgers teammates. He established friendships with Clayton Kershaw and Kenta Maeda that continue to this day. He still hears from Joc Pederson on occasion.
The experience also made him grateful for what he had with the Rangers. He started to think that some of the problems he encountered there with teammates and coaches were his fault.
"To say it simply, I was selfish," he said. "I should have thought more about others, not only about myself, and built relationships accordingly."
Darvish will enter his start with a 2-3 record and 4.98 ERA. He blamed his early season form on his inability to locate his fastball — something he feels he's been able to do with greater consistency over the last week or so.
He thinks the inconsistent command was a byproduct of bad habits he developed while trying to pitch injured last year, when elbow trouble limited him to eight starts.
Darvish said that when the Cubs visited the Dodgers last year in June, the pain in his elbow was such that he could barely play catch.
"It hurt when I threw, but I was told there was nothing wrong when I underwent an MRI exam," he said. "People were looking at me like, 'Are you really hurt?'"
Because he was in the first year of a six-year, $126-million contract, Darvish felt obligated to continue throwing. Another MRI examination after a rehabilitation start in August revealed a stress reaction in his elbow. His season was over.
"I probably starting throwing in a way that would minimize the pain, which led to me picking up some strange habits," he said. "Starting in spring training, when I threw bullpen sessions, I was thinking, 'Something's not right with my fastball.' It's finally starting to get better."
Sign up for our daily sports newsletter »
He's now optimistic enough to the point where he's not only looking forward to his start Saturday, but also about the prospect of the Cubs taking on the Dodgers in the postseason. The Cubs started Friday in second place in the National League Central, a game behind the first-place Milwaukee Brewers.
"I would like for that to happen," Darvish said. "Of course. The Dodgers will be there if you think about it. If we win, we will have the chance to play them in the playoffs. I would like for that to happen."
Would Darvish want to pitch in Dodger Stadium in October?
"I would," he said. "The climate is perfect, too. The weather is always good here. And they're the strongest team. If I hold them, it would mean that much more, right?"
Before any of that, he will have to get through the regular season, starting with the boos that will be directed at him Saturday.
If he didn't appear to be ready physically or mentally to face the fury of the fans here last year, he does now.
Follow Dylan Hernandez on Twitter @dylanohernandez
---
Get our high school sports newsletter
Prep Rally is devoted to the SoCal high school sports experience, bringing you scores, stories and a behind-the-scenes look at what makes prep sports so popular.
You may occasionally receive promotional content from the Los Angeles Times.