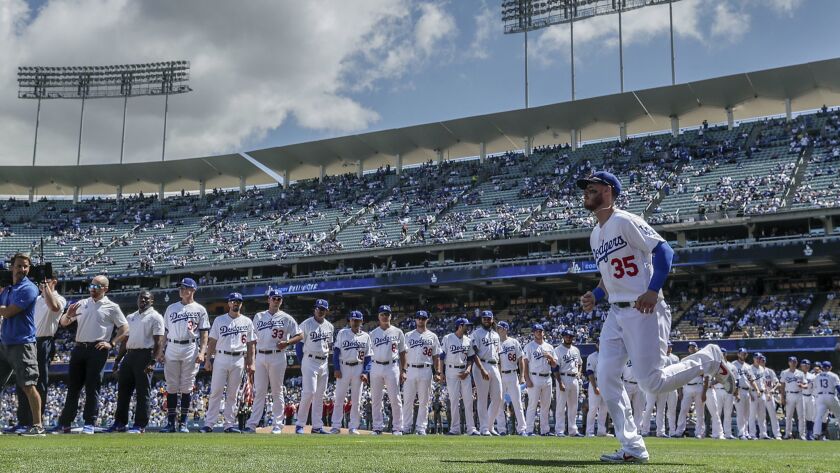 It was the strangest of opening days, empty yellow seats visible throughout the Dodger Stadium pavilions.
It was the most synchronized of opening days, the Dodgers filling those seats with baseballs.
You've got World Series fatigue, do you? The Dodgers are here to wallop it right out of you.
You're not quite ready for the beginning of another grinding chase for October? Knock, knock, knock, knock, knock, knock, knock, knock…it's here.
On a gorgeous afternoon unspoiled by the lack of a full house to witness it, the Dodgers decorated the cool blue skies with dinger after dinger Thursday in recording a 12-5 victory over the Arizona Diamondbacks.
''I don't know if the balls are juiced or the ball is carrying,'' said Enrique Hernandez. "But, yeah, the ball was going far.''
Going, going, gone were the fears of a second consecutive World Series hangover, the Dodgers scoring more runs in the first inning — one — than in their first two games last season combined.
"Last year people thought we would lose 162 games and not score one run all year,'' said Hernandez. "So we're off to a better start.''
Kiss it goodbye, the idea that a businesslike group playing its first game in seven seasons without the excitement of Yasiel Puig would stay for long in the shadows.
"We put on a show,'' said Max Muncy.
When Joc Pederson hit the first home run in the second inning off eventually obliterated Arizona starter Zack Greinke, the sleepy crowd simply cheered. By the time Hernandez hit the eighth home run, against equally obliterated reliever Matt Koch, the place was engulfed in a full, playoff, press-box-shaking roar.
That last blast finished off a major league record for home runs by a team in an opening day game, putting an exclamation point on a dugout question.
"We were wondering if it was a record,'' said Hernandez with a grin. "Cool.''
It was way cool, and a fitting conclusion to day that began with a powerful tribute to another Dodger who made history, the late legend Don Newcombe, who died Feb. 19 at age 92.
Newk, whose nickname will live throughout the season on a Dodgers' jersey patch, was honored before the game with a video and the employment of four high school players to throw out the first pitch. Newcombe was known for his work with young inner-city athletes.
The Dodgers new hitting coach is already working his magic. It's all "downhill from here," laughs Dave Roberts 
"It's the most surreal feeling to walk in here without holding his hand, walking down the corridor, walking into clubhouse, letting him say hello and wish good luck to all the players,'' said Karen Newcombe, his wife who was the constant companion to the most elegantly dressed man in the organization. "But I know he's here in spirit, I know he'll be in clubhouse and he'll be doing something to get these guys going.''
They got going all right, creating an afternoon of way, way back, with moonshots followed by delighted screams, also tying a franchise record for homers in one game. The Dodgers spent seemingly the entire day jumping out of the dugout. The Diamondbacks are surely being treated for twisted necks.
And, oh yeah, Hyun-Jin Ryu did his best Clayton Kershaw opening day imitation, allowing just one run in six innings with eight strikeouts while temporarily replacing the injury-slowed ace.
"Relentless,'' said Manager Dave Roberts.
More than anything, the Dodgers were relentless in their offensive approach — they set it all up by working Greinke to a 30-pitch first inning — while relentlessly addressing many questions that had followed them here from spring training.
Could Pederson stay focused despite still being a platoon player and hearing his name mentioned in offseason trade talks? He hit two homers.
"We fell short two years in a row, second place, not a good feeling,'' Pederson said. "A lot of us have an extra focus on the little things that might get us those extra couple of wins at the end of the year.''
Could Hernandez handle being the regular second baseman for the first time? He also hit two homers.
"This is the one you always dream of, being in the starting lineup, having a position, it's something I'll never forget,'' he said.
How well has Corey Seager recovered from injuries that have kept him out of the lineup for nearly a year? He went deep. Can Muncy repeat last year's surprising heroics? He went deep.
How about the new swing of Cody Bellinger? He went deep. Is there real hope for resurgence from Austin Barnes? Yeah, he also went deep.
"Hitting really is contagious, somebody gets a good swing, you want to get a good swing,'' said Muncy. "It's like when Seager hit his home run, I'm like, 'I want to hit one of those.'''
Maybe there really is something to the oddity that greeted the crowd during pregame introductions. There, standing on the third-base line, was not one, not two, but three hitting coaches.
There was hitting coach Robert Van Scoyoc. There was hitting strategist Brant Brown. There was assistant hitting coach Aaron Bates.
They ran onto the field amid polite, if bewildered, cheers. Roberts admitted afterward that he has never been on a staff with three batting coaches. But nobody is questioning it now.
Los Angeles Times sportswriter Jorge Castillo and sports columnist Bill Plaschke discuss the 2019 Dodgers season and the team's chances of returning to the World Series.
It was a show, however, that lots of folks missed. Besides Dodger Stadium not being full despite an announced sellout — there were more empty seats than in any opener in recent memory — many fans at home were also not watching.
Yeah, for the sixth straight opening day, the game was affected by the continuing Dodger TV debacle. This time, it was particularly awful, as most fans in Los Angeles could not watch even though it was broadcast on two networks. The Dodgers' Spectrum SportsNet LA channel is not received in a majority of Los Angeles home for a variety of reasons. The game was also carried on ESPN, but it was blacked out.
"So mad!'' texted a surprised friend, and she was not alone.
She missed it. A lot of folks missed it. It's a shame, because on this most glorious Game 1 of 162, the Dodgers did not miss a thing.
Sign up for our daily sports newsletter »
Get more of Bill Plaschke's work and follow him on Twitter @BillPlaschke
---