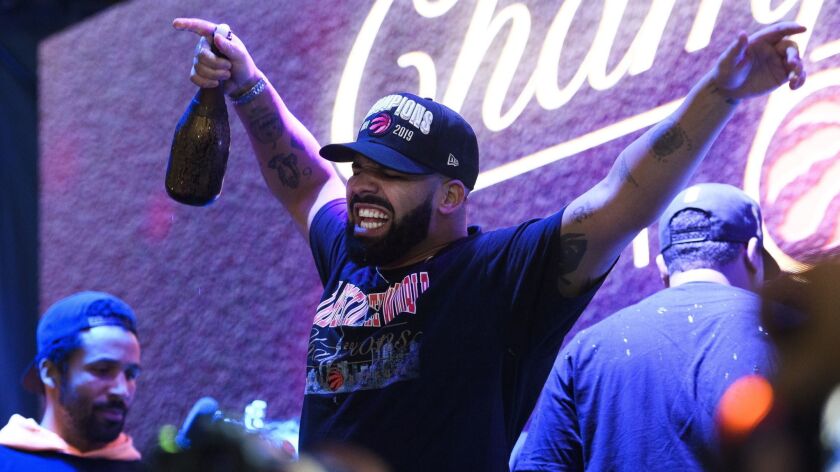 The Toronto Raptors are NBA champs, and you know what that means:
The "Drake curse" is over!
The Raptors were able to do what many others were unable to do in the past — win it all despite the massive and very public support of the hip-hop superstar.
"They said I was a curse, now they're cursing each other out," Drake said on Instagram live Thursday night apparently following a lot of celebrating after the Raptors beat the Golden State Warriors in Game 6 of the NBA Finals to clinch their first championship.
Drake was not in Oakland to watch the game in person — according to Sports Illustrated, he said he was asked not to attend road games for "safety reasons" — but was on hand at the Raptors' outdoor watch-party area in Toronto known as Jurassic Park to enjoy the moment with a multitude of other die-hard fans.
"The best in the world," he said of the Raptors on Instagram. "We did it."
Yep, Drizzy dropped a "we," just like he did earlier during a postgame interview from Jurassic Park: "We did this off of heart. We did this off of love. We willed this into existence."
He also was congratulated by Golden State star Stephen Curry, who was still at Oracle when he spoke with the former "Degrassi" star on the phone. "Y'all deserve it, man," Curry told Drake. "Congrats."
Um, did Drake actually somehow play in the game?
Maybe not, but he certainly made his presence known throughout playoffs — so much so that NBA commissioner Adam Silver asked him to cool it with his courtside antics.
And somehow through it all, the Raptors were able to prevail, putting an end to the "Drake curse" once and for all.
So now we can move on to more pressing matters — like chips and dip.
"Kawhi Leonard bringing the chips to the city. I want my chips with a dip, that's all I know," Drake said during his postgame interview. "I don't want my chips plain, I want my chips with a dip. Bring them dips."
Sign up for our daily sports newsletter »
While "chips" could possibly be short for "championships," it's not clear what the "dip" might be, although that word seems pretty important because he said it with increased emphasis every time.
Drake further discussed the matter later on Instagram live.
"A chip to the six. Sour cream and onion. And I'm saying creamy garlic, jalapeño cheddar — I want the dip, 'cause we got the chip," a very possibly intoxicated Drake said. "So how y'all want the dip?"
There you have it.
Drizzy also said something about Warriors star Klay Thompson wakeboarding in Quicksilver shorts, and mentioned that he's releasing two new songs, apparently in honor of the Raptors' championship, on Friday.
Twitter: @chewkiii
---