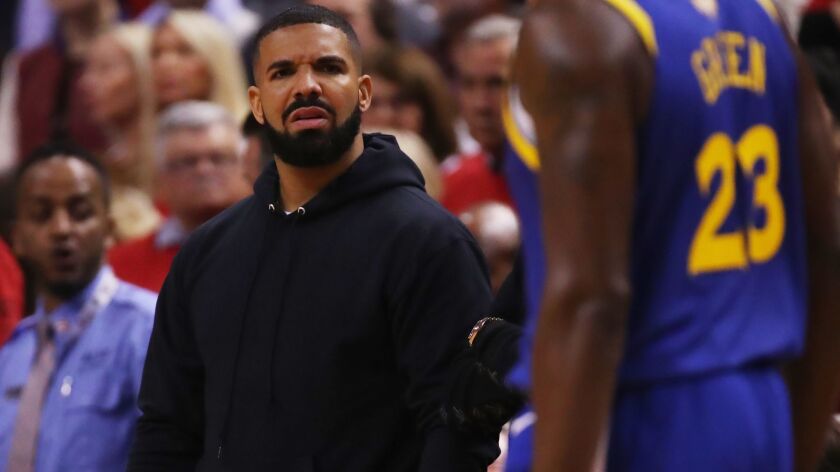 While Drake was clearly the offcourt MVP during Thursday's game between the Golden State Warriors and his beloved Toronto Raptors, the hip-hop superstar was upstaged three nights later by a former U.S. president, a pair of injured Golden State Warriors and a former child actor.
The crowd at Scotiabank Arena made their MVP preference quite clear during Game 2 of the NBA Finals on Sunday night when former President Obama — who was seated next to NBA commissioner Adam Silver and wearing a stylish black leather jacket — was shown on the big screen.
Obama was the definition of cool before the game, declaring, "What's going on, people?" as he entered the building and asking Drake, "You behaving yourself?" as the two shared a greeting.
Drake, who attempted to troll Warriors star Stephen Curry by wearing a vintage Dell Curry (Stephen's father) jersey to Game 1, turned his focus to another Golden State star for his wardrobe choice this time. In an apparent attempt to troll the injured Kevin Durant, who has yet to play in this series, Drake wore a hooded sweatshirt that featured on its back a photo of Macaulay Culkin in his iconic "Home Alone" pose with the caption "KEVIN?!?!?!"
Culkin, who as a child played Kevin McCallister in the 1990 movie and its 1992 sequel, responded in epic fashion on Twitter.
Meanwhile, the Warriors ended up doing just fine without Durant — and later Klay Thompson, who left the game with a hamstring injury in the second half — this time around, with a 109-105 victory.
Drake, who had a heated exchange with Golden State's Draymond Green following Game 1, was much more subdued with Durant and Thompson in the tunnel after Game 2.
Sign up for our daily sports newsletter »
It's hard to tell exactly who's doing the talking from the video, but it appears to be Durant who says to the rapper whose full name is Aubrey Drake Graham: "See you in the Bay, Aubrey. You weren't talking tonight, were you? Bumass."
After further taunts from the Warriors side, Drake responds that "it's 1-1," a reference to the series score, and might have tried to get in a dig at Durant for being sidelined, "But you played nicely by the way."
Not a bad attempt at a comeback, but we've come to expect more from Drake. He might need to step up his game as the series moves to Oakland for games 3 and 4.
Twitter: @chewkiii
---