Morning briefing: Fake Kawhi and Kawhi live it up at the Raptors' championship parade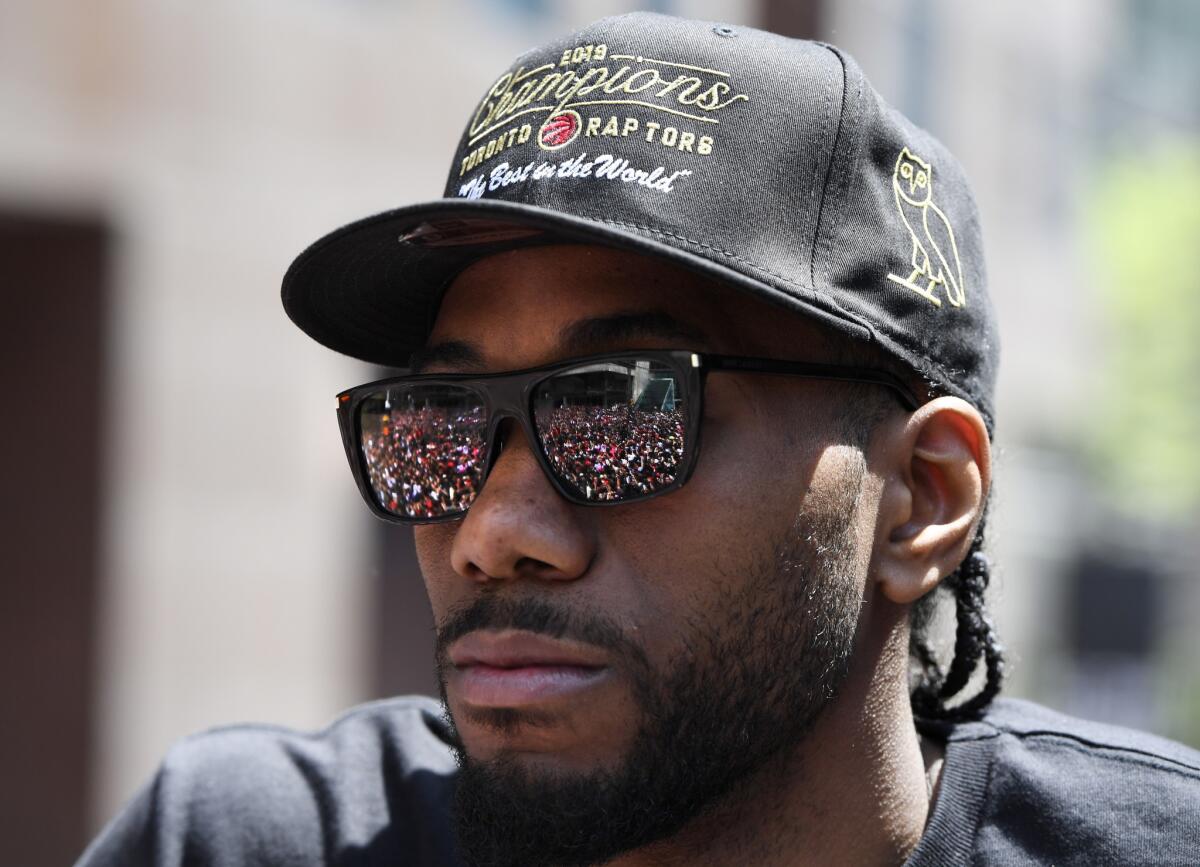 Kawhi Leonard was living the good life on Monday.
The NBA Finals MVP could be seen puffing on a cigar while hanging out with his Toronto Raptors teammates — and, of course, hip-hop star Drake — on top of a double-decker bus rolling past an estimated 1.5 million fans during the team's first championship parade.
Meanwhile, somewhere in that crowd of adoring fans, a guy who looks kind of like Leonard also was living a pretty good life. A yet-to-be-identified man sporting Leonard's signature cornrows and wearing a replica of the player's game uniform was wandering the streets of Toronto, signing autographs and posing for selfies.
Yep, Fake Kawhi, as he quickly became known on social media, was a hit.
At least some fans seemed to be fooled by the imposter — why else would they want the signature of a random guy?
On Twitter, the online prankster known as Big Daws claimed to be the mastermind behind the stunt. Daws, whose real name is Dawson Gurley, has gained notoriety in recent years for dressing up like Golden State star Klay Thompson and posting videos of himself fooling Warriors fans on his YouTube channel, which has close to six million followers.
"What people don't know is I set up the entire Fake Kawhi Leonard prank today in Toronto," tweeted Gurley, who promised to post a video chronicling the adventures of Fake Kawhi on Tuesday.
Some super fan
Speaking of Drake (hopefully for the last time in the sports section for awhile), the Raptors super fan announced after his beloved team's championship-clinching win over the Warriors on Thursday night that he'd be dropping two new tracks the next day.
Because of the timing of the announcement, it was assumed the new music would have something to do with the Raptors' long-awaited championship. An Instagram post featuring artwork for the singles — an image of the Larry O'Brien trophy with Drake's autograph superimposed over it — seemed to confirm this notion.
But the songs ended up making no mention of the Raptors or their accomplishments. Instead, one of the songs, "Omerta," contains references to Bronny James, son of Lakers star and three-time NBA champ LeBron James, and Michael Jordan and Phil Jackson, who won six titles together with the Chicago Bulls.
On the same track, Drizzy even raps about his own potential to win championships: "I wish that I was playin' in a sport where we were getting rings. I wouldn't have space on either hand for anything."
While it doesn't really qualify as a diss track, the Raptors can't be blamed if they feel somewhat dissed by their global ambassador.
Dearly beloved
Former World No. 1 tennis player Caroline Wozniacki and retired two-time NBA Star David Lee were married in Italy this weekend in front of 120 loved ones.
So who exactly makes the cut when two famous athletes want to keep their wedding a relatively intimate affair? Let's take a look at the guest list.
Apparently Wozniacki doesn't hold a grudge about losing to Serena Williams 10 of the 11 times they've played, including the 2014 U.S. Open final, because Williams was a bridesmaid.
Williams' husband, Reddit co-founder Alexis Ohanian, was also in attendance, as were tennis stars Angelique Kerber and Agnieszka Radwanska and NBA players Pau Gasol and Harrison Barnes.
Not sure what his connection to the couple is, but Jesse Palmer, former NFL player and one-time star of TV's "The Bachelor," also was on hand to witness the nuptials.
LaMelo down under
LaMelo Ball — brother of Lonzo Ball, soon to be a member of the New Orleans Pelicans — has signed with the Illawarra Hawks for the upcoming National Basketball League season in Australia via the Next Stars Program.
Allegedly LaMelo could be selected in the 2020 NBA Draft, and definitely if anyone is listening to his father, LaVarr. Illawarra owner Simon Stratford described Ball is an "exceptional talent."
"Having him in a Hawks jersey fits with the goal of cultivating the best young talent and making them great," Stratford said in a statement. "It's putting the club at the top of the list for future NBA stars."
The Next Stars Program places players with Australian teams who are eligible for the NBA draft and hand-picked by scouts. Those are Australian scouts, not NBA.
Twitter: @chewkiii
Get our high school sports newsletter
Prep Rally is devoted to the SoCal high school sports experience, bringing you scores, stories and a behind-the-scenes look at what makes prep sports so popular.
You may occasionally receive promotional content from the Los Angeles Times.