Genesis Open notes: Patrick Rodgers makes a move at Riviera with a second-round 67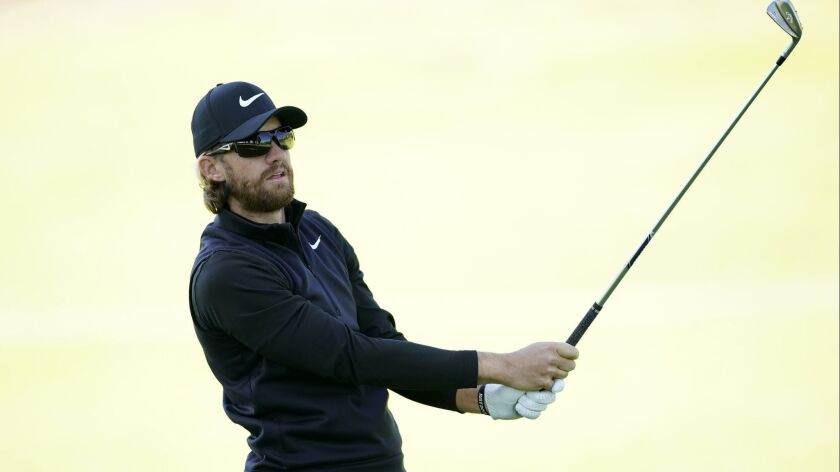 The only thing more erratic than the weather the first three days of the Genesis Open might have been the way Patrick Rodgers climbed up the leaderboard Saturday.
Rodgers started his second round in the early-morning chill with a birdie on the par-four 10th hole and added five more and an eagle 2 on No. 7 when he holed a shot from 131 yards. Unfortunately for the former All-American at Stanford, he also had four bogeys.
He finished his second round with a four-under 67 and stood at nine under, tied for fourth, heading into the third round.
Rodgers won 11 college tournaments in his three years at Stanford, tying Tiger Woods for the school record. He's finished second three times on the PGA Tour since turning pro in 2014. Last November he set a PGA Tour record for closing 36-hole score when he shot 61-62 in the RSM Classic. He lost in a playoff and has missed the cut in all four of his 2019 events.
He is wearing mittens between shots that look warm enough for a snowmobile in the Arctic, and that seems to be working so far.
"It was cold when we got started, and you're just trying to stay hot, keep the hands hot, and I was making a couple birdies, so you just keep it going."
Rodgers added another eagle on No. 1 in the third round and is tied for third at 11 under par.
A COSTLY LESSON
A day after he apologized for his insensitive comments about a meager tip he gave in a November tournament, Matt Kuchar had yet to contact the caddie he shortchanged.
"I was only able to leave a message," said the golfer, who was trying to reach caddie David Ortiz in Mexico and intends to pay him a reported $50,000 for his work in the Mayakoba Golf Classic, Kuchar's first PGA Tour victory in more than four years.
Kuchar, who won $1.3 million in that event, has tried to tamp down the public-relations embarrassment of paying Ortiz, a fill-in, a relatively modest $5,000 for his work. It's customary for regular caddies to be paid 10% of the winnings. The situation was made worse by Kuchar's comments that, in essence, Ortiz should be happy with the payday because $5,000 is a lot of money.
Sign up for our daily sports newsletter »
"Listen, I was stubborn, hard-headed," Kuchar told reporters Saturday. "In my mind, I had it as a deal is a deal. But after I won the tournament, a deal wasn't a deal. Not a good deal. Any transaction, all parties should come out feeling like they've won, and certainly in David's case he did not feel like he won in that situation. I needed to make it right. It's as simple as that."
Kuchar, playing in the WGC-Mexico Championship next week, said he's not concerned about the reaction he probably will receive from some spectators.
"I think people know me," he said. "I've had an amazing experience in Mexico City. The America's Cup the last two years, fans have been unbelievable. My experiences there have just been top notch."
---
Get the latest on L.A.'s teams in the daily Sports Report newsletter.
You may occasionally receive promotional content from the Los Angeles Times.