Column: Game 4 of Stanley Cup Final can be a defining moment
Reporting from Arlington, Va. —
In their short time in the NHL, the Vegas Golden Knights have built a reputation as a speedy, hard-working, relentless-forechecking team that's better than the sum of the good-but-not-great parts they assembled in the expansion draft last June. In their four-plus decades in the NHL, the Washington Capitals have built a reputation as underachievers whose cast changed from season to season but still fell victim to mental fragility that led to meek and early playoff exits, especially the past few seasons.
The Golden Knights, limited to three goals and pressured into defensive mistakes in losing the second and third games of the Stanley Cup Final, must get back to their old identity to keep their dream season going. The Capitals, who have taken a deserved 2-1 series lead on the backs of their superstars and their depth players, hope to take a significant step toward shedding their old identity as losers when the Final resumes Monday night at Capital One Arena.
Both teams know they've reached a defining moment.
"Right now everyone's starting to write us off. It's not something we're not used to," said Vegas second-line winger David Perron, who was held without a shot on Saturday for the second straight game. "We lost the first game against Winnipeg. We had a lot of media thinking we'd get run over the entire series against them. We find a way to win four in a row, win in five. We're in a familiar situation with a lot of doubters. It's fine with us. We have to step up and play the right way, play the way that made us successful."
Washington has made that difficult with cohesive work in the neutral zone and a physicality that has made the Golden Knights turn over the puck too often. The Capitals have been getting scoring from stars Alex Ovechkin and Evgeny Kuznetsov and from bottom-six forwards Lars Eller and Devante-Smith Pelly, but the Golden Knights' top two lines have been largely silent the past two games. The top trio of Jonathan Marchessault, William Karlsson and Reilly Smith produced some good chances Saturday but they were thwarted by Washington goaltender Braden Holtby.
Vegas coach Gerard Gallant said Sunday he and his staff are considering some lineup changes, but it's late for a shakeup. Gallant could bring back Tomas Tatar, who played two games in each of the first three rounds, or Oscar Lindberg, who has played only three games — none after May 12 — but neither move would qualify as a potential series-changer.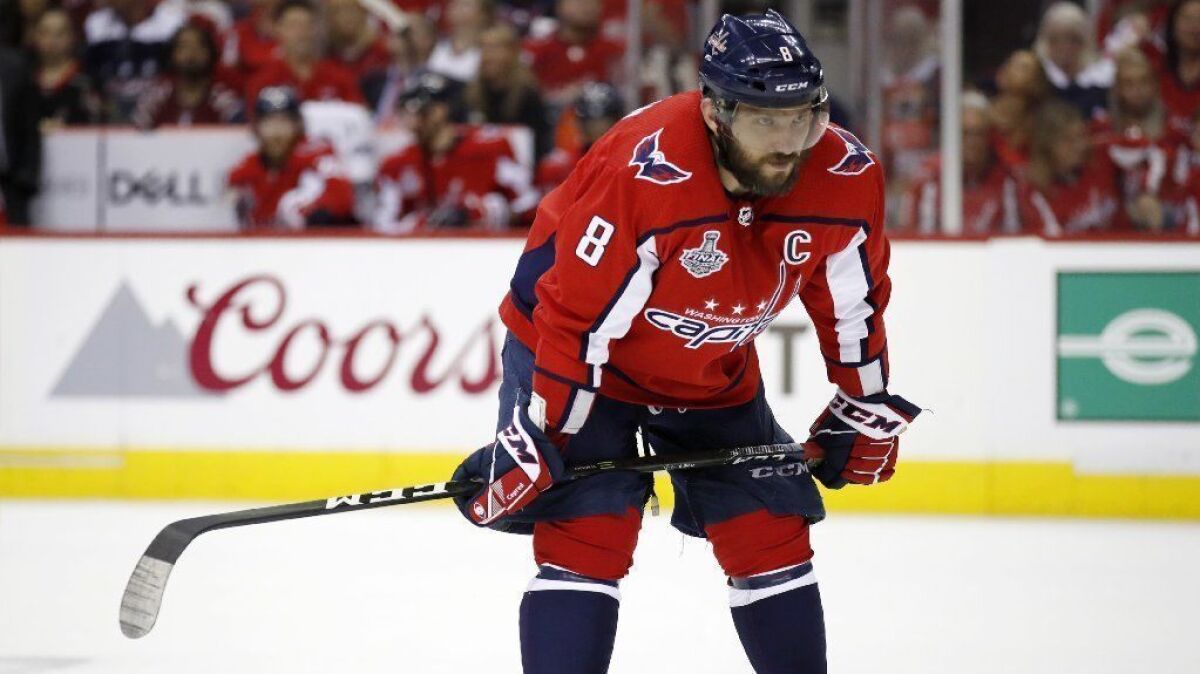 Still, something might be better than nothing, which is what they've been getting from their top six forwards. "Washington is working hard, they're competing real hard. They're playing great hockey right now so we've got to step up our game," Gallant said. "In the three games, we haven't been good enough. And if we don't step up our game, the same result is going to happen [Monday] night. We'll see what we're made of."
The Capitals appear to be made of sterner stuff than their immediate predecessors, who compiled the NHL's top regular-season record each of the past two seasons but were eliminated in the second round. This version is younger and hungrier and has fed off the insatiable drive of the openly emotional Ovechkin. This group also is smart enough to remember its playoff history and is determined not to repeat it.
"We're excited with the way the game went [Saturday] and how we played but you've got to do it all over again," said Washington defenseman Matt Niskanen, who was credited with four hits and three blocked shots in a game-high 27 minutes and 16 seconds' ice time Saturday. "It's a huge opportunity for us [Monday] and I think we'll be ready to go. I think we've learned enough hard lessons in the past to not let opportunity slip away."
The odds are now with the Capitals. According to the NHL, 21 of 27 teams that took a 2-1 lead in the Final by winning Game 3 have won the Cup, though the last three instances (Tampa Bay in 2004, Chicago in 2013 and in 2015) were exceptions. Defenseman Brooks Orpik, a 2009 Cup champion with Pittsburgh, acknowledged it's difficult for players to avoid thinking about the prize that's within their reach but they're determined not to lose focus now. "We've been down in series and come back in [three] of those, so we know being up in a series doesn't guarantee you anything," said Orpik, who said he got the wind knocked out of him on a hard hit from former teammate James Neal in the second period Saturday but did not suffer a head injury.
The Golden Knights, doubted from the moment they were formed and all the way through to the Final, say they have enough magic left to continue their run. "We've just got to know in the back of our heads it's still there," defenseman Luca Sbisa said "It's 2-1 in the series. We've played good hockey all year. We've been in situations like this before, had adversity, have our backs against the wall a bit. The belief in our group is still here. We've just got to stick together."
Follow Helene Elliott on Twitter @helenenothelen
Get our high school sports newsletter
Prep Rally is devoted to the SoCal high school sports experience, bringing you scores, stories and a behind-the-scenes look at what makes prep sports so popular.
You may occasionally receive promotional content from the Los Angeles Times.