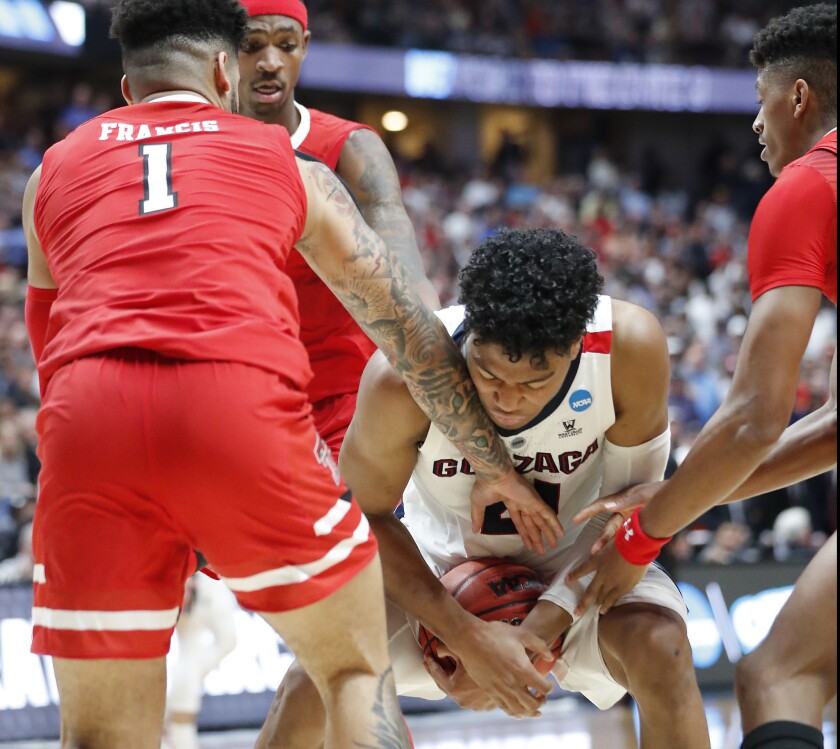 Matt Mooney held the ball in front of his waist as he tried to make an inbounds pass along the baseline, searching for an open teammate with 11 seconds left in a game his team led by just two points.
The Texas Tech guard looked to his right momentarily. Then he shuffled his feet and swung the ball to the left side of his body with Gonzaga's Josh Perkins standing in his way, flailing his arms and trying to anticipate his every move.
As Mooney lifted the ball in front of his head, Perkins took a swipe at it with his left hand.
The ball was knocked from Mooney's grasp. The official standing nearby raised his right arm and pointed at Perkins with his left.
Technical foul.
This was how a classic NCAA tournament regional final met its unfortunate end for Perkins and the top-seeded Bulldogs.
Third-seeded Texas Tech lost most of a seven-point lead in the final 52 seconds before the out-of-bounds blunder helped it persevere during a 75-69 victory Saturday at Honda Center.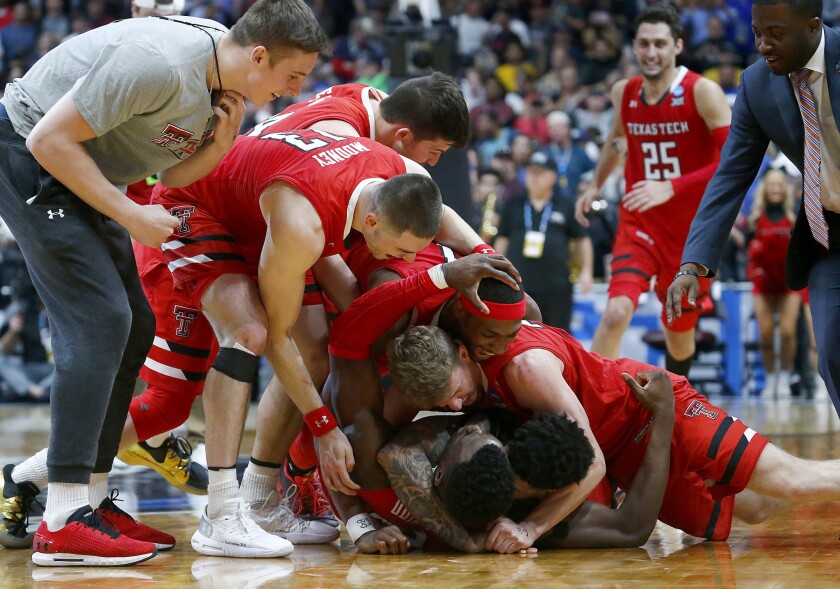 While the Red Raiders pulled each other to the court for a dogpile in celebration of the school's first trip to the Final Four, Perkins was left to face reporters with tears streaming down his cheeks. He said Mooney's repeated ball fakes prompted him to instinctively extend his arm.
"Bonehead play," Perkins said after his final college game. "Something I will think about forever."
In what was billed as a battle between premium offense and defense, balance prevailed.
Texas Tech made its usual array of stops, holding Gonzaga to 36.4% shooting in the second half, and mixed in just enough baskets to secure the most significant triumph in school history.
Texas Tech (30-6) advanced to a national semifinal next Saturday in Minneapolis, where it will play the winner of Sunday's East Regional final between top-seeded Duke and second-seeded Michigan State.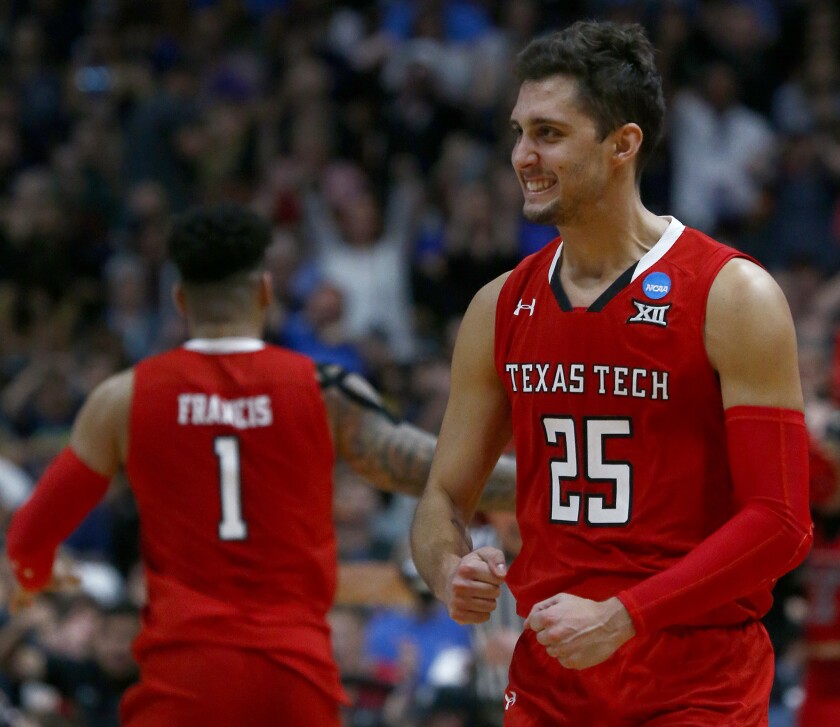 The Red Raiders took turns cutting the net but saved the final strands for coach Chris Beard, who held the nylon over his head and shook his fist in triumph as he stood atop a ladder under the basket.
"Man, it's just indescribable. It really is," Beard said. "Growing up my whole life watching these press conferences, games and all that, and the guy that always gets there and says 'Indescribable,' and I'm like, 'Oh, give us something better than that.'
"But I don't have anything better. It's indescribable."
Sign up for our daily sports newsletter »
Red Raiders forward Tariq Owens was heavily involved in another pivotal sequence with 56 seconds left, blocking a three-pointer by Gonzaga forward Rui Hachimura and saving the ball from going out of bounds. Owens said he actually made a mistake on the play by momentarily leaving Hachimura to help defend Perkins on a drive toward the basket.
But Owens recovered after Perkins passed to Hachimura, scurrying over to swat his shot in the corner.
"I had to get there," Owens said, "and it just worked out."
Owens saved the ball (replays showed he was out of bounds) and found teammate Brandone Francis, who was fouled and made one of two free throws to extend his team's lead to seven points.
Hachimura finished with a game-high 22 points for the Bulldogs (33-4), whose top-ranked offense was slowed just enough to keep them from a second Final Four in three seasons. Owens was a big part of the road block, logging three blocks and one steal for a team that finished with nine steals and seven blocks
"They are really good at reaching, poking and digging things outta there," Gonzaga coach Mark Few said. "That defense is real."
It looked like Moretti might have sealed the Bulldogs' demise when he repeatedly pounded his chest with a balled fist after sinking a three-pointer that gave Texas Tech a 66-60 lead with 1:46 left.
The Red Raiders extended their advantage to 69-62 when Perkins sparked a comeback. His floater and a three-pointer pulled the Bulldogs to within 69-67 with 22 seconds left.
Gonzaga then fouled Mooney, who made both free throws, before a putback from Bulldogs guard Zach Norvell Jr. made it a two-point game again with 11 seconds left and triggered the pivotal inbounds play.
"I was just trying to get it to Davide Moretti," Mooney said of his intentions, "because he's the best free throw shooter in the country."
Moretti, who entered the game making 92.1% of his free throws to rank fifth nationally, got to the line anyway as the result of the technical foul. He made both free throws and Texas Tech was allowed to inbound the ball once more, getting two more free throws after Jarrett Culver (19 points) was fouled to extend its advantage to six points with nine seconds left.
The Bulldogs faced an insurmountable deficit and the Red Raiders were about to contemplate getting on another plane for what they hope will be two more games.
If they need another crucial inbounds pass, they know who they want to make it.
"I just trust him," Beard said of Mooney. "He's got big-time nerves. You can't rattle him."
Follow Ben Bolch on Twitter @latbbolch
---