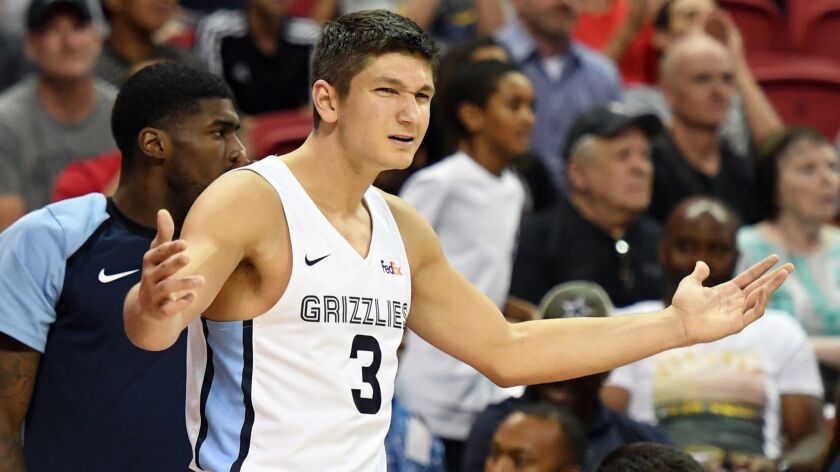 Memphis Grizzlies guard Grayson Allen didn't trip anyone Thursday during a summer league game against the Boston Celtics.
That can be viewed as a positive, right? After all, that's one of the things Allen was known for at Duke, where he helped the Blue Devils win a national championship but also was served a suspension for his inability to keep his feet to himself.
But while Allen appears to have left his tripping habits back in college, unnecessary aggression toward opponents seems to remain a part of his game. The second-year NBA player was ejected from Thursday's game after committing two flagrant fouls within a span of seven seconds.
He got the first one for shoving Boston's Grant Williams with 9:19 remaining in the fourth quarter.
Grant Williams is cooking right now. He's currently got 21 points, 7 rebounds, is 4-5 from three, somehow has 7 fouls (this is possible in the summer league for some reason), and he's getting under Grayson Allen's skin (he's since been ejected). Good night pic.twitter.com/gEQtS9fyXI

— Tucker (@BBQTUCK) July 12, 2019
Then, at the 9:12 mark, Allen's elbow landed on the back of Williams' head as the Celtics rookie was going for an easy layup. Just like that, Allen's night was over. He finished with three points, four assists and two rebounds in 19 minutes during the 113-87 Grizzlies loss.
Allen went 21st overall to the Utah Jazz in the 2018 NBA draft. But after a disappointing rookie season during which he spent significant time in the G-League, Allen was shipped to Memphis as part of the trade that sent Mike Conley to the Jazz.
Scenes like those from Thursday night certainly won't ingratiate Allen with his new team or its fans. ESPN's Dan Dakich didn't try to hide his disgust during the network's broadcast of the game.
Sign up for our daily sports newsletter »
"Truthfully it's just exhausting," Dakich said of Allen. "If he were this tough, grind-it-out, fighting guy, you'd say, all right. But he just stays around the perimeter, avoids contact and then does stuff like that."
But, hey, at least he didn't trip anyone.
Twitter: @chewkiii
---