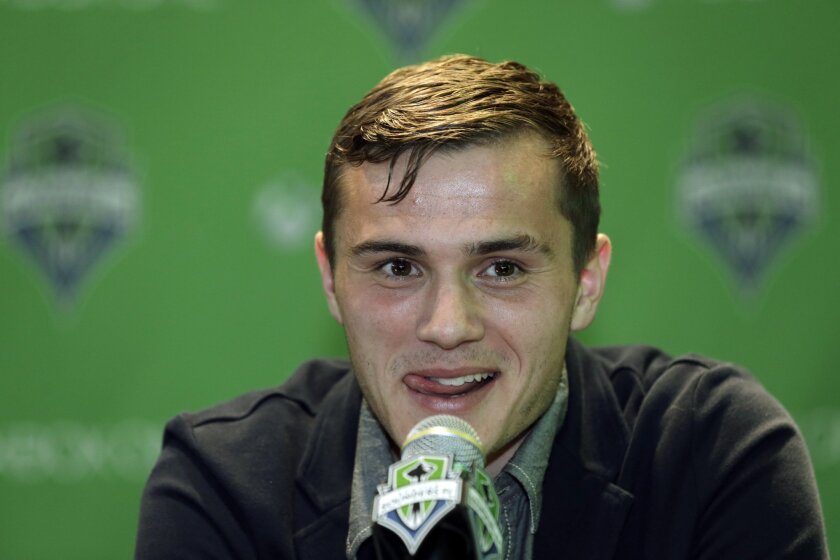 If you're a basketball player, you dream of playing in the NBA. If you're a baseball player, the major leagues. And if you're a soccer player, Europe.
So why is Jordan Morris about to start his professional career in Major League Soccer?
The 21-year-old former Stanford striker was offered a contract this winter by Werder Bremen of Germany's Bundesliga, but signed instead with his hometown Seattle Sounders.
Morris' choice was somewhat of a surprise, considering the influence national team Coach Juergen Klinsmann was perceived to have over him.
Knowing there is no magic wand he can wave that could suddenly turn his players into the likes of Lionel Messi or Paul Pogba, Klinsmann has focused on altering his team's culture. What the U.S. lacks in technique, his thinking seems to be, can be compensated with resolve.
That idea was probably responsible for Klinsmann's controversial decision to exclude the talented-but-sensitive Landon Donovan from the World Cup roster in 2014.
It also explains why Klinsmann has encouraged his players to go to Europe.
The environment in Europe is far more competitive than in MLS, where any player with a six-figure salary is practically assured a starting position. There were rumblings the Sounders would move into a three-forward alignment to create a place for Morris on a front line that included All-Stars Clint Dempsey and Obafemi Martins. (The problem was eliminated this week when Martins was sold to a team in China.)
In a top-tier league such as the Bundesliga, few players are guaranteed spots in the lineup, or even on the bench. Rosters are stacked, turning almost every training session into a competition. The environment could strengthen a player's mental fortitude, provided he can stand the pressure.
It isn't for everyone. It wasn't for Donovan and it might not be for Morris.
Speaking about his decision at a national team training camp that concluded earlier this month, Morris sounded as if he had a firm idea of where he wanted to be. He acknowledged his choice to sign with the Sounders was based more on personal reasons than what was best for his soccer career.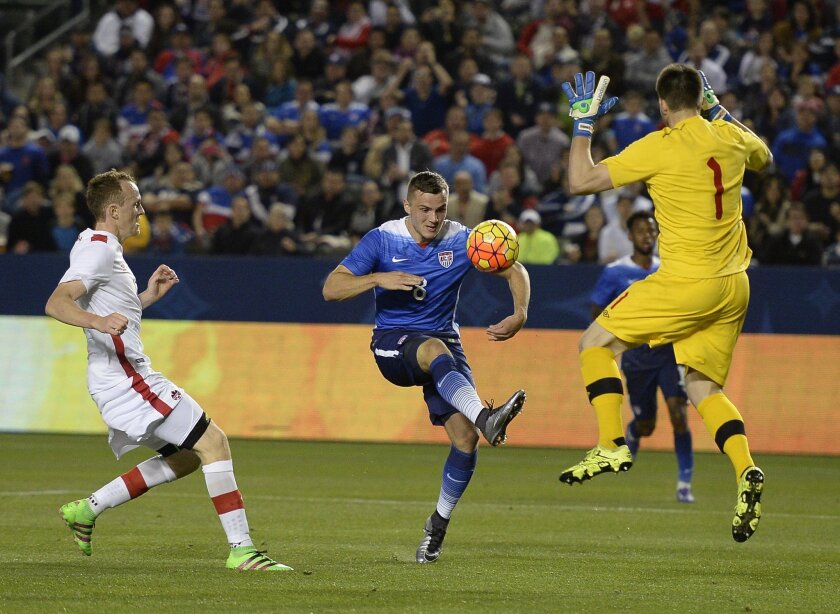 "I want to be around my family," said Morris, whose father is the Sounders' medical director.
He sounded an awful lot like Donovan, who ventured twice to Germany, only to return both times his native California.
The legacy of the now-retired Donovan is a complicated one, as many believe he never came close to reaching his ceiling as a player because of how he prioritized his personal comfort over his career.
However, Morris views Donovan as a "big inspiration."
"He spent most of his career over here," Morris said. "He's arguably the best U.S. player in history."
Donovan would likely not have become that had he remained in Germany, where he was a homesick reserve.
Klinsmann had no problems with Morris' choice.
"At the end of the day, it's the player's decision, what he wants to do with his life, with his career," Klinsmann said. "For us coaches, it's very simple because we're just there to support and help. Once they make a decision, like Jordan now, then you have to be 100% behind it and drive for your highest game possible."
::
Ronda Rousey benefited from one of the more overblown marketing campaigns in recent memory. But watching her break down in tears as she spoke to Ellen DeGeneres about the first defeat of her career, it was hard not to feel a little sorry for her.
Her stardom was a creation of the UFC, which overstated her ability and used her to prop up mixed-martial arts at a time when Anderson Silva was in semi-retirement, Georges St-Pierre on sabbatical and Jon Jones dealing with substance-abuse problems.
Rousey's string of first-round stoppages was an indication that something was amiss. If a fighter is knocking out or submitting all of his or her opponents in the first round, that says more about the matchmaking than it does about the fighter.
Ignoring the obvious warning signs, fans bought into the narrative that Rousey was MMA's answer to a young Mike Tyson. Evidently, she did, too, which set up her up for a magnificent fall against Holly Holm, who had an extensive background in boxing that Rousey lacked.
Should Rousey have known better? Perhaps, but it's important to remember that a certain level of denial is necessary to do what she does for a living.
::
With the Dodgers and Angels about to open spring training, this is probably a good time for a tip to potential visitors: Phoenix might be the best pizza city in America.
Pizzeria Bianco ranks among the best-known pizza parlors in the country. On the other side of downtown is Cibo, a personal favorite of Dodgers outfielder Andre Ethier.
Other places worth visiting include the Parlor, La Grande Orange and Spinato's.
dylan.hernandez@latimes.com
Twitter: @dylanohernandez
---