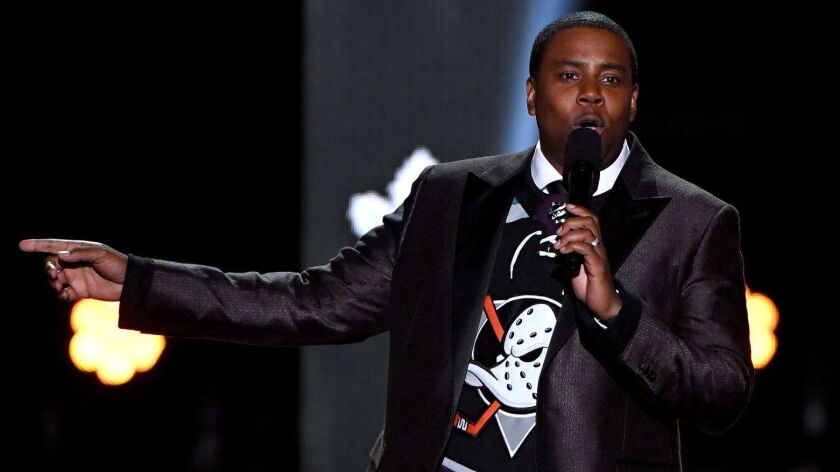 Kenan Thompson was among the first people to be seen wearing a Mighty Ducks jersey — not as a hockey player, of course, but as a child actor.
Thompson first played the knuckle-puck-shooting Russ Tyler in "D2: The Mighty Ducks" in 1994, the same year the NHL team of the same name (without the "D2" part) was wrapping up its first season in Anaheim.
As host of the 2019 NHL Awards on Wednesday night in Las Vegas, Thompson broke out one of those old-school Mighty Ducks jerseys and waxed nostalgic about the movie franchise's role in helping the now-Anaheim Ducks establish their fan base.
"We felt super responsible for all that kind of stuff happening," said the comedian, who also led the crowd in the "Quack!" chant from the movies. "It's just been a magical part of my life. I always thought I'd just be a fan, eating popcorn, watching games. But I'm so glad to have this relationship with the NHL. It's really nice. I'm always down to do whatever they ask."
During the monologue, Thompson got in a good zinger at the expense of the Tampa Bay Lightning, who won the Presidents' Trophy for their regular-season success but made a quick exit out of the playoffs.
"They tied the most wins in a regular season with 62!" the longtime "Saturday Night Live" cast member said. "And then they followed it up by tying the least wins in the playoffs with zero! But, hey, that's what I like about them — win or lose, they set records."
Tampa Bay's Andrei Vasilevskiy did not look amused. But his night did get better when he received his first Vezina Trophy as the league's top goalie. Teammate Nikita Kucherov picked up the Hart Trophy (MVP), Ted Lindsay Award (best player as voted by his colleagues) and Art Ross Trophy (top scorer).
Twitter: @chewkiii
---