Radio host says his controversial comments weren't about death of Andy Reid's son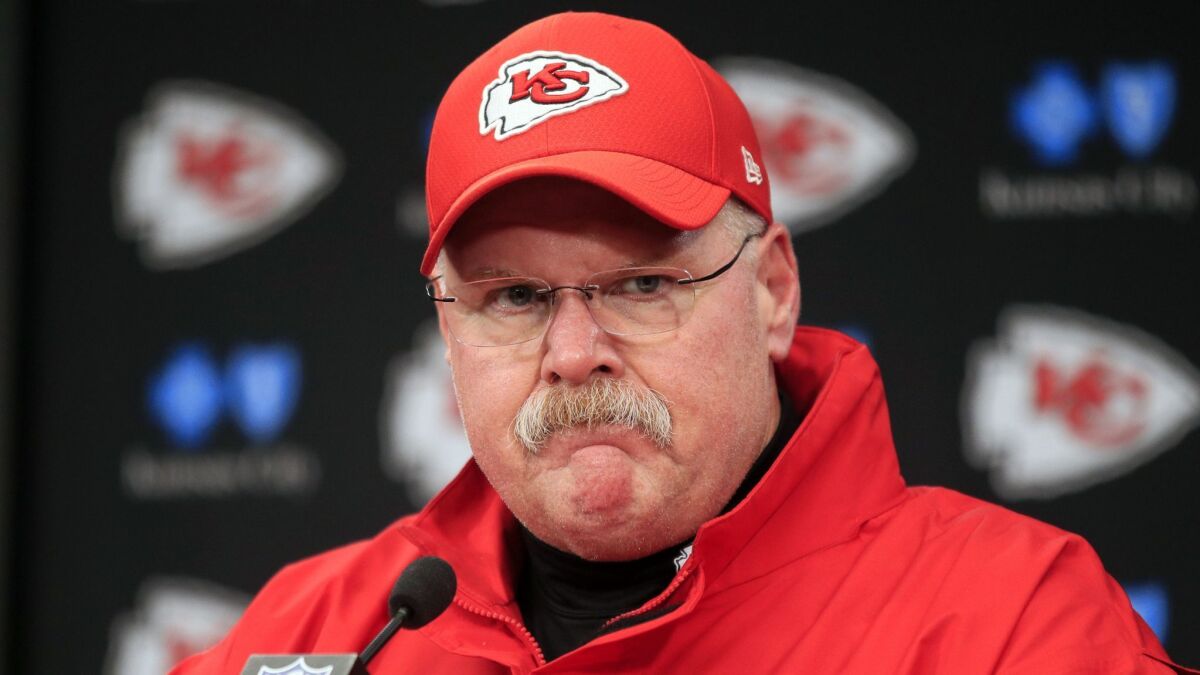 Here's a line from the bio page of sports radio host Kevin Kietzman on the website for 810-WHB in Kansas City, Mo.:
"'Did you hear what Kietzman said?' is a common refrain among sports fans around the Midwest … ."
People from well beyond the Midwest have been asking that after the radio personality's Monday broadcast. Kietzman has drawn criticism mentioning Andy Reid's family life as evidence that the Kansas City Chiefs coach "is not good at fixing people."
Many folks assumed Kietzman was referencing the death of Reid's oldest son, Garrett, who died of a heroin overdose in 2012. But Kietzman said in an email to Awful Announcing that he actually was talking about Reid's history of choosing to work with people, including his sons, who have troubled pasts.
"I never once mentioned anything about Andy Reid's son's death and never once had it on my mind," wrote Kietzman, who is listed on the WHB staff directory as vice president-sports director and lists himself as a partner at Union Broadcasting, the station's ownership group, on his LinkedIn profile.
"A caller called in later and said something about the death and I quickly corrected him and pointed out that I was referencing two sons that were convicted drug dealers and drug addicts that he chose to try to fix by hiring them to work for his football teams."
Garrett and Britt Reid both spent time in jail on drug-related charges. Garrett Reid assisted in an unofficial capacity with the strength coaches on his father's Philadelphia Eagles teams. Britt Reid, who completed a 15-month drug treatment program in 2009, has been a member of his father's coaching staff since 2013 and will serve as a linebackers coach this season.
The comments in question came while Kietzman was discussing Tyreek Hill, who has been suspended from team activities since a domestic battery case involving the Chiefs receiver was reopened in April. According to the Kansas City Star, that case is no longer active, and Hill is scheduled to meet with the NFL this week.
"They probably think they can fix him, but they thought they could fix him before and they failed," Kietzman said in reference to the Chiefs and Hill. "Andy Reid does not have a great record of fixing players. He doesn't. Discipline is not his thing. It did not work out particularly well in his family life, and that needs to be added to this, as we're talking about the Chiefs. He wasn't real great at that either. He's had a lot of things go bad on him, family and players."
Sign up for our daily sports newsletter »
"He is not good at fixing people, he is not good at discipline. That is not his strength. His strength is designing football plays."
Later in the day, Kietzman took to Twitter to defend himself against accusations that he was blaming Reid for his son's death.
"Blaming a parent for the death of their child in these circumstances is unthinkable and reprehensible. Period," wrote Kietzman, who added: "It makes me sad that somehow that's what some of you thought I was saying. That would be despicable."
Twitter: @chewkiii
---
Get our high school sports newsletter
Prep Rally is devoted to the SoCal high school sports experience, bringing you scores, stories and a behind-the-scenes look at what makes prep sports so popular.
You may occasionally receive promotional content from the Los Angeles Times.