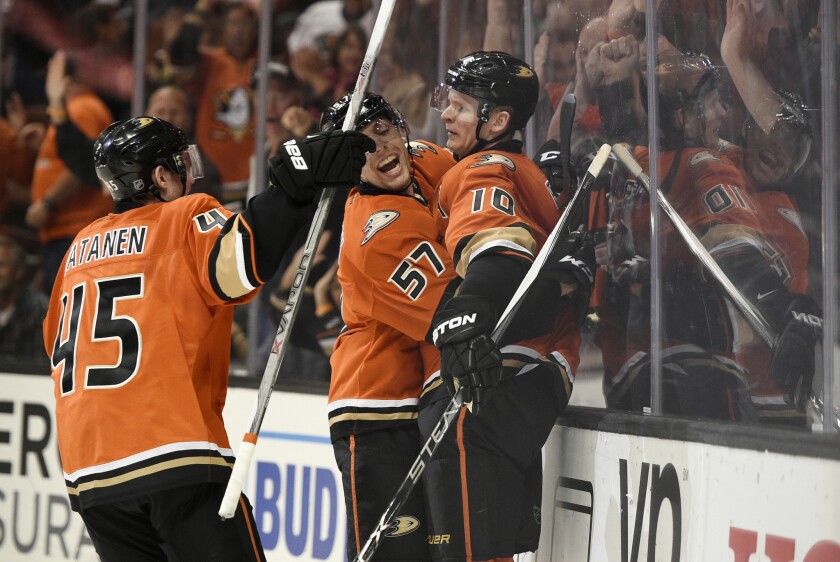 Through the worst of times, when the Ducks were winning once in their first 10 games and right wing Corey Perry's scoring touch was nowhere to be found until the team's 12th game, he and they refused to accept that they were as bad as the standings and the statistics indicated.
"We dug ourselves a hole," he said, "and we found a way to get out of it."
The Ducks gave themselves a lot of digging to do, but they've erased nearly their entire deficit. Perry's hat trick in the Ducks' 4-2 victory over the Kings on Sunday did more than trigger a shower of caps from the stands at Honda Center: it moved the Ducks within two points of the division-leading Kings and increased their winning streak to eight games. Over the longer term, they're 22-4-2 since returning from the Christmas break.
"Everybody is contributing and playing their role," Perry said after recording his ninth career hat trick, a number that's second in franchise history to the 13 recorded by Teemu Selanne, and assisting on the David Perron goal that closed the scoring for the Ducks. "Everybody has found a spot on this team to go out there and do the right things, and it's working."
All three goals were vintage Perry — from around the net, all made possible by the tenacity and peskiness that make him so unpopular in rinks around the NHL. Those same qualities, though, helped make him the NHL's most valuable player for the 2010-11 season, a Stanley Cup champion and two-time Olympic gold medalist.
The distance on his three goals Sunday might have added up to 15 feet.
"That's him," center Ryan Getzlaf said cheerfully. "He did a great job showing up in a big game tonight. We're getting used to that over the years but he's been really good as of late and it's nice to see him get rewarded."
Perry freely acknowledged that his goals — one in the first period, one in the second and one in the third — were due in part to luck. And the Ducks were lucky, too, that the timekeepers erroneously did not run the clock back after an apparent goal by the Kings in the third period was reviewed and found to have been offside. The Kings should have gotten about 35 seconds back after the Ducks successfully challenged the play, as league officials told The Times via email.
But in Perry's case, at least, luck was the residue of hard work.
"I had some good bounces tonight," he said, referring to a fortunate bounce off the end boards on his second goal, a power-play goal at 17 minutes 57 seconds of the second period that went off the end boards and then off goaltender Jonathan Quick. "Those are bounces that you need. ... We had three power-play goals, so our power play was working tonight. It's a close-checking game out there when you play those guys. It's a man's game. You've got to be ready to play."
They were ready Sunday, with a division title, so unlikely a quest in October and November and into December, now a realistic goal.
"We can see it in our sights now and it's getting closer," Perry said. "But at the same time we've got to keep playing our style of game, keep going out there doing what we do and keep working hard."
Coach Bruce Boudreau said he never doubted that Perry (26 goals) and Getzlaf (an 11-game scoring streak) would awaken and become as productive as they've been lately.
"You have to believe guys like Corey and Getzlaf are going to turn it around. Their body of work over the last 10 years has proved that they're going to be that good in the end," Boudreau said. "I think when he won the Hart Trophy, in March [of that season] he scored in every game, type of thing.
"He knows where the net is and in big games, he's a good player, a great player."
And he's playing for a team that has been very, very good, despite what it looked like at the start.
"We trusted this team," defenseman Sami Vatanen said. "We knew when we get everybody buying in and doing things and we get a couple bounces, it will turn around and we will have the success like we have right now."
---