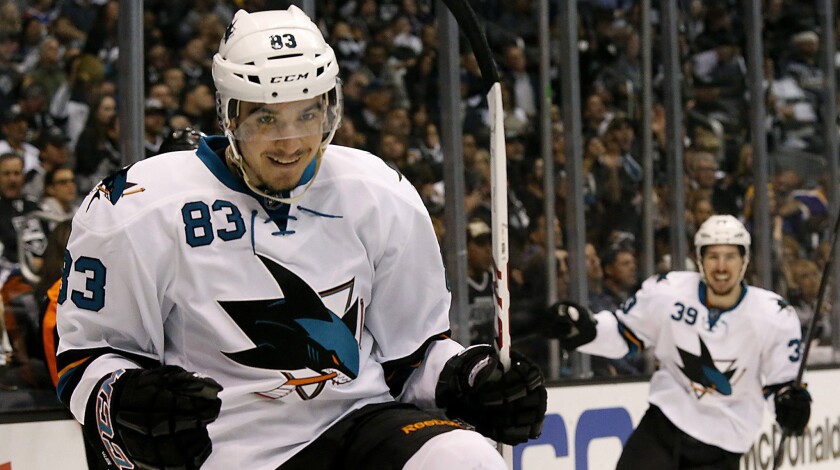 SAN JOSE — At 21, Matt Nieto still looks very much like a college student talking about coming home for Christmas or spring break. But while Nieto happens to be employed by a successful hockey team, he still opts for comfort when he comes home to Long Beach.
Where does he go first?
"In-N-Out," Nieto said, smiling, answering without hesitation. "Every time I go home, the first place I go is In-N-Out."
You can take the kid out of Southern California, but you can't quite take all of Southern California out of the kid.
Never mind that they have plenty of those burger spots in Northern California and San Jose. But Nieto, a rookie left wing with the San Jose Sharks, had to do without them when he first went to prep school in Connecticut at age 14 and later Boston University and old habits never quite fade away.
Nieto, one of two native Californians on the Sharks roster, is having a breakout series, never mind it is his first experience in the playoffs. His first two playoff goals — in Game 3 and Game 4 — came at Staples Center, a place where he went to games as an 8-year-old.
From cheering against the Kings to putting them on the verge of playoff elimination.
San Jose leads the Kings, three games to one, with Game 5 Saturday night at SAP Center ending after this edition went to press. Nieto, playing on a line with center Logan Couture and veteran Patrick Marleau, is the Sharks' third-leading scorer in the playoffs with five points. They were together for about a third of the regular season.
"The way everything worked out, it's pretty crazy," Nieto said on Saturday after the morning skate. "You know, I thought it was just special playing my first game there. Obviously to score a couple of goals there in front of family was nice there too."
He counted himself as a fan of the Ducks first, before swinging over to the Kings.
"Paul Kariya was my favorite player as a kid," Nieto said. "So I used to go and catch him and it was fun. I played for the Junior Ducks one year growing up and he talked to our team. I got to take a picture with him. It's still in my room.
"So when I was real little, I went to more Ducks games, but as I grew up a buddy of mine had season tickets to Kings game, so I became a Kings fan. I went to a bunch of games and now I'm on the other California team. So it's crazy."
The Sharks drafted him in the second round in 2011 and injuries to regulars helped accelerate Nieto's progress and paved the way to a consistent spot in the lineup. Still, Sharks Coach Todd McLellan had an early indication of Nieto's immediate future in the fall when he went to look at the Sharks' youngsters, including the flashy Tomas Hertl, at an important preseason tournament in Penticton, Canada.
"The expectations of the coaching staff were fairly high," McLellan said Saturday. "We had seen him in the summer camp, a lot more teaching [there]. But it was enough to pique our interest. Then to follow it up with the rookie tournament that occurred in Penticton, I went there especially to watch the whole group.
"But you pay attention to the Hertls, the Nietos. I came back and shared with the coaching staff that I thought he was capable of playing against men. He didn't get tossed around a lot. He wasn't picking himself off the ice. He was pretty sturdy. From there we had confidence in him, he earned an opportunity in camp and it went from there."
Nieto, like many kids in California, started with roller hockey before he went to kindergarten and an early teammate for several years happened to be the Ducks' Emerson Etem of Long Beach. They remain close friends and Nieto joked the other day that they were still in diapers when they started in roller hockey.
"It's great to see," Etem said of Nieto's emergence. "He brings great speed. We play with similar abilities. He has a great shot, been complemented by Marleau and Couture. The organization is confident in him.
"I'm happy to see that, glad for him."
With the Ducks leading the Dallas Stars, three games to two, the old childhood friends, Nieto and Etem, could meet in the second round of the playoffs, meaning shorter trips for his family, father Jesse, a longshoreman in San Pedro, and mother Mary. Mary has been fighting breast cancer, which has required two surgeries and chemotherapy but she told David Pollak of the San Jose Mercury News earlier this month that the prognosis is good.
Nieto told the newspaper that he thought his progress with the Sharks, and being at his games has helped his mother "take her mind off it, being able to watch."
His presence on the Sharks' roster, along with defenseman Matt Tennyson, is important for the franchise, just like Etem for Anaheim, McLellan said.
"Those type of players, I think it's huge for our state," McLellan said. "The NHL franchises — the Ducks, Kings and ourselves — we have to be the leaders.
"We have to show them the way and it has to filter on down through our minor hockey programs."
Twitter: @reallisa
---