Kings' Marian Gaborik might not be back for the start of playoffs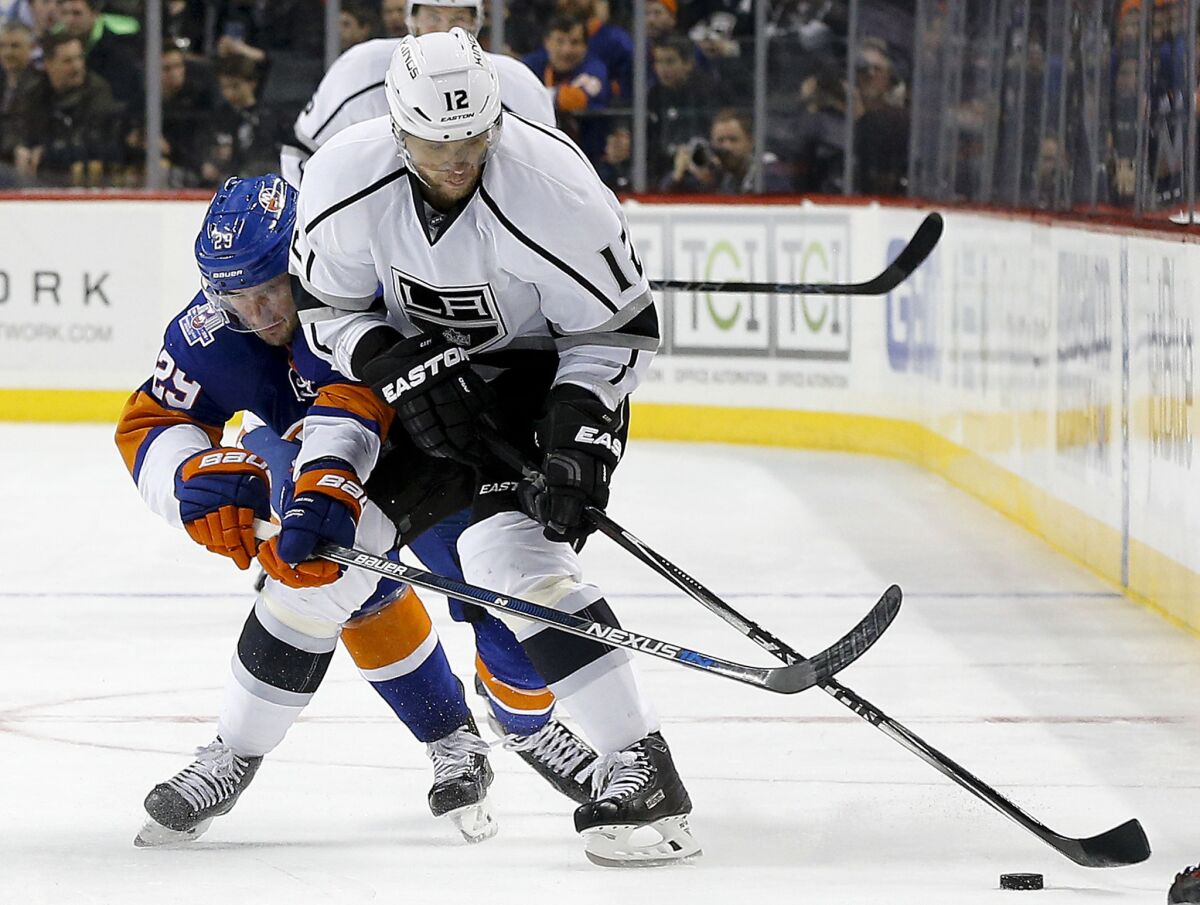 Remember that gifted goal-scorer, the guy named Marian Gaborik?
It looked bad when the Kings winger suffered a sprained left knee Feb. 12 at Madison Square Garden. The Kings were hopeful that he would be available for the start of playoffs, but they weren't expecting it.
A month and half later, it doesn't look good. Gaborik skated "a little bit" on his own Wednesday, according to Coach Darryl Sutter, but that is one of several steps before he is cleared to join teammates for a full practice.
With six games remaining in the regular season, the clock is more of an opponent than an ally.
"There's no way a player, unless he can play regular-season games, I have no interest playing him in the playoffs," Sutter said after practice in El Segundo. "None. We did that before. If you look back … it's very difficult to put players in.
"As you go into March there's another whole level of play. There's a whole next part too [after that]."
Defenseman Drew Doughty suffered a shoulder injury late in the 2013-14 season, on April 3 at San Jose, and missed the final four games. He was ready for the first game of the first round, on April 17 at San Jose. However, 14 days between games is no comparison to Gaborik's lengthy absence.
The next indication of Gaborik's progress is when he "puts his gear on," Sutter said, adding: "There's no magic or mystery to it."
To help fill the scoring void created by Gaborik's absence, the Kings acquired Kris Versteeg from the Carolina Hurricanes just before the trade deadline. Versteeg suffered an injured left foot, taking a shot from Boston Bruins defenseman Dennis Seidenberg on March 19. Versteeg has been out since, but is improving and practiced Wednesday.
Versteeg wasn't sure about the timetable of his return.
"I don't know when … but just feeling really good now," he said. "Just trying to get back on the ice, and into some ice shape again and get my timing back."
The initial fear when he first went down was that it could be serious, but tests showed there was no fracture.
"That's just the way human nature is when bad stuff happens," Versteeg said. "You kind of fear the worst. That's the way the game goes. I've played long enough and had a lot of pretty tough injuries. …The way I play too, I try to play with almost no worries and not thinking about it.
"I'm glad I'm good to go and the coach lets me know."
He has been able to learn from afar, however.
"I've only played nine games," Versteeg said of his time with the Kings. "I'm trying to really watch and understand where I should be. Right now, it could be a blessing in disguise, too. You kind of sit back and understand where you are and what you need to do on the ice.
"Hopefully I can learn as much as I can while I'm out and take all the knowledge and try to come back in and help out again in whatever way I can. … Like I said, I'm only here for one reason, to win a Cup."
NEXT UP
KINGS VS. CALGARY FLAMES

When: Thursday, 7:30 p.m. PDT.
On the air: TV: FS West; Radio: 790.
Update: Kings defenseman Matt Greene, who had shoulder surgery earlier this season, has been skating but said not to read much into it.
"Not even day by day, I think it's a little longer than that," said Greene, who also had a recent procedure to clean up his elbow, according to the team's website. "They are doing me a favor [letting] me be out there," he said.
"It's basically the equivalent of riding the stationary bike. I'm just trying to get in shape. I'm a long ways off from playing."
Twitter: @reallisa
---
Get our high school sports newsletter
Prep Rally is devoted to the SoCal high school sports experience, bringing you scores, stories and a behind-the-scenes look at what makes prep sports so popular.
You may occasionally receive promotional content from the Los Angeles Times.