Column: Boxer Wladimir Klitschko is a heavyweight deep thinker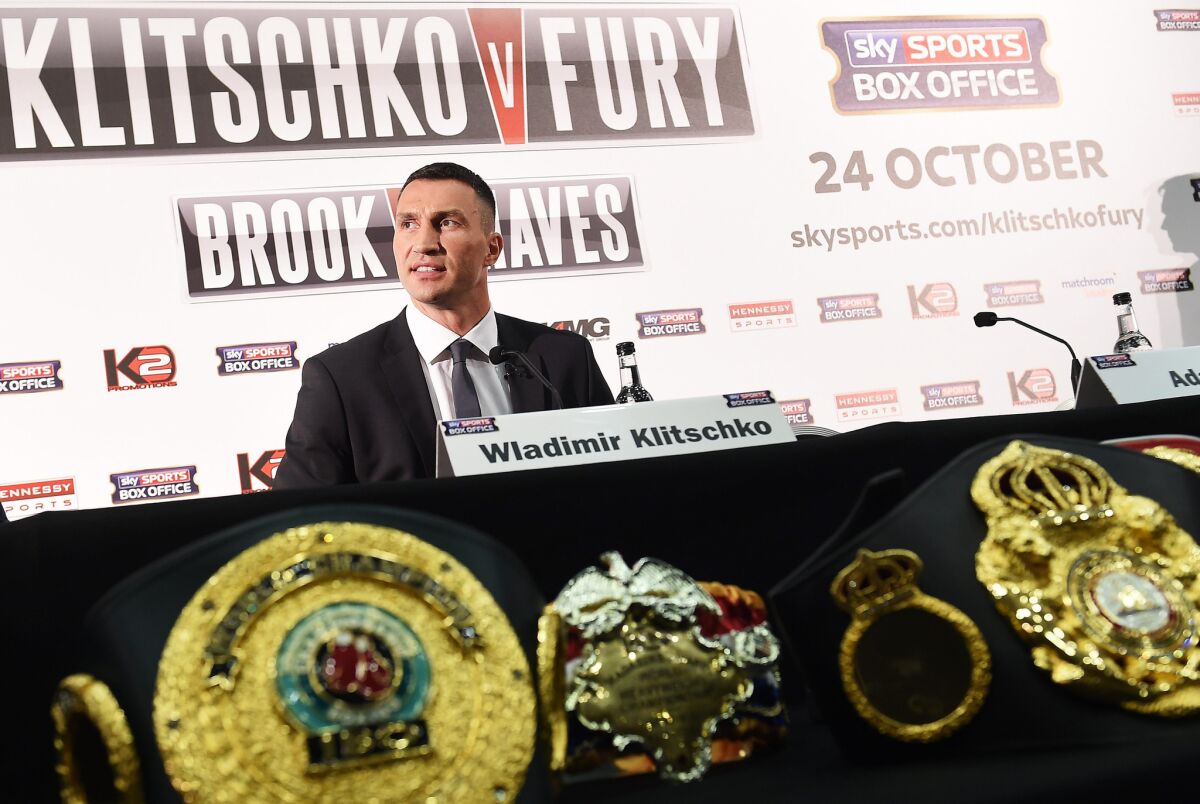 They held a boxing interview last week and a philosophy lesson broke out.
Across the table was the heavyweight champion of the world, Wladimir Klitschko. If they put a hood over your head when you entered the room, depriving you of seeing the 6-foot-6-inch, 240-pound boxer with his muscle-beach biceps and rock jaw, you'd think you were listening to somebody with a doctorate degree, advising on life lessons.
Which you would be.
The boxing stuff was quickly dispatched.
He will fight Tyson Fury on Nov. 28 in a 50,000-seat soccer stadium in Dusseldorf, Germany. The fight was originally scheduled for Oct. 24, but was postponed when Klitschko suffered a calf strain in his left leg. Tickets were immediately made refundable for the already sold-out October event. Or, purchasers could merely retain the same seats for Nov. 28.
Klitschko addressed how many people had turned their tickets back in.
"Two, maybe three," he said.
When he steps into the ring against Great Britain's Fury, who is three inches taller, 12 years younger than Klitschko's 39 and carries a 24-0 record, Klitschko will break Joe Louis' record of 26 world heavyweight title fights. He will also be within two and a half years of matching the legendary Louis with the longest stay atop the heavyweight division in history.
Klitschko, who said he had respect for Fury, also was amused by his attempts at pre-fight hype.
"He sent out a message the other day that said he was going to 'OK me,' " Klitschko said. "Pretty soon, he had to correct that and say he was going to 'KO me.' "
The name Klitschko has dominated the heavyweight divisions for so long that it is difficult to even recall the predecessors. George Foreman? Muhammad Ali? Gene Tunney? Hint: think Lennox Lewis era.
He has a 64-3 record and hasn't lost in 11 years, an October 2004 fight to Lamon Brewster. That was 22 fights ago.
For longer than most can remember, the world's heavyweight boxing division has belonged to Ukraine and the name Klitschko. Wladimir held most of the alphabet soup belts and his older brother, Vitali, was the WBC champ. A few years ago, in the wake of political crisis and violence in Ukraine, Vitali retired from the ring and became mayor of the capital city of Kiev, a position he holds to this day.
"I visit him," Wladimir said, with a grin. "The people tell me he is a big deal. I tell them he is my brother.
"I go into his office, sit in his big chair and put my feet up on his desk. To the right are all the important phones [direct lines]. Prime minster phone. President phone. Which one should I pick up?"
But lest you get the wrong idea, Wladimir Klitschko is as serious as he is intelligent, especially when it comes to the matter of the Russian conflict with Ukraine.
"My mother is Russian, my [late] father Ukrainian," he said. "This will affect people's lives forever. I am not a member of any political party, not even my brother's. But there is some politician inside me. I feel a responsibility. I do have a stage. People will hear what I have to say. Sometimes, if you are not a politician, you have more power and freedom."
And so, the philosophy lesson had hit full stride.
Like Vitali, Wladimir holds a doctorate degree in sports science. Currently, he is teaching as an adjunct professor in a master's degree level course at the famed University of St. Gallen in Switzerland. He calls his message "Challenge Management," and sports are never far away in the lesson plan. As in:
--"Somebody once told me that boxing is closer to real life than any other sport. You see fighters go through 12 rounds, you see all the changes, the highs and lows."
--"I do care about my legacy. I just don't focus on it or it might cripple me. You saw what happened to Serena Williams when she did that."
--"I keep getting asked if I'm thinking about quitting. At 39, I feel better than ever. People age differently now. Nutrition is better. I don't want to drop a name here, but I once asked Max Schmeling and he said the old days of nutrition was a piece of steak."
--"I don't know how you are going to know when it is time to quit. I do know that health and motivation are the two main elements, and if one of those is missing, you are probably done."
--"My brother is in the toughest fight of his life. There are rules in boxing. There are no rules in politics."
Realistically, at 39, the career of a boxer should be in twilight time. Not the career of Wladimir Klitschko.
He talks with enthusiasm about a possible major fight with Deontay Wilder, the Alabaman who emerged as a possible box office star when he won the WBC title from Bermane Stivern. Klitschko's promoter, K2's Tom Loeffler, said that a Klitschko-Wilder fight would be a pay-per-view draw and would fit best in Las Vegas.
Then, rather surprisingly, there is the prospect of the 2016 Olympics in Rio. The International Olympic Committee is known to favor a mixture of pros and amateurs in boxing for the first time, but details and rules changes are in flux.
Klitschko won the gold medal for Ukraine in the 1996 Olympics in Atlanta. There is a possibility that, 20 years later, he could do it again.
For a man so deep-thinking, you'd expect a philosophical, deeply nuanced response to whether he would even attempt something so bizarre and off the beaten path. Think again.
"I'd do it in the blink of an eye," he said.
Follow Bill Dwyre on Twitter @DwyreLATimes
Get our high school sports newsletter
Prep Rally is devoted to the SoCal high school sports experience, bringing you scores, stories and a behind-the-scenes look at what makes prep sports so popular.
You may occasionally receive promotional content from the Los Angeles Times.