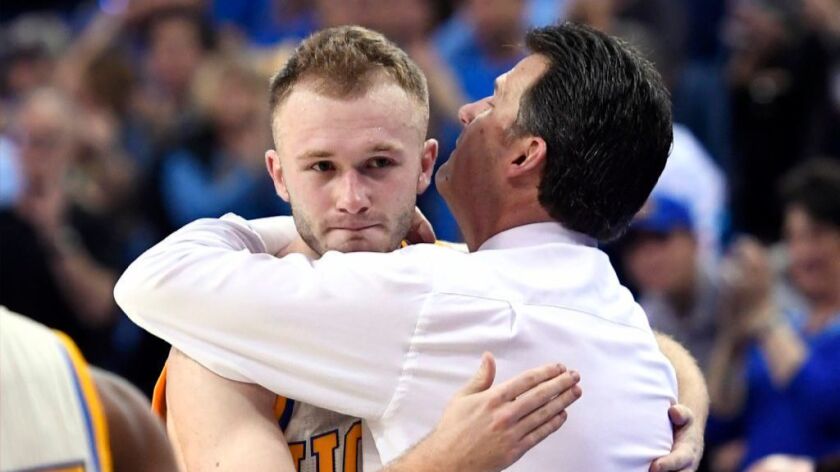 Gosh, does Bill Plaschke's column on Mark and Aiden Cullen ["The pride and the pain," March 9] sound like a screenplay waiting to happen? Screenwriter father cruelly exploits son to compensate for his failures as an athlete. Son breaks down physically, father realizes he's been a schmuck. Cue swelling music and the moment they both learn and grow. Cut to son opening acceptance letter to art school. Roll credits.
Jim Logan
Ojai
::
Bill Plaschke's piece should serve as a warning to other overbearing, ego-driven dads. But Plaschke's softball approach glossed over some relevant questions.
How sincere are the father's repetitive mea culpas, which sound suspiciously scripted? Did he come forward with his story as a way to publicly pitch a movie he'd like to write? While his son continues to struggle with debilitating pain, has his father sought treatment for his own emotional problems? What does the boy feel about his dad? Are they close, or estranged? The accompanying photo seems to suggest issues the article ignored: a self-absorbed father still basking in the limelight while his damaged son slumps beside him, looking like a reluctant prop.
John Wilson
West Hollywood
::
For 18 years I was the director of tennis at a country club in the area where the Cullens live. I do not know Mark or Adam but over the years I have worked with many families like them.
I have tried to warn parents like Mark in the past as to what they were doing to their kids, but the typical response from them was that I was the problem and the relationship usually ended at that point.
For every story of the Williams sisters there are hundreds, if not thousands, like the Cullens. In my opinion, despite Mr. Cullen's good intentions, he has committed child abuse.
Mike Anderson
Sherman Oaks
::
 There is one glaring omission in the excellent article about the tragic story of Aidan Cullen: whether or not his father is seeking psychological help for his personality disorder. The fact that he said "this brutal disease that I may have helped cause" implies that he has not yet developed the self-knowledge that he is the primary causal factor for his son's illness.
Bob Lentz
Sylmar
Also dysfunctional
I have a win-win solution for the Buss family. Let Jim take his executive basketball talents across the hall at the Staples Arena to the Clippers. While Jim is working his magic (sorry Jim, probably not the best choice of words) for the Clippers, he would be busy and out of Jeanie's way. Jim would be gainfully employed, and best of all, would anyone care or even notice the effect he has on the Clippers' postseason record?
Dennis Butkovich
North Hills
::
If Jim Buss had realized that the Lakers play at Staples Center and not at Hooters across the street, he might have been more successful.
Rich Hardt
Long Beach
::
Pathetic, embarrasing, hard to watch.
No, I'm not talking about my golf game. The Buss Bunch have turned the Lakers into all of the above.
What's next? Hiring Bill Walton as the color man? "Neil Young is gonna play Staples!! And the whole place will be solar powered!!"
The Lakers have been blown out by as much as 40 points this year and Luke tells us, "The kids are gonna get it sooner or later." Get what? Blown out by 50?
The final straw was Mitch Kupchak declaring that the millions he dumped on two free agents who don't even play is a move that should be evaluated in "five years or so." Well, I feel much better now. 2022 is our year, Lakers fans!
Steve Briseno
Mission Viejo
::
Jeanie or Jim? Jim demonstrated incompetence. Jeanie dated Phil Jackson. Neither resume instills confidence. So long as expert legal analysis of Dr. Buss' estate plans results in one or the other of his children controlling Lakers ownership, franchise prospects remain doomed.
Konrad Moore
Bakersfield
::
I have followed this amazing and troubled team since 1971, with joy and exasperation. Nothing has disturbed me more than the article about Jim and Johnny Buss' challenge to Jeanie Buss as controlling owner of the Lakers franchise. The damage being done to the Lakers brand is unimaginable, particularly as it is unnecessary and squalid. I wholeheartedly urge Jim and Johnny Buss to cease their wrongheaded quest and move out of Los Angeles for good before more harm is done to this unique and treasured franchise.
Bernice Fong
Sherman Oaks
::
Thanks, Magic, for trading away the only player who gave the Lakers any chance to win, which (believe it to not) was the only thing that kept a lot of fans watching.
R.W. Novotny
Long Beach
::
On the court Bird ain't no Magic.
In the front office Magic ain't no Bird.
Loren Coleman
West Hollywood
::
I've just come back to the U.S. after 12 years in the Middle East. I've been a Lakers fan all my life, and I am thrilled to be watching them again. Yes, you read that right. This is not their most glorious hour, but I am genuinely fascinated to watch these young, talented guys and their young, talented coach find their way.
Though I realize Jim Buss needed to go, I'm sick of reading about the Busses. I want to read analysis of what Luke Walton is doing and thinking, analysis of each one of our players' abilities and challenges and what they are thinking. I think it's just possible that watching a team grow and go through hard times and face those challenges is way more fascinating than, for example, the Shaq and Kobe days, which were pretty painful in their own way even though we were winning. I want young players like Ingram, Zubac, Clarkson, and Russell to know that there are real fans out here, who believe they will get it together and shine, and we are going to watch every game until they do.
Erin Addison
Santa Barbara
More for Miller
Hall of Famer Bob Miller retires and despite many fans adoring him, only two letters to the editor were printed. One gave kudos to Helene Elliott's homage, which was excellent, but griped about Dick Enberg not being mentioned. Talk about a left-handed compliment. The other referenced not letting him die without a Staples statue being erected. Really? There were no letters extolling his ability to engross fans in the game or his detailed calling of a game making it feel as if you were there? Sad.
Bruce N. Miller
Playa del Rey
Let freedom ring
"Congress shall make no law … prohibiting the free exercise therof; or abridging the freedom of speech..." stipulates the First Amendment to the Constitution. Times writer Dyan Hernandez believes that athletes should suffer "possible consequences" for exercising their freedom of speech by demonstrating during the playing of the national anthem. Hernandez's assertion is blatantly unconstitutional. During a precarious time in American history, when the new administration in Washington attempts to strip away hard-earned rights on a seemingly daily basis, Hernandez's column adds to the perception that American values are under attack.
Bob Lentz
Sylmar
::
Shame on the US Soccer Federation for passing a rule that would penalize players for not standing during the national anthem. My dad won the Purple Heart and other medals, fighting for our right not to stand if we don't desire to do so!
Fred Wallin
Westlake Village
Worm problem
The unbelievable juxtaposition of Dennis Rodman speaking and advising the U.S. on strategies for dealing with North Korean President Kim Jong-un, while lecturing our military leaders at West Point, is topped only by one of Rodman's best quotes ever when he states, that Un "is just a normal guy" and that Un would "love to go to a Knick game" but "Obviously, he cannot come here or he would be dead."
I still have a lingering thought that the entire article was ripped from the pages of the Onion, but in any event I've never read any more thought-provoking information than this and can barely wait for Rodman's visit to the White House and a strategy session with President Trump while he is still in office.
Jim B. Parsons
Carpinteria
Spring is in the air
Please! Please! Please! Bill Plaschke must stop talking every year in March about how the Dodgers are going to go to the World Series [March 5] and of course the news that Sergio Romo thinks everyone gets along with each other makes it a sure thing. Let's see if Adrian Gonzales stays healthy, and maybe someone in our starting rotation besides Kershaw can go more than five innings. Let's just not talk until we show that we can play with the big boys come October.
Larry Estis
Oceanside
::
Listened to Rick Monday and Jerry Hairston calling the Dodgers' game the other day. It was like a breath of fresh air. Please give us more.
Donald Artis
Woodland Hills
::
We can all emphasize with Yasiel Puig's home being robbed of $170,000 worth of jewelry. I too was robbed last week, they got away with my prized $39.99 Timex watch and an Ipod shuffle.
Marty Foster
Ventura
::
If new Angel second baseman Danny Espinosa is going to show true grit, he needs to have a better batting average than his career Rooster Cogburn-like .226. While Mike Scioscia believes Espinosa will be a defensive difference maker, with apologies to Ned Pepper, I call that bold talk about a guy with too many strikeouts.
Kevin H. Park
Mission Hills
::
Every winter the Angels do little to improve their chances of getting into the playoffs. They sign a few retreads to fill in the holes. Their bullpen remains a shambles. In March Mike Scioscia announces that all is well and the team will be better. Come September they have lost more games than they win. They are a team going nowhere.
Ralph S. Brax
Lancaster
Grateful dread
I have a problem. I love watching the UCLA Bruins hoop this year. Bill Walton announces these games. Enough said.
John Pickerill
Goleta
::
The Los Angeles Times welcomes expressions of all views. Letters should be brief and become the property of The Times. They may be edited and republished in any format. Each must include a valid mailing address and telephone number. Pseudonyms will not be used.
Mail: Sports Viewpoint
Los Angeles Times
202 W. 1st St.
Los Angeles, CA 90012
Fax: (213) 237-4322
Email:
sports@latimes.com
---