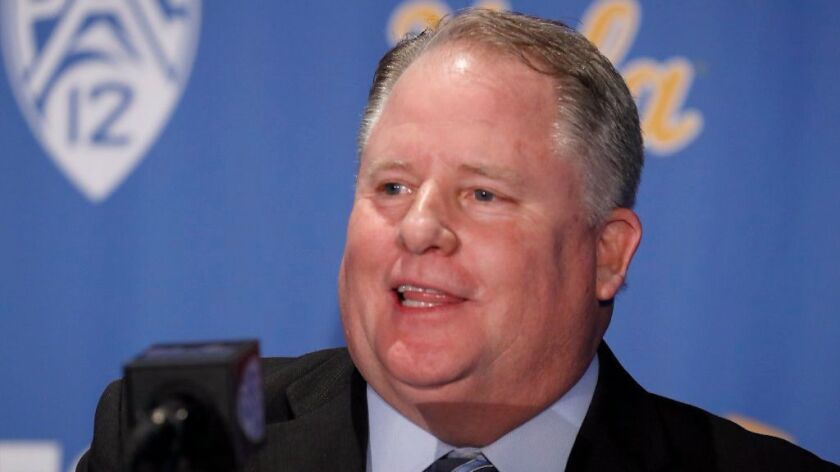 The Bruins' hire of Chip Kelly deserves an eight-clap.For the first time since Pepper Rodgers, I am legitimately excited for UCLA football. And for the first time in many years , I think our crosstown rivals should be legitimately SCared!!
Richard Katz
Los Angeles
::
Maybe as a USC alumni I'm not as dazzled by the Chip Kelly hiring as the Bruin faithful, but he's been out of the college wars for nearly six years, his NFL and "rest year" record is 28-36, Oregon was put on probation when he left, and everybody in the world now runs variations of the "blur" offense and hurry-up that he used with the Ducks. He seemed rather disinterested and aloof from his players in Philadelphia and San Francisco, so are the Westwooders overrating him or is my Trojans bias too pronounced? We always said, "UCanLoseAgain." Fight on!
Richard Cole
Encinitas, Calif.
::
UCLA can't have it both ways. Fire a coach on his birthday and sacrifice $12 million when he leads young men and is respectable and actually conforms to the way an academic school should run a program? Spend another $23 million on a replacement with a history of NCAA violations to replace him? And then "defer" action on three students acting as thieves who create an incident in a foreign country who were likely to spend at most a year in the program and have nothing to do with academics the school pretends to espouse?
They could have suspended the kids, hired a new defensive coordinator to go with a good offensive coach (Fisch) and acted like a good academic school should. Need an example of how things should work? University of Wisconsin, which had Elite Eight basketball, top-five football and a fully moral group of students and coaches in a very high academic environment.
Robert Goldstone
Corona del Mar
::
Sports and political talk seems to make us all dizzy and irrational. Chip Kelly has had his day at Oregon and then flopped in the NFL. So now UCLA, which desperately needed a defense to go with a decent offense, hired, at huge cost, a strictly offensive coach from the past. Dan Guerrero knows nothing about football and this will finally prove it.
Warren Larson
Sunland
::
It is amazing to read the fawning reaction to Chip Kelly's hire. Most recently, he went 2-14 in San Francisco, which more closely resembles Oregon than Los Angeles. Dan Guerrero looks to attempt to recover from an otherwise universally fatal 0-3 head football coach pick history by chasing old glory. Good luck, Dan, Chip and UCLA faithful.
Konrad Moore
San Diego
::
Whoever said that sports figures, jocks and coaches are stupid, obviously weren't referring to Chip Kelly, who convinced UCLA to pay him $23.3 million for a five-year deal, despite the fact, that his record for 2016 was 2-14.. Maybe one should point a finger at an athletic director, who ignored one of UCLA's greatest, and most successful coaches, when he said, "be quick but don't hurry".
Robert C. Thompson
Marina Del Rey
::
It was good to see UCLA work toward putting the ugly China shoplifting scandal behind them by going out and hiring one of the dirtiest football coaches of the last decade.
Rob Osborne
Manhattan Beach
::
Bill Plaschke had his giving-of-thanks column, now here's mine. I give thanks that the nattering phony moral arbiter (with a very suspect agenda) of Los Angeles sports does not have a vote within the UCLA athletic department. Hooray to UCLA for ignoring Plaschke and choosing Chip Kelly.
Jon Udell
Santa Monica
Bum Phillips was right when he said "How do you win? By getting average players to play good and good players to play great. That's how you win." Chip, you won with kids UCLA overlooked like my son and you kept your promise that he'd leave Oregon knowing how to tackle life. Thank you, good luck and go Bruins!
Gordon Peppars
Cheviot Hills
::
With the all the recent sponsorship and coaching happenings at UCLA, maybe they should switch their uniform colors from blue to green like Notre Dame.
Daniel VonSpanielle
Malibu
::
When I told my husband that Jim Mora was fired, he said, " They should have fired Guerrero." When I told my son the same thing, he said, "They should have fired Guerrero."
Irrespective of whether Jim Mora should or should not have been fired, I believe in the adage, "It isn't what happens to you, but how you handle it." If Jim Mora, one of the nicest, most decent human beings on the entire planet, is going to be fired, could someone please have waited until the last game was played, and it wasn't his birthday?
Judith Webb
Sherwood Forest, Calif.
Ram it
I don't hear anyone saying that the youngest head coach in NFL history is "too young" anymore.
Vaughn Hardenberg
Westwood
::
The cheapest ticket for a Rams game is $100 for a really bad seat. USC tickets are half that price. The Rams will undoubtedly make the playoffs this year. As ownership most likely hadn't factored a home playoff game into their budget, perhaps they can do the working class fans a favor and have some lower-priced tickets that will allow a huge section of the Rams' fan base to actually see their team in person.
Rich Hardt
Long Beach
It's interesting that The Times news space for ex-jock, so-called vice president for business development, and chief critic Eric Dickerson to pontificate on the changing fortunes of the team he once deserted. I'm sure filling empty space with the comments of a crashing, boring whiner like Dickerson will excite Rams fans everywhere. His presence and mouth has made him the Rams version of LaVar Ball. So what happened to Les Snead?
Lawrence M. Kates
Los Angeles
::
What do Robert Woods, Nelson Algholor, Marqise Lee and JuJu Smith-Schuster all have in common? Can you spell Lane Kiffin?
David Crain
Hacienda Heights
No tanks
During Bill Plaschke's tenure as a sports columnist for the Los Angeles Times he has performed many roles for the Southern California sports community — court jester to someone with thought-provoking ideas about the state of sports.
His advocacy of the Clippers tanking the remainder of the season is reprehensible. Just because other NBA teams may have taken such actions does not make it right. One can only hope that The Times examines the appropriateness of continuing to give Mr. Plaschke a forum to advocate such nonsense.
Robert Matthews
San Clemente
::
With his customary hyperbole, Bill Plaschke writes that the Lakers' Lonzo Ball "is learning under the most pressure of any professional rookie in Los Angeles sports history..." Some might nominate another vaunted rookie who performed in a much tighter, seven-game pressure cooker: Cody Bellinger, the Dodgers' top power hitter, striking out 29 times to set a World Series record, with untold millions watching his every swing.
Lonzo's got an 82-game Lakers rebuilding season to find his confidence and outside shot, with zero playoff expectations for at least another year or two. By then, maybe his overreaching father, LaVar, will be all grown up and able to let his more talented son enjoy the glory he will have earned.
J. M. Wilson
West Hollywood
::
That was a pathetic Lakers loss to the Clippers on Monday night. From Luke Walton's chaotic and random substitution patterns, to guys firing up ridiculous, wild shots down the stretch in the fourth quarter. They can't close out the Clippers with Gallinari, Griffin and Beverley out of the game? All this after four days of rest and a "competitive" practice Saturday. The Lakers are a chaotic team with no flow or plan for closing out games!
David Waldowski
Laguna Woods
::
The Clipper Curse? How can something be labeled a curse when it is consistent with the way a team has been performing over a number of years? That label doesn't mean that the team's been playing well; it is an excuse for how they're playing. Lousy.
Patrick Kelley
Los Angeles
::
The comic pages in the paper need a bit of pepping up, and I never cease to get a good laugh when I read about LaVar Ball's inane drivel in the various sections of The Times, so I suggest a new comic strip titled "LaVar's Family Circus." (Apologies to Bil & Jeff Keane).
Dan Bradvica
Whittier
Rim shot
On Nov. 27, Zach Helfand described missed USC shots against Texas A&M as clanging off the rim. In reality, the rims are too tight at Galen to "clang." He may be confused with Pauley's loose rims.
David Marshall
Santa Monica
Showing his stripes
I guess with all of the personal issues Tiger Woods has had over the past few years, he is no longer interested in public opinion. That would explain him playing golf with the president. But because he lives in America, he has the right to continue to make bad decisions.
Russell Morgan
Carson
::
The Los Angeles Times welcomes expressions of all views. Letters should be brief and become the property of The Times. They may be edited and republished in any format. Each must include a valid mailing address and telephone number. Pseudonyms will not be used.
Mail: Sports Viewpoint
Los Angeles Times
202 W. 1st St.
Los Angeles, CA 90012
Fax: (213) 237-4322
Email:
sports@latimes.com
---