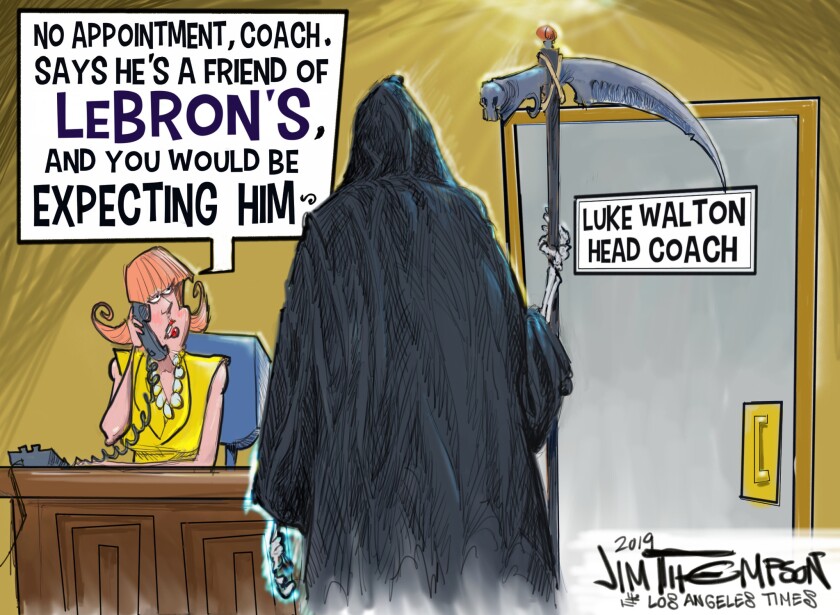 Even I, a Clippers devotee and no Lakers fan, can identify glaring conflicts and other flaws in Bill Plaschke's premise that LeBron James was a near total screw-up in his maiden season with the Lakers.
Plaschke creates an alternative universe in which James did little to entertain or bond with Lakerdom, the same throngs that TV sportscasts regularly captured roaring at his extraordinary athleticism.
Not until three-fourths through his column does Plaschke acknowledge that "much blame" for the Lakers disappointing season owes to missteps by Magic Johnson and Rob Pelinka. Only a paragraph later ("And to be fair," he begins) does Plaschke mention James' glittering stat line, which compares favorably with his numbers throughout a career laden with postseason play. And finally, only near the bottom of his column does he assign Jeanie Buss an owner's portion of fault for this "nightmare" season.
Perhaps most nightmarish, Plaschke concludes, is that James has "never completely invested" as a Laker. Too many "entertainment projects." How odd that superstar jocks should be savaged at times for exploiting the very collateral opportunities mentioned to them as a reason for coming to L.A. in the first place. LeBron James has played very hard for the Lakers this season and played very, very well. That's an investment.
Howard Rosenberg
Agoura Hills
::
LeBron doesn't owe Lakers fans anything. He has worked hard to help him and his mother out of the toughest situation in Akron and has earned everything he has received. 
We all know (or should have known) that he didn't come to the Lakers to win championships. He came for his family and to launch his media career. The Lakers are using him for his brand to sell tickets and he's using the Lakers' brand to boost his own.  The Buss family didn't give Kobe his last contract just out of goodwill. They knew fans would fill seats to come see Kobe. 
Jeanie, Magic and Rob may be perfectly executing their business strategy. They now have one shot this summer to execute on their championship strategy as well. They've already trashed the youth movement, casting aside Russell, Randle, Clarkson, Nance, Zubac and soon Luke Walton. Now we'll have to see if they actually know what they're doing in executing a plan to win championships. 
Burr Dalton
Manhattan Beach
::
I have yet to see a significant part of the story of the end of LeBron James' season,  printed in the paper.
At $434,146 per game, he's getting paid $2,604,876 and change for NOT playing the last six games !!
Gene Miller
Huntington Beach 
Season openers
Am I really reading a letter questioning the Angels choice of a manager after one game or 1/162 of the schedule?
Randy Elkins
Camarillo
::
Friday, at the second game of the year, my son, Tanner, leaned over to me in the left field bleachers at Dodger Stadium and muttered, "Looks like Kelly still does his best work against the Dodgers." Sadly, it was too late to make your deadline for that morning's sports page. Sadly, I told him I'd probably be able to send it next time he pitched. Sadly, we were both right.
Steve Alcorn
Sierra Madre
::
I have always considered Tommy Lasorda to be an excellent manager, except for his handling of the pitching staff. However, Dave Roberts makes Lasorda look like a genius.
Ralph S. Brax
Lancaster
::
If you want to know what's wrong with modern baseball, you only have to look at the Dodgers' second game. The 13-inning game took 6 hours.
Please.
David Wilczynski
Manhattan Beach
:
The police presence inside Dodger Stadium on opening fay was alarming. I had never in my life, at any sporting event in the USA, seen police holding the weaponry that I witnessed. It looked more like a prison than a baseball game. Now I understand why. The Dodgers are asking for the trouble that has already been seen in the first few games. In a ballpark where drinking is encouraged, promoted, is unsupervised and unaccounted for, this is a sign of things to come. There were so many people in beer lines that it was almost impossible to walk around. Alcohol is in your face seemingly every step and now they shove endless beer salesmen up and down the aisles for seven innings.
Drunk people cause problems and commit violent acts. What's it going to take for the Dodgers to put a lid on what is already a problem?
Geno Apicella
Placentia
::
The Dodgers fell short in the World Series last year, but their fans did no such thing.
I'm a career Marine. When I attended my first ever World Series game last year (I'm 61), a tremendous thrill, due to the generosity of my wife and children. I came to the game on crutches. As it is customary to wear the colors of your favorite team to the game, I wore my Marine Corps cap and shirt. As I hobbled up to my seat, already thrilled and excited, Dodgers fans by the dozen came up to me to thank me for my service. But that was not all. I could not get up from my seat without a fuss by the fans. When I entered an aisle, the aisle was cleared of fans and stadium workers alike, not by security personal, but by Dodger fans. They insisted I pass unimpeded. People that didn't realize what was happening were scolded (which I must say embarrassed me) for not quickly complying. Fans shook my hand, wished me well, surrendered their place in line, and generally treated me as if they could not think of a more important thing that a man could do with his life than serve in the Marine Corps. I was moved to the point of tears.
I will forever be a Dodger fan. Not because of the team that the management puts on the field, but because of the character of the fans.
Semper Fi
Mark Brosnan
Master Gunnery Sergeant USMC (ret)
San Diego
Brave new world?
Given the future possibilities for the Clippers, with a great front office, coach, owner, draft choices, free agent money etc., that it may behoove them to change their name when they finally exit Staples Center.
A clean start requires cleaning house, a new future deserves a new name.
Ron Brumel
West Los Angeles
Bad notes in Swann song
With USC's athletic and admissions department in systemic disarray, it appears as though Athletic Director Lynn Swann has miraculously engaged in reversion genetics.
"Swann" is now capable of flying cross-country to the football hotbed of Chantilly, Va., to sign autographs worth pennies compared to his multi-million dollar USC contract.
Here's hoping the headwind on his return journey grounds him permanently somewhere like Ball State (with my sincere apologies to all current and former BSU Cardinals).
Cy Bolton
Rialto
::
The $250 Lynn Swann can get for signing a jersey is a pittance compared to what USC fans would pay for his signature on a resignation letter.
Barry P. Resnick
Orange
Sorry, Bruins
I noticed that UCLA offered John Calipari $45 million to resurrect its basketball program. That would represent $1 million for every year since UCLA had a program that legitimately competed with Kansas, North Carolina and Kentucky.
It was a nice offer, but someone should explain to Dan Guerrero that when you are trying to hire someone away from an existing contract and school, you might want to offer MORE than what he is currently making, not $2 million a year less.
William David Stone
Beverly Hills
::
It's so disturbing that Auburn, an SEC school, can have an elite basketball and football program, yet we struggle as a conference with a horrible TV contract. If sports are not important to Pac-12 schools, why should they be important to me? I can't see most games and if I go to the Coliseum, I get home at 1 am.
The death of Pac-12 sports is on the horizon.
John Lewis
Valencia
A rhyme for the redhead
Bill Walton once my hero, a Bruin through and through,
A devotee of Wooden, The Grateful Dead so true.
But then he lost his stutter, and speech begin to spew.
He now is an announcer, oft for the baby blue
At first it seemed a blessing, so little then we knew
His comments on the game at hand are very rare and few.
Instead he just pontificates, without a stop in view,
Berating his poor partner at every point anew.
And so if I do watch at all, I say for me and you,
The sound I must turn off, or each comment I will rue.
Leave sermons for a different date, a different time and hue.
And talk about, God forbid, the game in front of you.
And be kind to your partner, it will not cause Boo Hoo
If this approach you cannot take, then let's now say Adieu!
By Michael Monk
Santa Monica
That's roughing
Question: Who has a playmaker, no snipers, lacks three NHL-caliber defensemen, has abysmal special teams, a fill-in coach and Ron Burgundy as a announcer? That's right, our 2018-2019 Los Angeles Kings! It's as though Jack Kent Cooke was back in the saddle!
Ken Fazekas
Banning
Hostage crisis
I have Zion Williamson's shoes. If you ever want to see them again, you will meet my demands:
1. One billion dollars.
2. The power of invisibility.
3. My child's guaranteed acceptance into USC, UCLA and Yale.
4. Magic Johnson admitting he doesn't know what he's doing.
5. My own 737 Max jet.
6. A full-time job selecting and editing letters to the editor at The Times so the typical nonsense I read every week doesn't get printed.
You have 168 hours.
Lee Barnathan
Chatsworth
Friendly advice
The Los Angeles Memorial Coliseum at United Airlines.
Problem solved. Thanks, Arte.
Howard Mationg
Gardena
::
The Los Angeles Times welcomes expressions of all views. Letters should be brief and become the property of The Times. They may be edited and republished in any format. Each must include a valid mailing address and telephone number. Pseudonyms will not be used.
Mail: Sports Viewpoint
Los Angeles Times
2300 E. Imperial Hwy.
El Segundo, CA 90245
Email:
sports@latimes.com
---