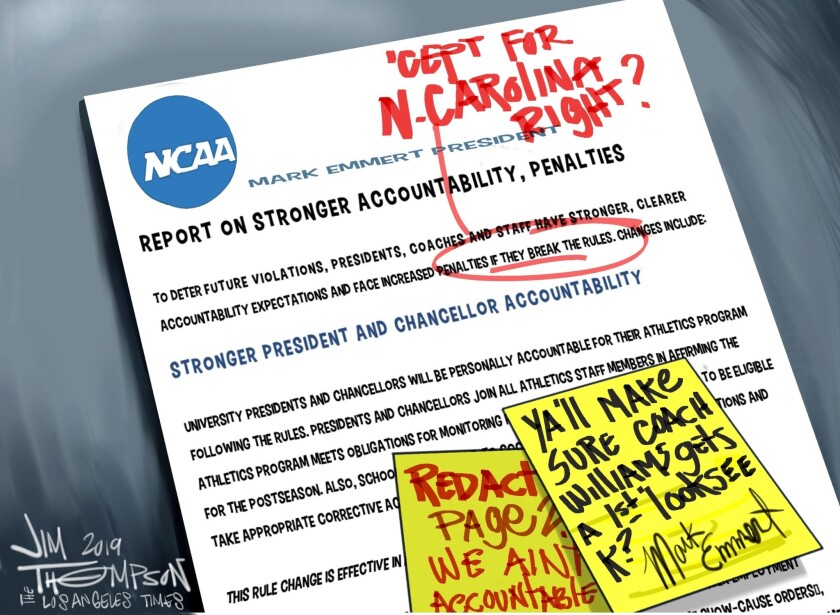 The Clippers played well in their record-breaking comeback, but the only way they could have beaten the two-time defending champs was if Golden State mailed it in and basically quit playing for a quarter. Glad I don't bet on sports anymore.
Rich Rhea
Oceanside
::
One of these days, basketball fans in Los Angeles are going to wake up and realize that the team of the future in this town is the Clippers and not the presently discombobulated Lakers. Their core of great young players, including Landry Shamet, Montrezl Harrell, Ivica Zubac and Shai Gilgeous-Alexander, are as good as any in the league. Hopefully, the Clippers' "comeback for the ages" the other night against Golden State will finally gain them some well-deserved respect, not only in this city, but around the NBA.
Charles Reilly
Manhattan Beach
::
Clippers coach Doc Rivers said, "We don't die we multiply, we're roaches," and with that being said the Clippers erased a 31-point deficit to defeat the reigning NBA champion Golden State Warriors to tie their playoff series at one game apiece. The Clippers may not be the best in town but they always play hard and with a whole lot of heart. They probably won't win this series but their hard-nosed, unselfish, never-give-up attitude is winning the hearts of L.A .fans everywhere. Am I jumping on the bandwagon ? You bet I am!!!
Jeff Burtt
Hollywood
::
Thanks much for Arash Markazi's piece on Ralph Lawler (Sunday, April 14). From the 1960's forward, we were truly fortunate to have had Vin, Chick, Bob and Ralph calling professional games for us. I remember a couple of other broadcasters for UCLA basketball were also on the air back then -- names were Dick Enberg and Al Michaels. A "Golden Era," indeed.
Mario Rochin
Studio City
::
This is the wrong time for Ralph Lawler to retire. Please Ralph, come back for one more year. Don't be like Moses who only saw the Promised Land but did not enter it; you deserve to be with the Clippers as they move into championship contention next year. Bingo!!
David Waldowski
Laguna Woods
::
Tiger's tale
When Tiger Woods began his fabled career I was a big fan. But after years of watching him bang clubs in anger, curse after errant shots and an ongoing rudeness to his fan base, I decided to abandon ship. Then came of course scandals and a debilitating back condition that seemingly sealed his fall from grace. And although I respected the formidable odds he faced in returning to prominence in the game, I also knew that it was still basically an ego-driven journey. But as the events of last Sunday began to unfold I found myself rooting for him. So much so that at the end I was fighting back tears of emotion. It was then I realized that what I was experiencing was not just the redemption of Tiger Woods but the redemptive power of sports.
Gary H. Miller
Encino
::
Every now and then an athlete that we seem to ridicule because of his off the field escapades we then seem to cheer for their return to glory. Tiger Woods is such an athlete. Through the scandals and surgeries, we seem to follow his career more than ever. We see our lives vicariously through theirs. They inspire us to try and do the right thing and to overcome our plights of adversity.
The heartfelt emotion that we all saw Sunday at the Masters gives us a reason to cheer for our fallen heroes after hitting rock bottom. Thanks, Tiger, for giving us all hope and to strive to believe and achieve.
Craig London
Encino
::
Stop the bleeding
What genius thought "L.A. Bleeds Blue" would be a great slogan for the Dodgers this year? There's been too much bleeding in L.A. — some of it at Dodger Stadium!
Barbara Bell
Pasadena
::
If only Puig would be on time. If only Puig would position himself properly. If only Puig would pay attention. If only… His fans recognized early on that, with his flaws, he was the most interesting, exciting and entertaining player on the field, his flashes of greatness ensuring compelling baseball. Without him, the current Dodgers exemplify proficient blandness, but, hey, they talk to reporters.
Charlie Cherry
Laguna Niguel
::
Great 2,000-word article on Yasiel Puig that can be summed up in one word: uncoachable. Yesterday, today and tomorrow.
Ken Keller
Valencia
::
Seeking hire ground
The search for and hiring of a new Lakers head coach before choosing a candidate for president of basketball operations seems to be out of character with the overall process.
Note to Jeanie Buss , the answer to your search for president of basketball operations is a man who grew up in the organization and has been groomed for the position over the last 10 or more years.
The Godfather finally put the right son "Michael " in charge; Jeanie, this is your opportunity to do the same.
Your younger brother, Joey Buss, should be your only choice for the job of president of basketball operations.
Donald Peppars
Pomona
::
Sometimes you have to do a double take when reading the sports pages. With all that's been going on in the soap opera world of "As LeBron's Lakers Turn", am I to believe that the Lakers are seriously considering bringing in Ty Lue to be their new head coach? Mr. Lue could be the second coming of Red Auerbach, and the Lakers would still be wise to steer as far away as possible from anything that has LeBron's footprints on it. Oh, what a proud franchise you once were.
Greg Nersesyan
North Hollywood
::
The Lakers have lost a great coach in Luke Walton. Jeanie Buss et al. don't have to go further than Staples Center to locate their new coach. As seen in the Clippers' win against the Warriors last Monday, the largest comeback in NBA postseason history, and throughout the Clippers' season, Rex Kalamian is surrounded by his players during timeouts with strategy and comments that helped the Clippers go from a lowly ranked preseason Western Division non-contender to the playoffs. This experienced, high-energy assistant coach should be selected to make the Lakers a successful winning team in 2019-2020 and beyond.
Gregory A. Swajian
Palm Desert
::
The Los Angeles Times welcomes expressions of all views. Letters should be brief and become the property of The Times. They may be edited and republished in any format. Each must include a valid mailing address and telephone number. Pseudonyms will not be used.
Mail: Sports Viewpoint
Los Angeles Times
2300 E. Imperial Hwy.
El Segundo, CA 90245
Email:
sports@latimes.com
---