Why Angels superstar Mike Trout almost never swings at a 3-0 pitch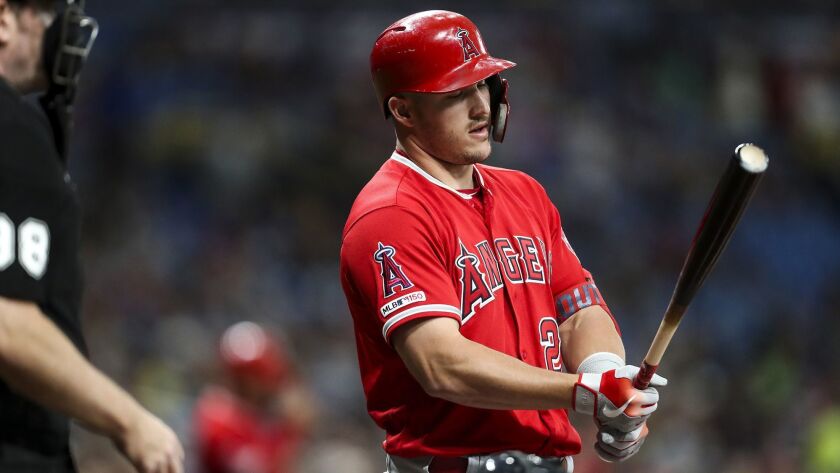 Reporting from ARLINGTON, Texas —
Mike Trout hits for average, for power and in the clutch. His discerning eye at the plate keeps him among the league leaders in walks and on-base percentage. He is one of baseball's fastest baserunners and has evolved into an elite defender.
There is virtually nothing the Angels center fielder and two-time American League most valuable player can't do on a baseball field, but nine years into a career in which he's established himself as the best all-around player in the game, there is still one thing Trout is extremely reluctant to do:
Swing at a 3-and-0 pitch.
According to Baseball Savant, Trout has swung at 3-0 pitches only 15 times in 368 career plate appearances that have started with three balls, producing one single in five at-bats. The other 14 swings resulted in two fly-ball outs, two ground-ball outs, seven foul balls, one sacrifice fly and two swinging strikes.
"So the goal for opposing pitchers is to get to 3-0 to Mike Trout," Tim Salmon, the former Angels right fielder and current Fox Sports West commentator, said wryly. "You've got him right where you want him."
Well, not quite. Trout has a career .448 average, 1.676 on-base-plus-slugging percentage, 18 homers, 14 doubles and 39 RBIs in the 344 plate appearances in which he's put a 3-1 pitch in play, so it's not as if his aversion to 3-0 pitches has hurt him.
But it does seem a bit strange that Trout, an eight-time All-Star starter and four-time MVP runner-up, is so passive in a count that many players do damage in and on a pitch that is often—but not always—thrown right down the middle.
Angels left fielder Justin Upton is hitting .514 (18 for 35) with a 2.247 OPS, eight homers and 15 RBIs in 177 career plate appearances in which he has put a 3-0 pitch in play.
First baseman Albert Pujols is hitting .359 (37 for 103) with a 1.570 OPS, seven homers and 28 RBIs in 659 plate appearances he has put a 3-0 pitch in play.
"I've never talked to him about it, but I can understand where he's coming from because even on 3-0 counts, they don't want to take a chance of him swinging," Upton said of Trout.
"So he's going to get a competitive pitch the majority of time on 3-0. They're not just going to groove a heater. They either try to crowd him or throw a borderline pitch away."
The statistics support Upton. The fourth pitch to Trout in 194 of the 201 plate appearances that have ended on 3-0 pitches has been ball four, with 46 of those ending intentional walks.. Only six times has Trout put a 3-0 pitch into play; he's been hit by a 3-0 pitch once.
And despite the damage Trout does on 3-1 pitches, he has drawn walks in 187 of the 344 plate appearances that ended on 3-1 pitches, much like he did last Wednesday night, when he took a 3-0 pitch from Cincinnati's Raisel Iglesias for a strike before walking to spark a tying four-run rally in the eighth inning.
"It's a little surprising because to me that 3-0 pitch all of a sudden becomes like a first pitch, and he rakes on the first pitch," Salmon said of Trout, who has a .408 average, 1.155 OPS, 19 homers and 78 RBIs when he puts the first pitch in play.
Sign up for our daily sports newsletter »
"So why can't you be in that same mind-set, other than maybe at that point he's saying, 'I'm that close to getting on base and making things happen.' Maybe he's thinking he can get on base and create just as much havoc."
Trout offers a simple reason for not attacking more 3-0 pitches.
"I get out of my approach," Trout said. "I swing too hard. I try to hit the ball too hard. Usually, I just foul it back. I've just never gotten comfortable doing it."
That doesn't mean Trout won't ever be aggressive in 3-0 counts.
"It all depends on how I'm feeling," he said.
The fact that Trout has been one of baseball's best hitters for almost a decade would seem to indicate he is often feeling good at the plate, but when would he feel good enough to attack a 3-0 pitch?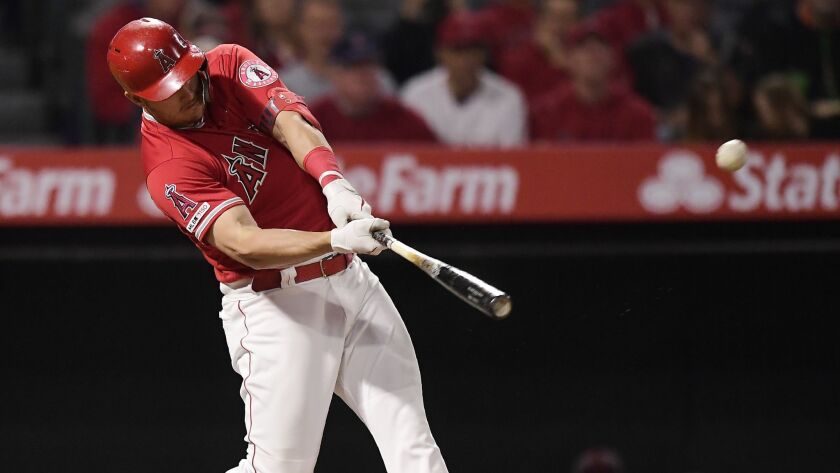 "I can't tell you all my secrets," Trout said with a grin. "There's a time when I'll do it. My mind-set just has to be right that day. Some days I feel good doing it. Some days I don't."
Despite the success he has had swinging at 3-0 pitches, Upton is often reluctant to do so.
"It's a tough spot to hit in, because if you swing at a bad pitch then it was probably ball four, and if you pop it up, then you could have put a better swing on a 3-1 pitch," Upton said.
"There's always that 'what-if' when you make an out. But when you execute it, everybody loves it, you know? It's risk-reward. If you pop up, it's, 'Why'd you swing at a 3-0 pitch?' There's a lot more risk than reward."
Angels manager Brad Ausmus, who played 18 big league seasons, said there is a learning curve to hitting 3-0 pitches.
"On 3-0, your strike zone shrinks down into something about this size," Ausmus said, his hands forming a circle the size of a grapefruit. "Sometimes guys try to hit the ball harder or farther, they go outside the zone and they make an out. You have to get the ball in your sweet spot and only swing in that zone."
Ausmus has spoken to Trout about his reluctance to swing on 3-0, reminding him he can take advantage of 3-0 counts "especially because teams are aware that he rarely swings on 3-0," he said. But by no means does he want Trout to alter his overall approach at the plate.
"No, no, he's fine," Ausmus said. "Trust me, I'm not looking to change Mike Trout."
---
Get our high school sports newsletter
Prep Rally is devoted to the SoCal high school sports experience, bringing you scores, stories and a behind-the-scenes look at what makes prep sports so popular.
You may occasionally receive promotional content from the Los Angeles Times.