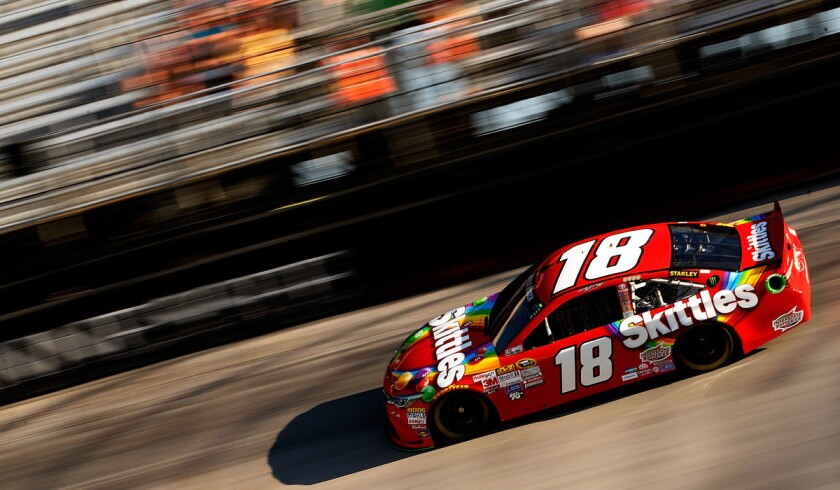 Brian France is big on winning.
"We are not satisfied that we have the exact balance that we want with winning, consistency, points and running for a championship," NASCAR's chairman said in January 2014. "We think we can make some tweaks that continue to incentivize risk-taking and racing harder and so on."
Later that month, NASCAR rolled out sweeping changes in the Chase format that would put a premium on drivers winning races to advance to the playoff format involving 16 qualifiers.
The results of the 2015 Cup season reflect France's bold vision. And they do not.
Let's explain: With three races to go at Bristol, Darlington and Richmond before the Chase field is set, 11 drivers have qualified through winning. Of those, seven have multiple wins, including Jimmie Johnson and Kyle Busch (four each).
If that dominance continues, NASCAR would be looking at five winless drivers competing for a title. At the least there will be two.
If you want to draw a comparable analogy to the ball-and-stick sports, that's like letting five wild cards into the playoff mix, where anything can happen. Things got a little dicey last year when Ryan Newman was the only outlier. He was not only winless but managed to race his way into the Final Four mix in the season finale at Homestead, Fla. Kevin Harvick won the title to eliminate any drama, but there could be much more in play this go-round.
Newman, currently in 12th place, could be joined by Jamie McMurray, Paul Menard, Jeff Gordon and Clint Bowyer.
Call it the typical yin-yang of NASCAR, a sport in which there is only one winner each week — and 42 losers.
"Someone will always advance on points," said Fox Sports NASCAR analyst Larry McReynolds. "When you get to the elimination rounds in the Chase, with only three races in each round, at least one driver is going to advance on points by the time we get to Homestead.
"If there was a way that no driver could win the championship unless he won a race that would be perfect, but I'm still OK with this format."
What we have in play is NASCAR's precarious and unique competitive balance, coupled with the continued rise of the super teams.
So who do you like to win the Cup, Larry?
"Right now a betting man probably would lay money on Kevin Harvick, maybe Jimmie Johnson, Joey Logano, Matt Kenseth or Kyle Busch," McReynolds said. "But at this point a year ago with 13 races before Homestead, were we talking about [the Final Four of Denny] Hamlin, Newman, Logano or even Harvick?
"You can handicap and handicap guys, but it's a crapshoot, especially when one of those races in the Chase is one of the biggest crapshoots of the season — Talladega."
Outliers will still have a shot. But the front of the pack is small, and it's going to take a bit of maneuvering to knock somebody off the lead lap.
At least no one is hopping out of the car after an eighth-place finish and proclaiming, "We had a good points day."
Gibbs smokin' hot
Joe Gibbs Racing has turned the last six weeks of the season into its own little asphalt playground.
Kenseth's victory Sunday in Michigan marked the fifth victory in the last six races for the team, which includes Hamlin, Carl Edwards and the hottest driver on the planet — Kyle Busch.
"It's been a great week. We've had a great couple of months … and we're just going to work hard to keep it going," Kenseth said.
Kenseth now has two wins in the last three races.
"We were down for about a year and a half. We have come back to a point where we have a chance at races," said Gibbs, the Pro Football Hall of Fame former coach. "I don't think you can ever guess in pro sports. Things can turn and next week they twist and go the other way. I think that is the reason that all the fans and all of us love it — you don't know what is going to happen."
---