Reporting from AVONDALE, Ariz. —
Kevin Harvick raced to his third straight NASCAR Cup Series victory Sunday, holding off Kyle Busch for his record-extending ninth win at ISM Raceway.
Harvick patted the back window of the No. 4 Stewart-Haas Racing Ford in celebration, a nod to penalties in part fueled by social media photos last week of his buckled rear window after his victory in Las Vegas.
"I've been mad as all get out because this team does a great job," Harvick said. "This organization does a great job and we've got fast race cars. And to take that away from those guys just really (ticked) me off last week.
"To come here to a race track that is so good for us is a lot of fun and everyone was just determined this week, and we just wanted to just go stomp them. We didn't stomp them, but we won. That's all that really matters. Just proud of this team. Put a fire in our belly."
Also the winner in Atlanta after crashing and finishing 31st in the season-opening Daytona 500, Harvick is the first driver to win three straight Cup races since Joey Logano in 2015.
Harvick got in front of Busch on the last series of pit stops on the mile oval. Busch's team dropped the jack and had trouble with the right rear tire on his stop with 53 laps left, allowing Harvick — who pitted three laps earlier — to slip ahead en route to his 40th Cup victory.
Harvick took the lead with 22 laps left when Ryan Newman finally made his last stop on the sunny afternoon after morning rain. Busch finished 0.774 seconds back.
Chase Elliott was third, followed by Denny Hamlin, pole-sitter Martin Truex Jr., Clint Bowyer, Aric Almirola, Eric Jones and Kurt Busch.
Harvick broke a tie with Busch with 14 NASCAR national-series victories at the track, also winning an Xfinity event and four Truck races. In 31 Cup starts in Phoenix, the California driver has 15 top-five finishes.
Harvick was extra motivated following the NASCAR penalties from Las Vegas.
"Actions speak louder than any words I can come up with," Harvick said.
NASCAR said Wednesday that inspectors at its research and development center in North Carolina found the Ford violated a rule requiring rear window support braces holding the glass rigid, and another requiring the right rocker panel extension to be aluminum. Harvick was penalized the seven playoff points he earned for winning the Las Vegas race and the first two stages. He was docked 20 regular points and the team lost 20 owners' points. Crew chief Rodney Childers was fined $50,000, and car chief Robert Smith suspended two races.
Harvick regained the points lead Saturday, moving 12 ahead of Busch.
Kyle Busch won the first 75-lap stage, and brother Kurt Busch took the second in a one-lap shootout after a caution period.
Sebastien Bourdais wins IndyCar season-opener in St. Petersburg
Sebastien Bourdais won IndyCar's season-opening race in St. Petersburg on Sunday, a victory handed to him when Alexander Rossi and Robert Wickens crashed racing for the lead.
Wickens was heading to a victory in his IndyCar debut until two late cautions gave Rossi a chance to take it away.
On a restart with two laps remaining, Rossi tried to dive inside of Wickens entering the first turn. The two cars made contact and Wickens spun off course.
Bourdais slid by both cars from third for the victory.
It is the 37th career victory for the Frenchman, who ranks sixth on IndyCar's all-time list. Bourdais trails Al Unser by two wins for fifth on the list.
It was the sixth victory for Dale Coyne Racing, the first since Bourdais won at St. Petersburg last year. The team this year has been bolstered by the ownership group of Jimmy Vasser and James Sullivan, which reunited Bourdais with his former bosses.
Wickens finished a heartbreaking 18th.
Rossi was not penalized for the contact and finished third.
The race debuted IndyCar's sleek new race car that is designed to improve competition, level the playing field and cut costs. Sunday saw a race-record 366 on-track passes, breaking the mark of 323 set in 2008.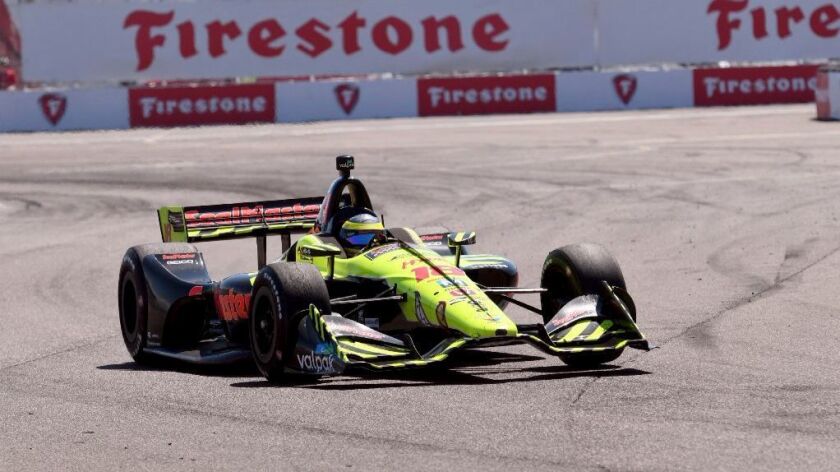 ---