Jimmie Johnson steals a victory from Brad Keselowski in AAA Texas 500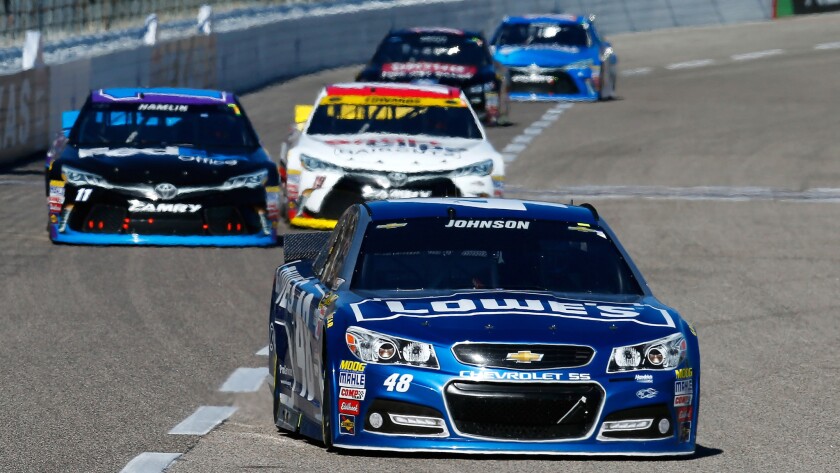 FORT WORTH —
Jeff Gordon continued to receive a lot of cool parting gifts over the weekend, including two Shetland ponies from Eddie Gossage, president of Texas Motor Speedway.
But Hendrick Motorsports teammate Jimmie Johnson did one better: a shot to the heart of Gordon's nemesis, Brad Keselowski.
Johnson passed Keselowski with three laps to go, overtaking the most dominant car of the race in the AAA Texas 500 on Sunday afternoon.
Keselowski, whose car led a track-record 312 laps, could not hold off Johnson on a day Keselowski needed a victory to advance and join Gordon in the Final Four playoff format at Homestead in two weeks. Twitterverse blew up, at least on suspended racer Matt Kenseth's page.
"Good work @JimmieJohnson! Textbook pass for the win at the end of the race when someone is trying to take your lane. #quintessential."
Kenseth got a two-for-one shot in — a rip on Joey Logano for taking him out in the closing laps last month in Kansas and a dig at NASCAR Chairman Brian France, who called Logano's move "quintessential."
"That's a nice buzzword," Johnson said, laughing. "We always thought he was boring and quiet. He's always on fire."
That has also been a popular word involving NASCAR lately as Kenseth — 10 laps down — crashed Logano while Logano was leading at Martinsville last weekend. NASCAR suspended Kenseth for two weeks starting Sunday at Texas.
The Texas race was free and clear of bumper-car scenarios and controversy that has marked the finishes of recent races. Still, it was a rough ride at the end of the day for Keselowski, who got involved in a dustup with Gordon in Texas a year ago.
"I'm not sure exactly how to feel about it," Keselowski said. "The 48 car [Johnson] had so much speed the last 10 laps. As I sit right now, I don't know what I could have done differently.
"We had a damn near flawless day."
But not flawless enough, and that puts Keselowski in peril heading into Phoenix. Keselowski has company. Logano, his Penske Racing teammate, also needs a victory, as does Kurt Busch. And Carl Edwards is seven points away from the fourth qualifying spot, giving him some work to do in Phoenix. Kyle Busch, defending Chase champion Kevin Harvick and Martin Truex Jr. are in the Final Four mix — for the moment, anyway.
At least Keselowski fought until the end. Logano's day was over shortly after the engines revved up when his left rear tire blew apart and shredded off Turn 2. It did damage to the inside of the car as well, sending Logano into the pits for extended time. Logano finished 40th.
"It isn't about points for us," Logano said while his crew frantically worked on his car. "Points don't mean anything right now. It is all about wins. ... It seems like there are a lot of issues right now. I don't know what the deal is with everything coming out of the blue."
That's kinda what Johnson did to Keselowski, who stayed high in the closing laps, trying to hold off Johnson. Did not work.
Then again, Johnson is usually the guy you see firing off six-shooters at Victory Lane. Johnson, a six-time season champion, won the fall race for the fourth consecutive time and became only the fourth NASCAR driver to sweep the two Cup races at Texas in the same season.
"It's tough to work so hard all year long and not have a shot at the championship," Johnson said. "This is kind of a silver lining in that."
He led only six laps, adding to Keselowski's misery.
"I'm not happy I kept someone from advancing," Johnson said. "I don't think along those lines. Happy I beat the dominant car. ... It was just a good old-fashioned race. Race your guts out. That part was fun."
---
Get the latest on L.A.'s teams in the daily Sports Report newsletter.
You may occasionally receive promotional content from the Los Angeles Times.